The Best Trader Joe's Snacks for Your Super Bowl Spread
From mini tacos and samosas to delicious dips and desserts.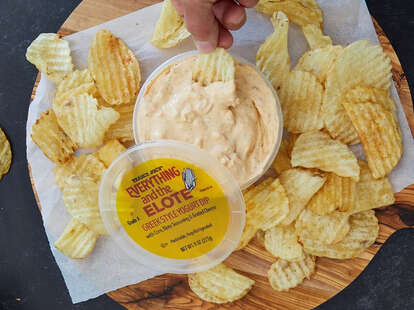 One of the finest American traditions is watching a bunch of super athletes that abide by extremely strict diets (especially some particular quarterbacks) while we stuff our faces. And that's great news, especially because Trader Joe's has a bunch of amazing game day food you can easily prepare for your Super Bowl spread this year.
We've got some of the best apps and snacks you can easily throw in the oven or microwave and pass off as something you prepared yourself. From mini tacos and samosas to delicious dips and desserts, here are the best Trader Joe's foods you can make for your Super Bowl spread.
Chicken Tikka Samosas
In just 15 minutes, you can have restaurant-quality samosas laid out on your coffee table. This version of the traditional Indian snack hits the spot with a flaky crust that's stuffed with chicken, onions, potato, garlic, ginger, and other spices. There's a bit of a kick to them (let's call it medium) and even a vegetarian option if anyone in your house is going meatless. Note that sauces aren't included so a side of fruit chutney would be a nice added bonus.

Everything and the Elote Dip
There's no need to craft a seven layer dip or attempt to make a cheese sauce that doesn't break when you can just pick up dips from Trader Joe's refrigerated aisle. The Everything and the Elote one is particularly delicious and versatile, featuring the zippy flavors of lime and chile tamed by the sweetness of corn. This dip pairs well with tortilla and potato chips, veggies, and even pretzels.
Chocolate Chip Hold the Cone
By the end of the third quarter, the snack spread is pretty much demolished—save for
stray crumbs of chips and the last pig in the blanket that everyone is too shy to finish off. At this point, it's time to bring out dessert. Trader Joe's Chocolate Chip Hold the Cones work great. For starters, the classic combination of vanilla ice cream speckled with chocolate chips is a crowd pleaser. Each box comes with eight cones, and the ice cream itself is mini—just enough to satisfy the desire for something sweet without having to compete with the rest of the snacks that have been consumed.

Mini Beef Tacos
This is one of the few items we're going to list here that does not look like it does on the box, but this will be one of the more impressive items you can make for the party. Throw the entire bag of tacos (about a pounds worth, and all for just $4.29!) on a tray and bake 'em. While those are cooking, pop open a bottle of TJ's Chunky Salsa and tear open bags of TJ's Chunky Spicy Guacamole and Organic Three Cheese Blend. When the tacos come out of the oven, place the guac in a bowl and dress each mini taco with a smidge of salsa and cheese. You'll look like you heroically prepared tacos for everyone… and you kind of did!
Hot & Spicy Chicken Wings
No one thinks you have a deep fryer in your kitchen and are making wings from scratch. Unless you lie and say, "I had to break in my new home deep-fryer in with these wings for all my friends!" Some people would say it's wrong to lie, but has lying ever hurt anyone? Probably not. Ok, that's a lie. There are only about 10 wings per $5.99 bag, so it'd make sense to get at least two bags if you're hosting more people than just your friend Steve. And because these don't come with wing sauce and we'd never ask you to sauce your own wings, just buy a bottle of Trader Joe's Chunky Blue Cheese Dressing & Dip to take those wings straight to Flavortown and/or the nearest delicious municipality.
Creamy Spinach & Artichoke Dip
You're as likely to see dip at a Super Bowl party as you are to overhear someone say, "If the Patriots win one more f'ing Super Bowl, I swear to…" (excluding parties being held in Massachusetts and its surrounding areas). This dip delivers on the cheese and spinach flavors, while the artichoke takes a bit of a back seat, flavor-wise. Packers fans and other cheeseheads will love the combo of Parmesan and Swiss in every bite. Even better, it only takes 4.5 minutes total in the microwave before some piping hot dip gets served to your guests and inevitably burns the roof of their mouths. If you truly love your friends and family, you'll pair this with a bag of Parmesan, Garlic & Herb Pita Chips. Or a loaf of crusty French bread, if you're feeling super fancy.
Parmesan Pastry Pups
It takes but 20 minutes to have perfectly cooked, meaty, flaky, cheesy bites of magic to emerge from your oven. The only problem with this product is that TJ's only includes 14 of these elevated pigs in a blanket (ok fine, these are beef franks… so, cows in a blanket?). We guarantee that if you don't buy two boxes, these will be gone in two minutes because someone at the party will eat all of them. Don't even give them the stink eye when they do, it's not their fault. These are just too damn good. On second thought, buy three boxes. Save 14 of them for to make yourself the day after the party.
Brie and Tomato Tarte
If your guests think you're running the type of low-class super bowl party where you serve frozen pizza, they better think again. Trader Joe's says it's a "very French thin crust," which is pretty strange wording considering it is a product of France, like champagne or smoking extremely thin cigarettes while wearing berets. The layer of creme fraiche, brie, and cherry tomatoes lay atop a crust that will remind you more of a puff pastry than a traditional pizza crust. It's not pizza, but it is extraordinarily decadent and full of cheese, which is a huge win in our book. And if you really MUST have pizza, you can find ample options for that too.
Pastry Bites With Feta Cheese and Caramelized Onions
Trader Joe's loves puff pastry so much, if it were possible for a supermarket chain to marry an appetizer featuring puff pastry cradling an absurd amount of melty feta and caramelized onions, that company would be down on one knee right now. It takes 20 minutes to prepare these bites in an oven at 400, and the toughest part of that preparation is…nothing. It takes practically no preparation (just place the enclosed tray of bite-sized beauties on a baking sheet)—the difficult part is waiting for them to cool down before consuming them. Fair warning: it may not be humanly possible.
Lee Breslouer is a Thrillist contributor, and writes about everything from tipping to craft beer. He's based out of Colorado, where he often partakes in some of the country's best beers and mountains
.
Kat Thompson is a senior staff writer of Food & Drink at Thrillist. Follow her on Twitter @katthompsonn.