The Best Thanksgiving Foods to Grab at Trader Joe's
If anyone asks, you totally made everything.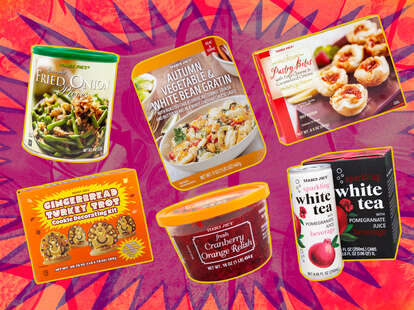 Design by Maitane Romagosa for Thrillist
Design by Maitane Romagosa for Thrillist
Some people spend all Thanksgiving day in the kitchen, working hard to prepare the turkey, multiple side dishes, and desserts for their friends and family. And while those people are heroes, if you're reading this, you might not be quite as ambitious as those people. Why spend so much time cooking when there's bourbon to drink and football to watch?
But even us lazy people sometimes have to throw together something for Thanksgiving, and Trader Joe's is the perfect place to help with that. Sure, they have all the basics like turkey and stuffing for folks who want to season their food with elbow grease, but they also have inventive, delicious food that makes it look like you spent a ton of time in the kitchen. Here are the best appetizers, entrees, sides, and desserts to buy at Trader Joe's to help you cheat at Thanksgiving.
Pastry Bites with Feta Cheese and Caramelized Onions
Even though dinner is often served at 3 pm for some reason on Thanksgiving, you still need a tray of appetizers for the guests who arrive two hours early and restlessly stand around while the turkey is still roasting. These pastry bites only require 20 minutes in the oven and the feta comes out remarkably gooey, while the onions provide the perfect counter of sweetness.
Cheese Party Tray
What's an appetizer table without a cheese tray? Yes, you could go the route of assembling an impressive charcuterie board, but there are a lot of other things to worry about on Thanksgiving day. This cheese tray has slices of pepper jack, colby jack, swiss, and cheddar—approachable and mild enough for everyone to enjoy. And if you really want to spruce up the cheeseboard, Trader Joe's has a cranberry chevre log that is visually beautiful, some creamy bries, and a selection of funkier cheeses.
Gourmet Fried Onion Pieces
This ingredient is mandatory for any and all casseroles, but it'd also be a great addition to a salad or sprinkled on soup. When no one is looking, you can sneak a fistful, too—as a treat.
Mashed Potatoes
Mashed potatoes are arguably the best side dish at the Thanksgiving table, but can be fussy to make. You have to boil the potatoes, mash them, make sure you have the right ratio of butter and cream, otherwise they go gluey. If you want to avoid that, or are celebrating Thanksgiving with a smaller crew, Trader Joe's has frozen mashed potatoes that come together in minutes.
Turkey Flavored Gravy
If you've got mashed potatoes, stuffing, and turkey on the table, gravy is mandatory. This gluten-free version goes from the stove to the table seamlessly and carries the flavors of onions, garlic, and, of course, turkey.
Cornbread Stuffing
Savory bread pudding seems to only come around during the holidays, so it's important to do it right. Using cornbread as a base for stuffing is genius, as the sweetness pairs well with the savoriness of turkey and gravy. At Trader Joe's, you can either pick up a stuffing mix to prepare yourself at home, or go for an already-made stuffing tray that just needs to be heated and served. Both options have cornbread, so either way you win.
Autumn Vegetable and White Bean Gratin
Perhaps this is different from your typical gratin, which is usually mostly potato based and smothered with bechamel. This version contains cauliflower, butternut squash, kale, and white beans and is layered with a white cheddar cheese sauce. It beats slicing twenty potatoes on a mandolin.
Fresh Cranberry Orange Relish
Some people enjoy cranberry sauce that's still shaped like a can. Others, who want something that resembles real food, should opt for this. There's only three ingredients: cranberries, oranges, and sugar. The Valencia oranges provide robust fruity flavor that mingles with the tart cranberries, making it an ideal relish for turkey.
Brined Bone-In Half Turkey Breast
The turkey is likely the most challenging aspect of Thanksgiving. It takes forever to cook, often comes out bone dry, and is pretty boring overall. Why devote so much time to something most people would rather pass up for an extra scoop of mashed potatoes? This brined bone-in half turkey breast is enough for a small gathering and requires very little effort, as it's already brined with garlicky and buttery flavors and cooked sous vide. Just heat and eat.
Pies
It was too difficult to decide on a singular pie, because Trader Joe's has options for everyone's favorite. You can, of course, select a classic pumpkin pie, imbued with fragrant autumnal spices. There's also an apple crumble pie that has a delightfully buttery topping for those avoiding pumpkin. In the freezer aisle, find Nantucket-style cranberry pie, a sweet-tart option on a flaky crust studded with walnuts. To enjoy, merely defrost and heat the pie in an oven for 20 minutes. A scoop of vanilla ice cream is mandatory for all options.
Autumnal Pie Truffles
These pie-shaped chocolate truffles are too adorable to pass up—you can just buy them for their presence or use them as an edible centerpiece. There are four flavors per box: milk and white chocolate with a caramel apple filling; milk and dark chocolate with a ginger cinnamon filling; milk and white chocolate with a vanilla creme filling; and lastly milk and dark chocolate with a salted caramel pecan filling.
Pumpkin Madeleines
The end of dinner is a joyous time because that marks the beginning of the dessert course. If you're not a pie person, or just want to offer guests something other than pie, these pumpkin madeleines are an ideal way to finish off the meal with a coffee or tea.
Gingerbread Turkey Trot
This cookie-decorating kit is too cute to pass up, plus it's a built in activity for the kid's table. The kit comes with four turkey cookies you can assemble complete with orange and black icing tubes, sprinkles, and candy beads. This box can double as decor and dessert, so it's a win-win.
Sparkling White Tea with Pomegranate Juice
For anyone avoiding mulled wine or bubbly grape juice, Trader Joe's has refreshing sparkling teas available in sleek cans. This white tea with pomegranate juice feels particularly festive, but there's also a peach black tea and pineapple green tea available.
Everything But the Leftovers Seasoning Blend
You can make everything in your kitchen taste vaguely like Thanksgiving leftovers thanks to this seasoning blend—yet another installment in Trader Joe's attempt to completely overhaul your spice rack. With dehydrated onion, yeast extract, ground sage, rosemary, thyme, and other herbs your grandmother folds into her stuffing, this seasoning can boost any Thanksgiving dish you've haphazardly thrown together.
Lee Breslouer is a contributor for Thrillist, and writes about everything from tipping to craft beer. He's based out of Colorado, where he often partakes in some of the country's best beers and mountains.
Kat Thompson is a senior staff writer of food & drink at Thrillist. Follow her on Twitter @katthompsonn.