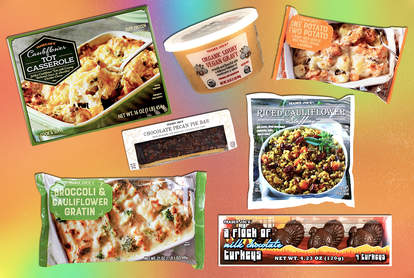 Danna Windsor | Thrillist
Trader Joe's Best Thanksgiving Foods for Lazy People
If anyone asks, you totally made everything.
Some people spend all Thanksgiving day in the kitchen, working hard to prepare the turkey, multiple side dishes, and desserts for their friends and family. And while those people are heroes, if you're reading this, you're probably a little lazier than those people. Those hard-working folks have stopped reading at this point, so it's just us and we can speak freely.
Ok, why do they spend so much time cooking when there's so much bourbon to drink and football to watch? It's the wrong way to spend Thanksgiving!
But even us lazy people sometimes have to throw together something for Thanksgiving, and Trader Joe's is the perfect place to help with that. Sure, they have all the basics like turkey and stuffing for folks who want to season their food with elbow grease, but they also have inventive, delicious food that makes it look like you spent a ton of time in the kitchen! Here are the best entrees, sides, and desserts to buy at Trader Joe's to help you cheat at Thanksgiving.
You can find an uncooked, organic, free-range turkey from TJ's for $3.49 a pound. But preparing a turkey takes a little bit of elbow grease and following
these safety rules from the CDC
so everyone at Thanksgiving doesn't end up sick. Instead, how about buying this pre-made, puff-pastry wrapped bird with sweet cornbread stuffing? The most difficult aspect of preparing it is remembering to thaw it in the fridge 24 hours prior to Thanksgiving. It feeds eight people for just $12.99, which is McDonald's value meal-type pricing for something way more high-end. Trader Joe's even knows what this dish is all about -- the sign underneath this item at my local store reads: "Tell Everyone You Made It -- Impress Your Pals!" Color us impressed.
If people see cranberry sauce on the table in the shape of a can, they'll assume that's where you got it from. But does pre-prepared cranberry sauce ever come with Valencia oranges? No. You've fooled them again. You have pulled one over on everyone at the table. You are now both King and Queen of Thanksgiving now and forever.
But what if you're vegan? What then? Organic Savory Vegan Gravy, that's what. Don't you know? Trader Joe's got you, Boo.
Roasted Vegetables
Are you so lazy you can't chop up a bunch of veggies and dress them with garlic and herbs? Yes! Yes you are! Buy this vegan necessity in the refrigerated section and stop worrying if your Thanksgiving table has too many cheese-based sides and not enough healthy stuff. Now you have a one-pound tray filled with zucchini, squash, sweet potatoes, and brussel sprouts on the table too. Mission accomplished.

This is one of the more boring names for a side dishes we've ever encountered, but don't judge the Trader Joe's side dish by its name. It's white and yellow corn baked in a corn puree with mozzarella and Parmesan cheeses, and if there's a dish with corn and cheese in it that doesn't taste good, I haven't had it. But the best part for all you lazy bums out there is that it takes three-and-a-half minutes max in the microwave to prepare. You'll be back to watching the Falcons/Saints game in no time.

People may thing tater tot casserole is easy, but they forget it has layers.

It's deep

. And say you want to make it cauliflower? How do you even make cauliflower tots? You'll never have to find out, thanks to this Cauliflower Tot Casserole for $5.99, made with Cheddar cheese, a "special seasoning blend," and a dreamy sour cream sauce.

As long as we're making cauliflower do a lot of the heavy lifting again this year, might as well pick up some Riced Cauliflower Stuffing. And you're not even going to pretend to stuff your turkey with it. Heat it in a hot pan with oil like a civilized person. Your gluten-avoidant guests will still see the carrots, cranberries, and celery they expect in a stuffing. And since it's made with vegetable broth, vegans will appreciate it, too.

A newcomer to the selection of TJ's Thanksgiving sides in the frozen section, this gratin is heavy on the broccoli and cauliflower (50% of the dish, according to TJ's!) along with mozzarella and Grana Padano cheese. It feeds four people for the startingly low price of $3.99, but considering the presence of a ton of delicious cheese in the dish, we're going to guess this feeds you and absolutely no one else. We recommend placing the side dish right next to your plate so your family can't tell if it's one of your plates or if you're supposed to be passing it around.

If that sounds a little too nutritious for you, a proper carb fest awaits in the freezer section. Say hello to the One Potato Two Potato Gratin. It's two of everything you love: white Agria and sweet California potatoes, Champignon and Porcini mushrooms, provolone and Grana Padano cheeses. And it's made in Italy, so you fancy to boot.

You don't have to slice and shred your own squash to make pasta this year as TJ's Harvest Spaghetti Squash Spirals come pre-shredded and spiraled. It comes with a

Autumnal Harvest Pasta Sauce

-inspired tomato sauce that's sure to win over anyone at your dinner table. The best part? This easy-to-make dish will only take 10 minutes to prepare.

Yeah, you can get top-notch pumpkin and apple pie with a lattice crust from TJ's at reasonable prices ($5.99 and $6.99, respectively), and you should! And if you serve one pie that's clearly store-bought, you might be able to convince everyone you actually made one dessert yourself! The other key to cheating is buying a dessert that's so unique it could've only come from your kitchen. Or Trader Joe's. That's why you need to buy the Chocolate Pecan Pie Bar, with all gooey, buttery, pecan goodness of a pie, but with chocolate and four corner pieces to fight over.

C'mon, it's a pack of four milk chocolate turkeys for $3.99! How can you pass this up? Bring a few of these in addition to your dessert and you're everyone's favorite cousin.

Sign up here for our daily Thrillist email and subscribe here for our YouTube channel to get your fix of the best in food/drink/fun.

Lee Breslouer is a contributor for Thrillist, and writes about everything from tipping to craft beer. He's based out of Colorado, where he often partakes in some of the country's best beers and mountains.