Design by Grace Han for Thrillist
Design by Grace Han for Thrillist
It's impossible to track down any of the Trader Joe's ube products. Ube, the purple yam that hails from the Philippines, first hit the freezer chests of the beloved grocery store chain in 2019 in the form of ice cream. Since that initial launch, Trader Joe's has also released an ube mochi pancake mix, as well as boxes of ube tea cookies. Their latest iteration in their lineup of ube snacks is a spread, fit for smearing on toast or adding to puff pastry. The ube products have caused a frenzy.
On a trip home to California, I managed to scoop up a box of the tea cookies, but the other two items were sold out. I then visited three different Trader Joe's in the New York city area; the ube desserts remained elusive. My editor in Baltimore also couldn't find a single ube item at her local Trader Joe's. The quest for Trader Joe's purple-tinged goods remained a challenge.
"Usually, we make orders for the day and receive deliveries every day, but the ube [products] just continued to sell out and it's finished for the season," a Trader Joe's employee in Brooklyn relayed. An employee at a different New York City location told me that the stock only lasted around two weeks.
You can find ube in the form of ice cream, which typically crowns the Filipino sundae known as halo-halo; in cookies like crinkles and polvorons; and in cakes. Ube halaya, which is a jam made from the purple tuber and condensed milk, can be added to desserts or just eaten as a snack.
The shortage we're feeling at Trader Joe's may also be traced back to a shortage in the Philippines, as well. The newsletter Meryenda, which explores Filipino foodways, describes the struggles Filipino farmers face in meeting global ube demands. In 2006, over 30,000 metric tons of ube were harvested. That number was just over 14,000 in 2019.
Despite the challenges, many of which consumers are unaware of, ube continues to amass a following in Trader Joe's and beyond. Filipino bakers are excited by the responses.
"We're absolutely elated to see ube becoming more popular, and therefore Filipino cuisine. As a small bakery, our goal is to introduce our culture's food to the mainstream and hope that it can become even more popular," says James Aldrin, the creative director behind Los Angeles-based Hopia Like It.
At the pair of bakeries located in the San Fernando Valley, customers can find ube in hopias, a flaky pastry stuffed with dense fillings; cookies; and ensaymadas, or Filipino-style brioche. Alongside the ube desserts is a whole array of other Filipino delicacies. "The more, the merrier," he says. "I might see some frustration with fusion foods coming about that might not represent the authentic taste, but if it's the gateway that gets people to try more of it, I'm all on board."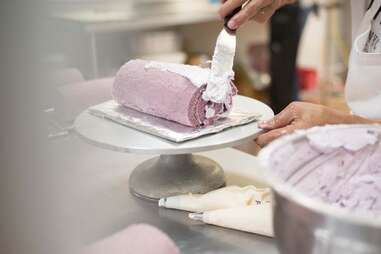 For Abi Balingit, the baker behind popular food blog, The Dusky Kitchen, there is an appreciation to Trader Joe's for providing credit where it's due. "Trader Joe's does a great job of saying it's from the Philippines and describing the flavor," Balingit says. "They said it's like a cross between vanilla and pistachio, which is what I like to say too."
It's not just that fragrant flavor that's so captivating. Most well-known varieties of the tuber have a naturally purple hue that tinges everything it touches with a beautiful lilac color (or deep purple, sometimes with the help of dyes).
That being said, Balingit hopes that people appreciate ube beyond the aesthetics and consider the flavor. "If you're going to make something, especially something that's ube flavored, I hope that it's intentional," Balingit says. "And that you thought about where it came from, and that there are certain flavors that go better with it."
For example, it feels like Trader Joe's may have missed the mark on the ube tea cookies, which are completely overwhelmed by the flavor of cinnamon and lack any ube, save for its musty purple color. Balingit agrees.
Although a lot of the ube craze in America began at Trader Joe's, especially for buyers who have never heard of the Filipino yam, diving into the flavor doesn't have to end at that particular grocery chain.
"I would say as soon as you get out of Trader Joe's, go to your closest Seafood City, if you're lucky, or 99 Ranch," Balingit says. "Those are the places where you'll find not just ube, but buko pandan, and jackfruit, and the extracts and the frozen products. The reality is that we don't live in these tropical climates all the time, but you'll still get to experience [these flavors]."
Or better yet, visit a local Filipino mom and pop shop, like Hopia Like It. "Just like most foods, you'll want to have the freshest taste to really experience its flavor. You won't get that with pre-packaged foods in the aisles of Trader Joe's," Aldrin says. "I'm biased, but we've heard our ube flavored hopia is one of the best Filipino pastries around."
In addition to the ube version, Hopia Likes It also carries hopia in flavors like buko pandan, red bean, guava cream, and more.
"I think that's the beauty of not gatekeeping that. It's like, 'Okay, this is the gateway,'" Balingit says of Trader Joe's and their expanding line of ube products. "Just know that there are so many great traditional ingredients from so many countries, especially the Philippines."
Kat Thompson is a senior staff writer at Thrillist. Follow her on Twitter @katthompsonn.