The Fastest-Trending Weed Strain in Every State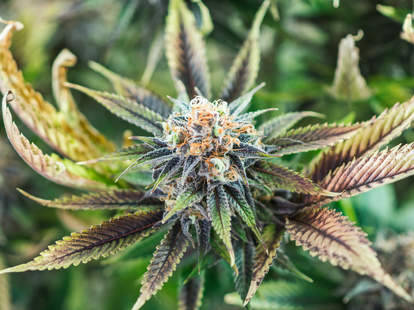 This article is cont­ributed by Leafly, the world's largest cannabis information resource. For more information please visit Leafly.
Which cannabis strains are being searched most often by your co-workers, friends, and neighbors? Wonder no more: the infographic below shows the fastest-trending strain in every state in the nation (and Washington, DC).
While a map that strictly showed the current most popular strain in every state would largely be dominated by the ever-popular hybrid strain Blue Dream, a map of fastest-trending strains displays a much wider variety gaining market share. With its recently instated recreational market booming, Oregon is clamoring for info on Pineapple Express. As its residents hang on to hope for recreational legalization, Vermont is curious about indica-dominant Zombie OG. And up in Alaska, where onsite consumption at cannabis stores is being considered, White Widow piques local attention.
To figure out the fastest-trending strain in every US state, we looked at Leafly user-sourced search data, omitted low-traffic outliers, then determined which strains had enjoyed the largest surge in popularity in each individual market since the beginning of 2016. Scroll down to see which strain is gaining the most steam in your state, and click on the strain name to learn more about it.
Nick Ouellette/Leafly