Most people associate the name "Bojangles" with a family pet or maybe the song Homer "performs" with aplomb. But for a certain Southeastern section of America, it means irresistible biscuits and fried chicken. Over the past 37 years, the Bojangles' chain has established a serious presence in states South of the Mason-Dixon line thanks to its food and its indefatigable spirit (nice try, Hurricane Hugo). But you might've missed the backstory on their wily co-founders and intense bake-offs, which is why we rounded up some essential Bojangles' facts. Ponder them over a Cheddar Bo, if you're one of the lucky SOBs who can actually buy one.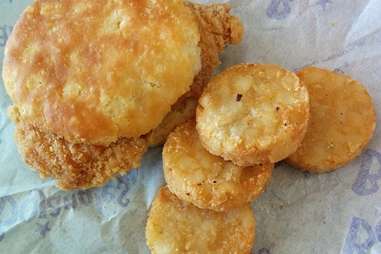 1. The co-founder developed Bojangles' biscuits while at Hardee's
Jack Fulk first broke onto the fast-food scene at Hardee's, where he served as a Wilkesboro franchise owner in the early 1970s. During his franchisee tenure, he worked on perfecting the from-scratch biscuit recipe that would eventually become a signature item at Bojangles'. You'd think Hardee's would be outraged they missed out on that action, but actually, it's kinda their fault...
2. He was a bit of a Hardee's outlaw
Friends say Fulk was "always in trouble" with Hardee's for tinkering with the set menu. He would routinely introduce off-brand items like a roast beef sandwich and a breakfast biscuit at his location, and that pissed off the upper management big time. Except Fulk's ideas were usually popular with the customers, which meant his sales were always up, so Hardee's could only grouse so much. The one time Fulk gave them legitimate grounds for grief was in 1977, when he broke away to found the first Bojangles'.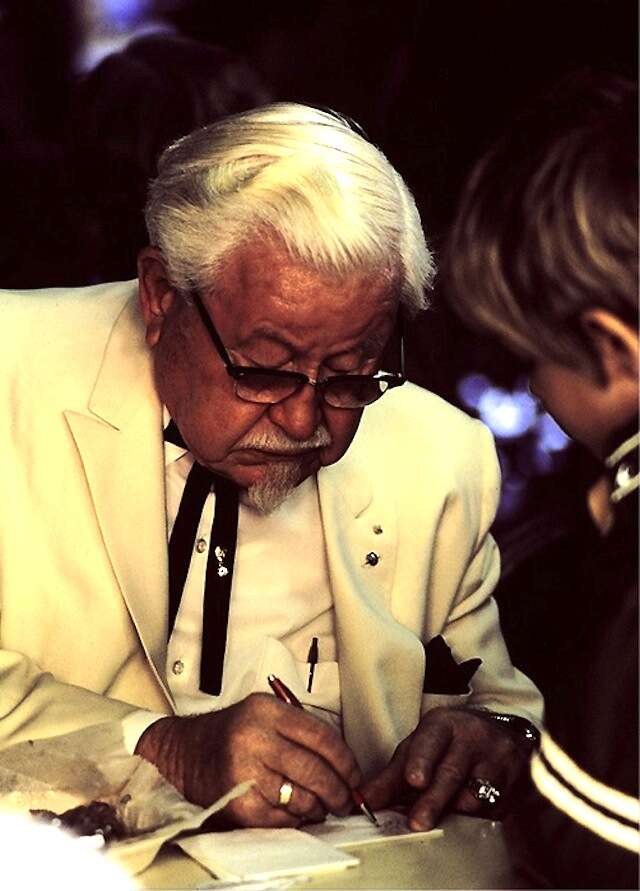 3. The other co-founder slept outside Colonel Sanders' place for a job
Fulk might've had the biscuits, but he needed a solid business partner. Lucky for him, he found a fearless one in Richard Thomas. Thomas had impressive credentials as the president of operations for KFC, and the way he came into that company is downright hilarious. See, Thomas knew he wanted to open a chicken enterprise, so one day he went out and sampled some of the competition. He was flat-out floored by the stuff in a bucket labeled "Kentucky Fried Chicken -- Shelby, Kentucky." But when he called them up, the old man who answered told him all the franchise locations in Thomas' home state of Michigan were sold out. Instead of reaching for the bucket, Thomas drove all the way to Shelby and parked outside the mansion that served as their HQ. It was early and no one was around, so he took a little snooze. He awoke to the Colonel himself rapping on the window, asking him to pull the dandelions. Sanders mistakenly thought Thomas was the gardener, but ever the eager employee, Thomas started doing the job anyway. When the actual gardener showed up, Sanders asked Thomas what he wanted, and Thomas said a KFC in Southwestern Michigan. He got it.
4. Thomas now feeds Usher's Mom healthy food
In the '80s, Thomas decided to make the leap from Southern fast food to health food by opening R. Thomas Deluxe Grill. It serves stuff like vegetarian Sloppy Joes and quinoa bowls, and is still going strong almost 30 years later. Most importantly, it's got a hot endorsement from Usher's Mom.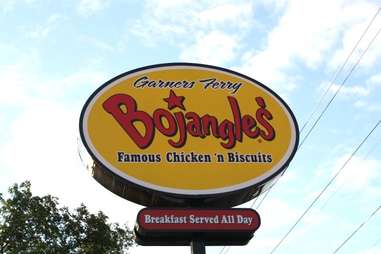 5. It was one of the only places open during Hurricane Hugo
A quarter-century ago, Hurricane Hugo touched down and tore through the Carolinas. It left residents without power or water for days, as well as basically no food options. Except for Bojangles'. The restaurant proudly remained open while essentially all other restaurants shut down. They used propane to cook. The people never forgot it.
6. There's a movement to bring the Cheddar Bo everywhere
Every chain needs a cult item, and for Bojangles' it's the Cheddar Bo. The biscuit oozing with melted cheese is beloved all over, but it's only available at select Bojangles' locations. Since this is patently ridiculous, one valiant Redditor is looking to fix the problem. According to the esteemed ​jachreja, the Bojangles' people personally told him if his petition reached 1,000 signatures, they'd consider moving the Cheddar Bo franchise-wide. The tally currently stands at nearly 2,000, so an official response should come any day now. Unless people are lying on the Internet, but when does that ever happen? (Update: it is available at participating locations, albeit for a limited time.)
7. They fry your turkey on Thanksgiving
Bojangles' tries to help out Turkey Day hosts each year by offering seasoned fried turkeys during November. They're only available at select locations, and require preordering, but if you do the minimal necessary planning, you can skip out on cooking your own bird altogether. In fact, you can even upgrade to the entire dinner -- including biscuits, mac 'n cheese, mashed potatoes, green beans, fries, Cajun pinto beans, and rice. That leaves you more time to watch football, and also more time to drink.
8. They only exist in 11 contiguous states
Bojangles' has been slowly expanding to new Southeastern states over the years, but the list is still capped at 11, and you could drive through all of Bojangles' country without a single detour. Right now the chosen few include Pennsylvania, West Virginia, Maryland, Virginia, Kentucky, Tennessee, North Carolina, South Carolina, Georgia, Florida, and Alabama. DC is also in there. Also, Honduras... so maybe completists do need a slight detour.
9. There's a Master Biscuit Maker competition each year
Since the entire company is built on biscuits -- seriously, sales increased 60% when they were introduced at the first location -- Bojangles' calls on employees at all 600 stores to compete in an annual "Master Biscuit Maker" contest. After a spate of regional competitions, things get parsed down to 17 finalists. Eight come from company-owned spots and nine from franchise locations, with a winner declared in each category. The victors receive a sweet trophy, an even sweeter $2,500 cash prize, and eternal biscuit-based street cred. Which they deserve, because the recipe has 48 steps.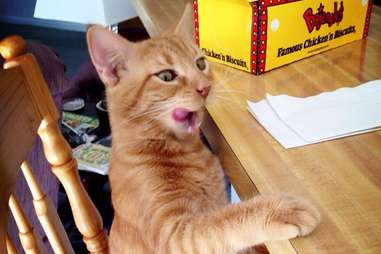 10. Cats love the stuff
If you set a Bojangles' box down, there's an 80% chance a cat will appear. It's just science.
Kristin Hunt is a Food/Drink staff writer for Thrillist, and has never been to a Bojangles' before, but admires Richard Thomas' gumption. Follow her on a quest for Cheddar Bos at @kristin_hunt.