13 things you didn't know about Buffalo Wild Wings
While any fast-casual chain worth its sliders offers chicken wings, only Buffalo Wild Wings built an entire empire out of them. Since 1982, the yellow, bison-emblazoned sign has served as a beacon to sports fans across America -- and given the chain's unstoppable growth, pretty soon it'll be a beacon to sports fans everywhere. Find out the secret ingredient to B-Dubs' success by brushing up on its three-decade history right here. Spoiler alert: it involves an alarming number of triple axels.
1. It began in... Ohio
Though the place has "Buffalo" right in the name, Buffalo Wild Wings began many miles away from upstate New York. Founders Jim Disbrow and Scott Lowery opened the first one in Columbus, hoping to introduce some authentic, Buffalo-style wings to the area after they fell in love with the stuff back East. Luckily, the kids next door at Ohio State University were pretty into it.
2. The "BW3's" nickname isn't just nonsense
The place is often affectionately called "BW3's" but most fans don't know why. The original joint was called Buffalo Wild Wings & Weck, weck being a sandwich popular in New York consisting of roast beef on an au jus-soaked kummelweck roll. Either to avoid people filling up on bread, or because nobody outside of Western New York knows what the eff beef on weck is, the third W was dropped. But the abbreviated nickname BW3's stuck, for some reason.
3. Jim Disbrow was a big deal in the figure skating world
In an attempt to create the most eccentric business cards known to man, Disbrow cultivated serious reps for himself in both the restaurant game and ice skating arena. Before he opened BWW, he competed in singles and pairs figure skating, netting a few medals in the '60s. He would later return to the fray as a judge and, eventually, the president of the US Figure Skating Association. Which begs the question: where the hell is Oksana Baiul's House of Borscht?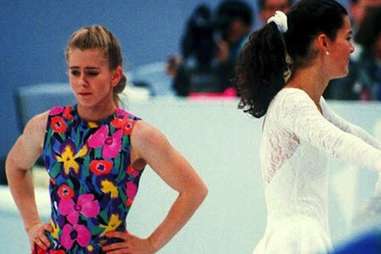 4. He even got involved in the Tonya Harding and Nancy Kerrigan debacle
By 1994, Disbrow was a well-established skating judge, and got appointed as chairman of the USFSA International Committee... i.e. the one that picked Tonya Harding and Nancy Kerrigan for the Winter Olympics. After Kerrigan got attacked and Harding admitted she kinda lied about her involvement, Disbrow was ready to launch a full investigation and send 13-year-old Michelle Kwan in Harding's place. But Harding went over his head by suing a higher authority, the US Olympic Committee, and was allowed to compete. We assume she was immediately stricken from the holiday wing basket mailing list.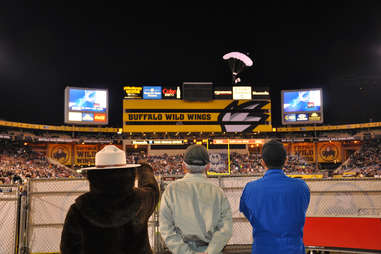 5. There's a Buffalo Wild Wings Bowl
Well, there was, until it got renamed this year. BWW sponsored a college bowl from 2012 to 2013 out in the Sun Devil Stadium of Tempe, AZ, which saw victories for the Michigan State Spartans and Kansas State Wildcats. They dropped out this summer, leaving the event to be rechristened as The Cactus Bowl. But don't worry, fans of corporate college games: word on the street is that Buffalo Wild Wings has already snagged a replacement.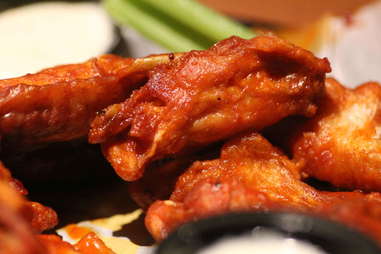 6. B-Dubs serves 21 million wings each week
That's the average, though of course special occasions jack the numbers. On Super Bowl Sunday in 2012 alone, they served over 7.7 million traditional and boneless wings. No official stats on how many of those were ordered by Tom Brady in a fit of post-game shame-eating.
7. The Ghost Pepper Sauce made many men cry
Though it's sadly now moved into the vault of retired sauces, the BWW Ghost Pepper Sauce made waves when it debuted this summer. (For those of you behind on your heat indexes, the ghost pepper ranks on the second hottest Scoville scale tier.) Lots of people challenged their friends to eat it, many of them made videos, and infinite tears were spilled in the booths of Buffalo Wild Wings.
8. Other retired sauces include Classic Margarita and Sriracha Sizzle
There's an entire Sauce Lab section of the official BWW site where you can explore the sauces of present and past. Classic Margarita and Sriracha Sizzle are two of the flashiest finds in the retirement community, but all the old-timers are pretty great. Stick around long enough and Wicked Wasabi may even tell you about his worthless Grandson.
9. PepsiCo is rolling out special BWW products
When Buffalo Wild Wings decided to ditch Coke for Pepsi, it did more than just ink a soda deal. PepsiCo and Buffalo Wild Wings agreed to a huge cross-promotional partnership which led to these Classic Hot Wings Ruffles and could spell Doritos-encrusted BWW entrees down the line. Hey, if it means we can finally leave our Cool Ranch grinders at home, we're all for it... but fingers crossed that Caribbean Jerk Cola never sees the light of day.
10. The SNL crew hangs out there
Or at least according to head writer Colin Jost, who says they enjoy the "refreshingly un-New York" vibes. Apparently, Olive Garden is a little too close to Little Italy for comfort.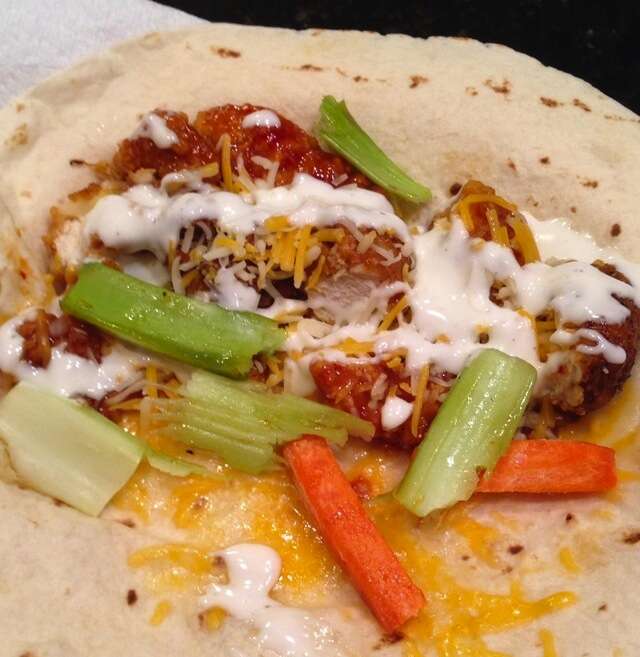 11. The leftovers make excellent burritos
All you need is some extra celery, carrots, shredded cheese, and buttermilk ranch, and baby, you've got a stew going. Er, we mean burrito. You've got a burrito going.
12. Kobayashi tricked a soccer team into a BWW challenge
Because he has to get his thrills somewhere, Kobayashi cunningly posed as a Buffalo Wild Wings employee when the New York Cosmos came in for lunch. He then got his cohorts to suggest a wings-eating challenge between midfielder Peri Marošević and himself, with a free meal on the line. That sly dog lulled Marošević into a false sense of security by tanking early on, before furiously shoveling wings to the man's utter bewilderment.
13. It's not just for sports fanatics
Even gaming parties gather there! Given its acceptance of geeks and jocks -- and high Saturday attendance -- Buffalo Wild Wings is basically like The Breakfast Club with more hot sauce. Keep an eye out for Judd Nelson the next time you're there.
Kristin Hunt is a Food/Drink staff writer for Thrillist, and hears the new(ish) B-Dubs in her hometown is THE place to be after 9pm. Follow her to late-night wing clubs at @kristin_hunt.