Chili's holds a special place in all of our stomachs or, if you read the words "baby back ribs" even relatively recently, your ear canal. And to prove that Chili's is more than just a Tex-Mex restaurant endorsed by Justin Timberlake, we gathered up a few key stories about the chain for your review. We even got to the bottom of that sexy chef debacle.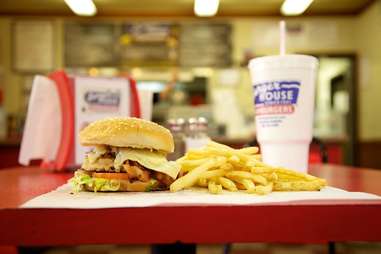 1. It was inspired by two Texas burger joints
Founder Larry Lavine originally just wanted to open a restaurant where you could grab "a great burger and a margarita" -- and those burgers owe a lot to two specific places. As a kid, Lavine scootered over to Burger House and Goff's Hamburgers in Dallas constantly, and has even credited them with sparking the Chili's concept. We assume both owners got bottomless baby back ribs for life.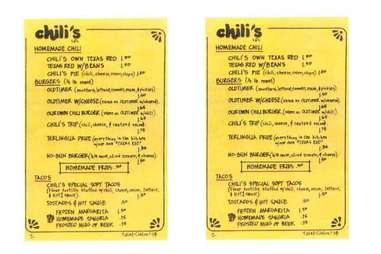 2. The first menu had chili, burgers, and tacos
When the flagship Chili's opened in 1975, the focus was on creating gourmet burgers. But after enjoying several chili cook-offs, Lavine thought adding that stuff might be a good play for his fledgling menu. You can also see the first Tex-Mex rumblings in the tacos and margaritas, though we were still miles away from the Southwestern Eggrolls.
3. They sponsored NSYNC's final tour
We probably don't need to remind you about NSYNC's cover of the baby back ribs jingle, and if we do, you should feel bad about yourself. But this partnership didn't end with Lance Bass singing wistfully on a beach. Chili's also sponsored their Celebrity tour, which ended up being their last one ever as a group. The association is still too much for Chris Kirkpatrick, who cries every time he eats Chili's queso.
4. There's a "St. ChiliHead Day" party every year
No, you didn't fall asleep in CCD class: there is no canonized saint with a Crock-Pot of chili for a head. Rather, it's Chili's strange name for their launch anniversary, so called because it falls near St. Patrick's Day. To mark another year in business, Chili's throws an annual outdoor party at the Dallas HQ, complete with cakes shaped like chilis and burgers. And a ribs trough, we assume.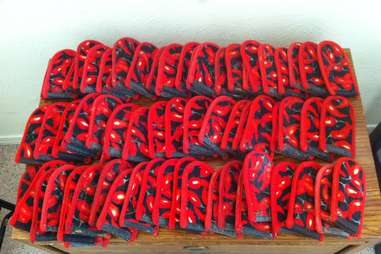 5. They attract a lot of kleptos
A redditor shared his collection of pilfered potholders last year, promising to repent and return his stolen goods. (Eventually.) But for every reformed Chili's thief, there's another high school kid just waiting to stock up on skillet accessories.
6. They have a real love-hate relationship with Steve Carell
On the one hand, he was the centerpiece of their mid-aughts product placement blitz, and even allegedly plugged the chain during his 40-Year-Old Virgin press tour. But on the other, he dealt them a devastating blow in an ESPYs parody video in 2010. Chili's did not take the slight well.
7. They're adding robot waiters everywhere
Tablets are becoming all the rage in the restaurant game, and no one's more welcoming to our android overlords than Chili's. This summer, the chain announced it had installed 45,000 Ziosk tablets across 823 locations, and would be able to offer the service to nearly all customers by fall. The tabletop devices let you place orders, pay your bill, and even play games -- the second they add Call of Duty, there'll be no reason to ever leave.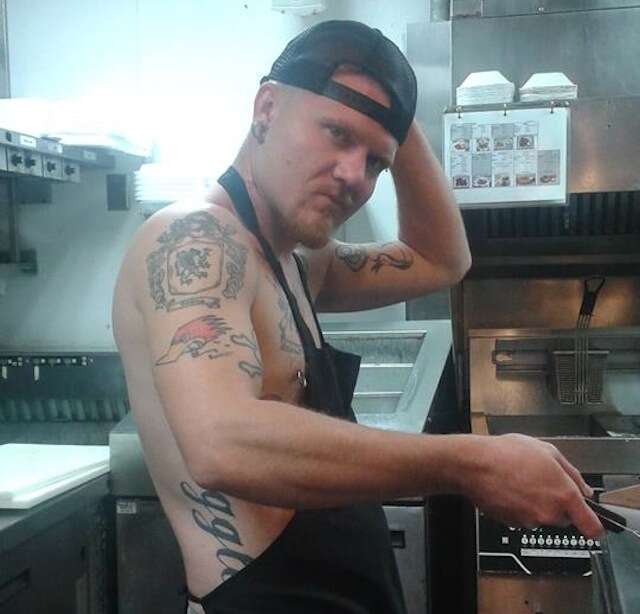 8. The shirtless cook also raps
A young man who goes by Justin Speekz lit up the Internet last month when he posted a "Sexy Cooks Of Chili's" Facebook photo album. It featured Speekz posing shirtless (with an apron) all over Chili's kitchen equipment, and while we think it was way hotter than the similarly shirtless Helen Mirren in the Golden Globe-nominated Calendar Girls, the Chili's execs had to fire the dude for breaking every health code imaginable. But don't feel bad for him, 'cause he's also got a thriving career as rapper J-Speekz. His SoundCloud is a treasure trove of tracks featuring inspired instrument choices and lyrics.
9. The founder's now doing BBQ
Because he takes the title "restaurateur" very seriously, Lavine decided to launch a barbecue spot earlier this year. It's called Ten 50 BBQ and it's now open in Richardson, TX. At Ten 50 BBQ, the pies are homemade and you even pick your meats right off the smokers outside. It may be too early to say if it'll achieve Chili's status, but the spot clearly has style.
10. You can make their fancy margarita at home
Craving a Platinum Presidente, but can't get to a Chili's? You can easily replicate the drink at home using this guide -- just make sure you have nice tequila, Cointreau, and El Presidente brandy. Plus their frozen fajita bowl, for extra authenticity.
Kristin Hunt is a Food/Drink staff writer for Thrillist, and wishes she had a HitClip of that NSYNC Chili's jingle. Follow her to intensely '90s technology at @kristin_hunt.