Stepping into a Cracker Barrel is like stepping back in time. There's a hearth, usually with some mounted deer head over the top, in every location. You'll never want for checker boards. And if you listen really closely, you might even hear the faint sounds of an old prospector purchasing homemade jams and wooden toys at the adjacent country store.
Obviously, Cracker Barrel has cornered the market on food-based nostalgia, but less obvious are the company's ties to Dolly Parton and the 2008 presidential election. We've illuminated those for you here, along with eight other weird backstories on the Tennessee-born chain. Ponder them all over a nice Sunrise Sampler.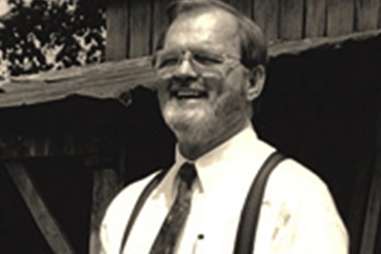 1. The founder had many past professions
Before he opened the first Cracker Barrel in 1969, founder Dan Evins explored basically every other option. First, he went to military school and logged three years in the Marines. Next, he spent two years working as an aide to Representative Joseph L. Evins, a 15-term Tennessee congressman who also happened to be his uncle. Then he picked up a teller job at his brother's bank. Then he became an oil jobber -- aka a dude who buys gasoline off refining companies and then sells it to the masses -- for his Granddad's company. It was during this time that he decided to open an old-fashioned country store/restaurant to entice drivers off the highway. For once, this gig stuck.
2. They used to sell gas
Seeing as he already had that oil-jobbing background, Evins thought he should package his new food enterprise with gasoline. All his early stores also doubled as gas stations, until an oil embargo in the '70s pushed Cracker Barrel out of the fuel game permanently. So if your rocking chair smells faintly of unleaded plus, you know why. Speaking of rocking chairs...
3. The rocking chairs come from a very old family business
Cracker Barrel buys the rocking chairs that line their front porches off the Hinkle family in Springfield, TN. And when we say family, we don't mean just one Dad and son. The Hinkle men have been in the chair biz for 180 years, going back to a farmer great-great-great Grandfather who had a side passion for furniture-making. The current Hinkles now make around 200,000 rocking chairs each year just for Cracker Barrel. They're probably the most in-demand furniture company in the fast-casual game, after whoever makes those plastic benches with Ronald McDonald melded in.
4. They tried bagels
Though Cracker Barrel made its name on Southern fare like grits and gravy, they briefly tried to incorporate other regional cuisine in the '90s. The Northeast got bagels, the Southwest got "tortilla dishes," and apparently no one liked them, because the chain yanked both.
5. The secret menu has milkshakes
A place as old-fashioned as Cracker Barrel would never admit to having a trendy secret menu, but you can order milkshakes, even though they don't appear on any of the regular menus. (Look, Yelp has proof!) Order one and you'll instantly become the coolest person at Cracker Barrel, right after that old man who sits by the fireplace, cruising for chicks.
6. It's possible to solve the peg game in a minute
At Cracker Barrel, if you aren't playing checkers, you're agonizing over the seemingly innocuous peg game. Despite the staggering amount of time people have spent failing at this diversion, it's actually possible to crack it in 60 seconds flat. Or at least it is if you're this dude, who probably solved the Rubik's Cube before he could talk.
7. They are serious about the sock monkeys
One of the headliners of the country store, the Cracker Barrel sock monkeys aren't getting pumped out of some shady factory in China. They're still made by hand in Ozark, MO -- and they've moved 500,000 units in the past 17 years.
8. Dolly Parton got them a gold record
Cracker Barrel actually has its own mini (country) music empire. They've partnered with singers like Alan Jackson and Wynonna Judd on exclusive albums sold out of their stores, but most notably they teamed up with the patron saint of wigs, Dolly Parton, to release An Evening with... Dolly. The two-disc set was eventually certified gold by the Recording Industry Association of America (RIAA) in 2012, which means the chain has its own gold record hanging somewhere in HQ. Most likely next to the original recipe for the Double Fudge Coca Cola Cake.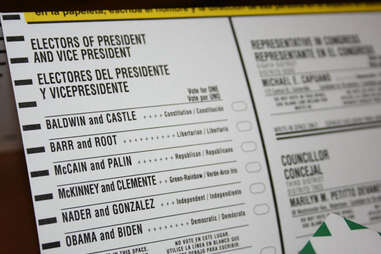 9. They're a (potentially) important election litmus test
During the 2012 presidential race, political analyst David Wasserman theorized that the whole thing essentially boiled down to Whole Foods vs. Cracker Barrel, with the former repping the blue and the latter standing in for the red. To make his case, he pointed to stats like Obama carrying 81% of counties with a Whole Foods but just 36% of those with a Cracker Barrel in 2008 and that 82% of congressional districts that flipped from Democratic to Republican in that race boasted a Cracker Barrel. We're not sure if we buy the connection, but just to be safe, all the 2016 GOP hopefuls should add the Barrel to their list of stops.
10. Hannibal Buress loves them
Buress is a very funny man, but he is deathly serious about his love for Cracker Barrel. In this five-minute video alone, he praises their $20 keyboards, dares you to beat their prices, and compares the chain to both Tim Duncan and Lionel Richie. Okay, maybe he's not that serious.
Kristin Hunt is a Food/Drink staff writer for Thrillist. Her family used to stop at Cracker Barrel on every summer road trip to North Carolina, but she never once mastered the peg game. Follow her to defeat at @kristin_hunt.