Whether you're cruising for a Grand Slam before your unreasonably early meeting (maybe with your Grandma) or scoring life-saving late-night hash browns, the doors of Denny's are always open. For 61 years, Denny's has been auditioning for the title of "America's Diner" by offering greasy staples at all hours of the day, and based on its loyal fanbase, they might just have the role. But before we tell the other contenders to go home, let's take a look at their bacon-filled, Hobbit-fattening past.
1. They had many, many previous names
When Harold Butler and Richard Jezak opened the first Denny's in Lakewood, California in 1953, it was actually called Danny's Donuts. Three years later, Jezak left and Butler rechristened his six stores Danny's Coffee Shops. After another three years, Butler got worried people were confusing his enterprise with the LA shop Coffee Dan's, so he made it Denny's Coffee Shops. He finally dropped those deadweight words and just made it Denny's in 1961.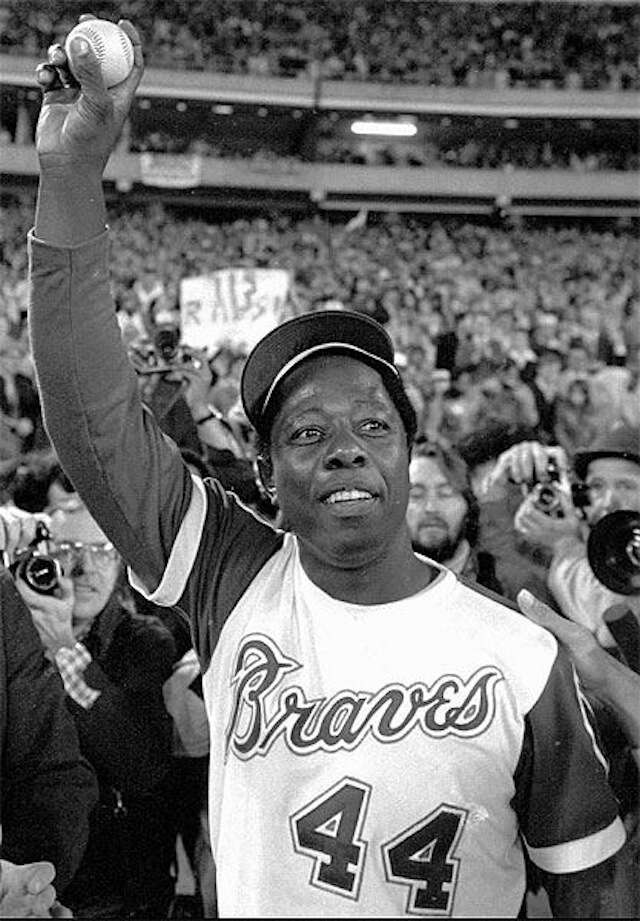 2. The Grand Slam is a tribute to Hank Aaron
Denny's signature combo was introduced at an Atlanta location in 1977 as a nod to the city's hero, Hank Aaron. Aaron had shattered Babe Ruth's home run record of 714 hits at the Atlanta-Fulton Country Stadium three years earlier, and clearly his breakfast-minded fans hadn't stopped partying.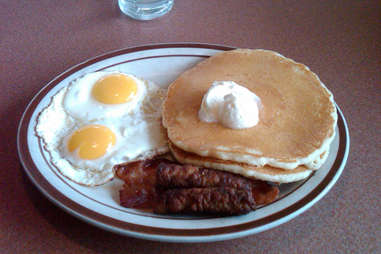 3. Denny's served two million free Grand Slams in a single day
Speaking of Grand Slams, Denny's dished out a ton of them right after Super Bowl XLIII. In the ad they aired during the game, Denny's promised a free Grand Slam to absolutely anyone who came in that Tuesday between 6am and 2pm. It was apparently a scheme to get people to reevaluate the diner, and many discerning patrons took the bait. Denny's did it again the next year and got another two million takers. They decided to discontinue the promo after that, probably because bankruptcy sounded kinda scary.
4. They didn't even have locks until 1988
Denny's committed so hard to the "open 24/7" policy that when they decided to close almost all their spots for Christmas in '88, about 700 restaurants had to get locks installed. Some had lost their keys ages ago because they were useless, while others never had locks to begin with. Denny's presumably then spent Christmas Day receiving a very stern lecture on personal safety from its parents.
5. The Fried Cheese Melt was condemned by a watchdog group
Bad news for anyone who thought stuffing a grilled cheese with mozzarella sticks was a responsible decision: it really, really isn't. But the now-discontinued Fried Cheese Melt was so gluttonous that the Center for Science in the Public Interest shamed Denny's in their annual Xtreme Eating awards. (Note the heavy sarcasm.) It was probably because the dish had a day's worth of saturated fat (21g) and two days' worth of sodium (3,010mg), and also was a grilled cheese sandwich with friggin' mozz sticks in the middle. Actually, that sounds pretty good...
6. Some dude ate the Hobbit menu in one sitting
Because they're secretly massive fans of that dreamy Orlando Bloom, Denny's has made a special menu for each new Hobbit movie. When the first one hit in 2012, a very brave/foolish man decided to eat every item in one go. He did. We hope he does it again when Battle of the Five Armies is released this year, but we're not sure if anyone's heard from him since his mighty feat.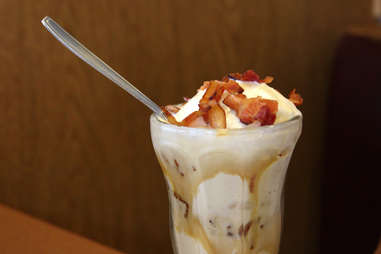 7. Denny's hopped on the bacon craze early
Back in 2011, when the nation's collective obsession with bacon was still developing, Denny's pulled a power move by introducing an all-bacon menu. Baconalia was 10 weeks of bacon pancakes, bacon meatloaf, and bacon milkshakes -- and it was so popular, even the kids in South Parkheard about it. Denny's brought it back in 2013, only to take it away again. Our therapist says this is the root of our trust issues.
8. It's Heisenberg's favorite haunt
You might have been too busy wondering what the hell was going on in Breaking Bad's season five flash-forward (you swore those off after Lost, dammit!) to notice, but Walt has his lonely 52nd birthday breakfast at Denny's. This wasn't the first time Mr. White chilled at the diner, either. He and Jesse also stopped by in the season four premiere to calm down after the box-cutter incident. These restaurant cameos were cited as examples of Breaking Bad's revolutionary product placement by Forbes, and Denny's was kinda stoked about it.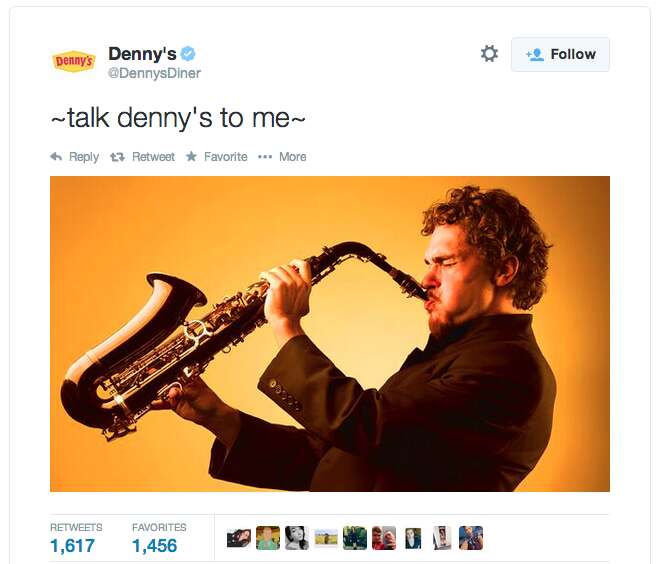 11. The Japanese branch made instant jambalaya
Apparently, Denny's makes a mean jambalaya overseas. So mean, in fact, that they mass-produced an "instant" version in Japan earlier this year. Hopefully that means we're getting insta-pancake packets any day now.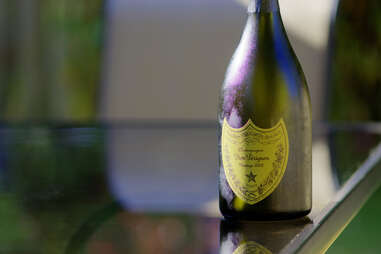 12. The NYC location has a $300 Grand Cru Slam
When Denny's opened their first-ever Manhattan location this summer, they clearly consulted Donald Trump for menu advice. On top of crafting serious cocktails, the management offers the Grand Cru Slam, a $300 version of the special boasting breakfast for two and a bottle of Dom Pérignon. Most alarmingly, people without names on towers ordered it.
Kristin Hunt is a Food/Drink staff writer for Thrillist, and could probably live off diner food if her doctor wasn't such a square about it. Follow her at @kristin_hunt.