This Halloween, you'll probably don a costume of questionable taste and drink way too much pumpkin beer. The next day, you'll head to a drugstore to buy all their discounted candy, which will absolutely include Hershey's, the pride of Pennsylvania that's been calling the chocolate shots for 100+ years.
In that lengthy timespan, it's managed to create an amusement park, feed the troops, and corner the market on campfire treats. But it's also got some darker, animatronic secrets you should know, which is why we dug up the dirt on Milton Hershey's labor of love. Read this as you're coming off your candy high.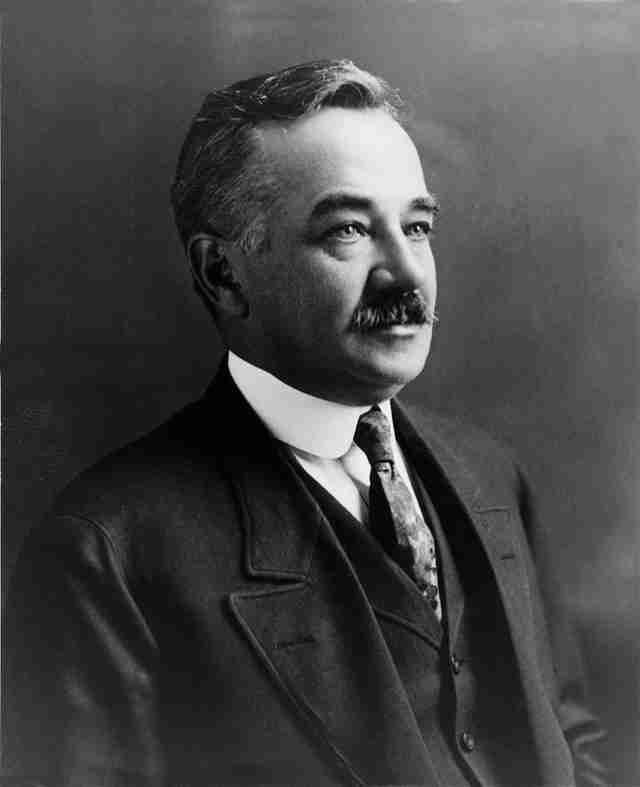 1. Milton Hershey failed again and again
We have Milton Snavely Hershey (don't name your kids that all at once) to thank for The Hershey Company, but only because he didn't give up. Lil' Mil apprenticed with a Lancaster candymaker as a teenager for four years before starting his own company in 1876 in Philly. It didn't work out. So he went to Denver, and got hired by a confectioner. That guy taught him how to make caramels with fresh milk, so Hershey started business #2 in NYC. It also tanked. So he returned to Lancaster, tore up all the stern bank notices, and said, "Whatever, I'm trying this again". It finally stuck. The Lancaster Caramel Company soon employed 1,400 people and was shipping all over America.
2. It wasn't always about chocolate
As you might've noticed, Hershey's original company had nothing to do with chocolate. It was the 1893 World's Columbian Exposition in Chicago that first got him interested in the cocoa game. He was fascinated by some of the German machinery he found there, so he bought it and shipped it over to Lancaster, where he started experimenting with chocolate coatings for his caramels. The Hershey Chocolate Company swiftly followed, and Milton sold his caramel enterprise for a cool $1 million, much to Herman Werther's pleasure.
3. Most of the hits came in the Prohibition era
Though Hershey introduced Kisses to the world in 1907, much of his signature line was developed about two decades later. Mr. Goodbar dropped in 1925, Hershey's syrup debuted in 1926, and Hershey's chocolate chips appeared in 1928. Krackel waited until 1938 to emerge.
4. They developed heat-resistant "tropical bars" for WWII troops
Since FDR wouldn't dare send our boys overseas without chocolate in hand, the US Army worked with Hershey to create custom ration bars. These so-called Ration D bars were ready to go before America even officially entered the war, but in 1943, the military came back with a more unusual ask. They wanted a heat-resistant bar for soldiers in high-temperature locations. So Hershey created the Tropical Chocolate bar, designed to withstand up to an hour in 120°F. By the time the war wrapped up, Hershey's had produced nearly 3.8 million Tropical Chocolate bars for the military -- and it didn't even stop there. In 1971, the treat was shot up into space with the Apollo 15 crew. Conflicting reports describe Neil Armstrong as either "mildly" or "savagely" jealous.
5. There's a fascinating story behind the Reese's Cup
Harry Burnett ("H.B.") Reese, the transcendent inventor of the Reese's Peanut Butter Cup, first encountered Hershey's in 1916, when he saw their job posting for dairy farmers. He moved his family out to Chocolate Town and was eventually promoted to management, but found himself out of a job in 1919 when they shut down his barn. After seeing his employer sell "a trainload of chocolate every day", Reese figured he could do it, too, and started up his own candy business. Much like Hershey's, the first enterprise failed, but the next try worked. And once he innocently tested a peanut butter cup in an assortment pack? Reese had a monster hit. Hershey's supplied his chocolate the entire time, and after Reese passed in 1956, the company went to Hershey soon after.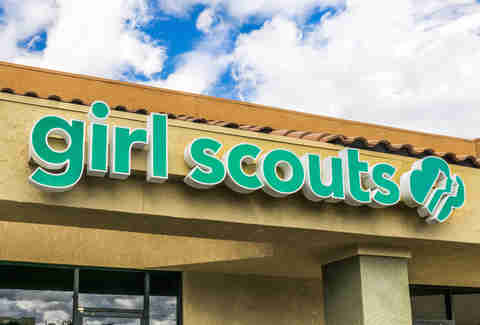 6. The Girl Scouts gave them a major boost
Though you can technically use any chocolate in your s'mores, true patriots always break off a piece of Hershey's. And while you'd think their PR team dreamed up that campfire treat for Q3 sales, it was actually the Girl Scouts. The first known recipe for s'mores, or "Some Mores" as they were originally called, appears in their 1927 handbook, Tramping and Trailing with the Girl Scouts. They don't name-check Hershey's, but you can assume Milton sent the nearest troop a truckload of candy for their troubles.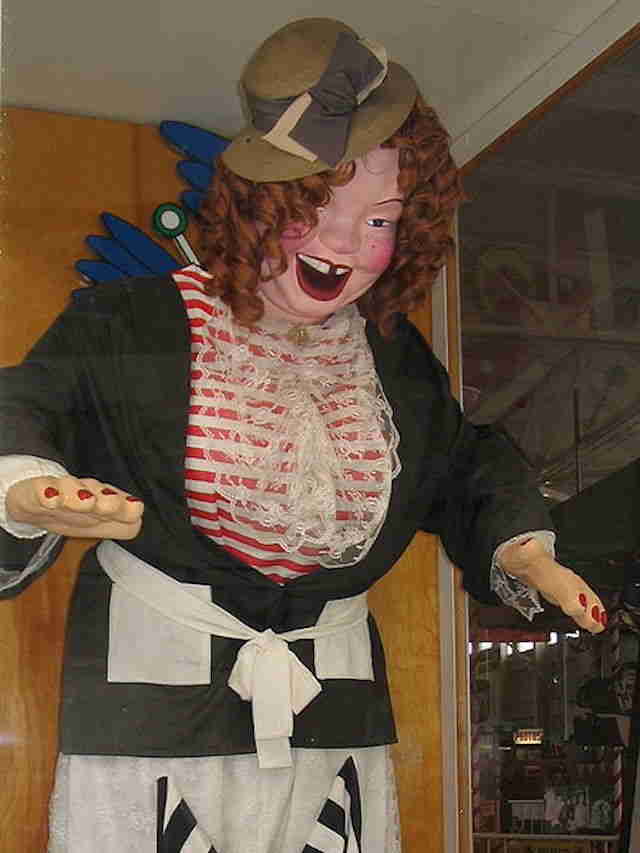 7. Hersheypark had horrifying animatronic dolls
Since 1907, Hersheypark has welcomed thrillseekers with a sweet tooth through its doors. But the amusement park of yore isn't quite the same as the one we know today. In fact, it sounds a little creepy. We're basing that solely off the tales from the old funhouses -- from 1930 to 1972, the place had three. One of them featured Laffing Sal (the horrorshow you see above), and was a fixture of funhouses and piers of the time. Another had a sack ride that was apparently rife with sexual harassment. By a Hersheypark vet's own admission, "You rode down an incline in a burlap sack, and the boys used to stand around the blow holes waiting for the girls to go down, and the operator would turn on the blowing air, and up go the skirts." Get excited, ladies: the funhouses are coming back!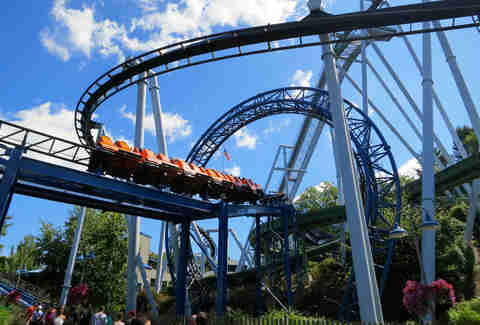 8. It also had the first looping roller coaster on the East Coast
Still terrifying squeamish teens to this day, the SooperDooperLooper was a big deal when it first debuted in 1977. Hitting heights of 57ft and speeds of 45mph, it was the first-ever looping roller coaster out East. It would've been the first in America, if Six Flags Magic Mountain hadn't beat them to the punch just a year earlier with the Revolution.
9. There used to be a Hershey Air Park
Opened in 1944, the Hershey Air Park used to be situated right across the street from Hersheypark. Visitors could take flying lessons, sign up for sightseeing tours, or even rent their own plane for $7 an hour. Sadly, it closed in 1981, possibly because... they let people rent their own planes?!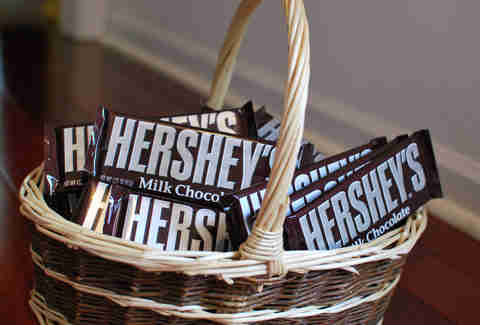 10. Hershey's utterly annihilates on Halloween
Last year, The Atlantic looked into the candies people wouldn't shut up about on Twitter right around Halloween, and found that not only did Hershey's consistently hit the top 10, so did three of their corporate properties: Twizzlers, Kit Kats, and Reese's (which was constantly battling Snickers for the number one spot). And sales? Let's just say we wouldn't be surprised if the Hershey execs dance around a bonfire of money every October 31st.
11. The Hershey Hotel has a "chocolate spa"
It's a whole soothing world of cocoa massages, chocolate sugar scrubs, and whipped cocoa baths -- or you could try to replicate the experience by rubbing discounted chocolate bars on your body. Ok, the spa's probably a better idea.
Sign up here for our daily Thrillist email, and get your fix of the best in food/drink/fun.
Kristin Hunt is a Food/Drink staff writer for Thrillist, and thinks the most stressful part of Hersheypark is planning your Chocolate World photo pose. Follow her to day passes at @kristin_hunt.