14 things you didn't know about Krispy Kreme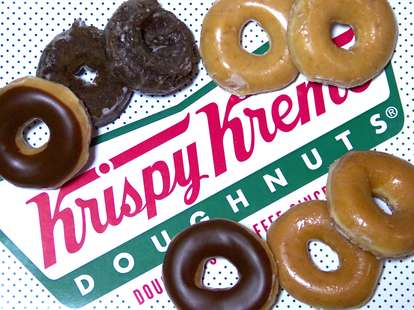 As Chris Rock once surmised, Krispy Kreme is basically crack. The donuts, whether original glazed or stuffed with raspberry jelly, have had us hooked for 74 years, and we're not looking to quit anytime soon. To better understand our dependency, we decided to look into the history of this donut empire. It involves pizza. And rap beef.
1. It has roots in NOLA
When Krispy Kreme mastermind Vernon Rudolph opened for business in Winston-Salem in 1937, he wasn't working off his family's treasured recipe. He actually bought the secret to his famous yeast-raised donut off a New Orleans chef. The guy's name has been lost to history, so we're just going to assume his name was Reginald LeKrispy.
2. The scent was a big selling point
Rudolph didn't have an actual store when he started Krispy Kreme. Instead, he rented space to serve as his factory and sold the donuts to grocery stores. But the aromas pumping out of his building were so intoxicating, mobs came in off the street asking to buy whatever he was making. Ever the improviser, Rudolph cut a hole in the wall and began making sidewalk sales. The kid selling lemonade across the street never saw it coming.
3. They used to sell pizza
Or so this vintage sign would have us believe. We assume they stopped selling the goods to give every other bakery in America a fighting chance.
4. There's a "hot now" app
People are so fanatical about the Krispy Kreme hot light -- which tells you fresh donuts are being made -- that there's even an app that alerts you when the signal is on in local shops. Use it responsibly.
5. The glaze machine is the most beautiful thing you'll ever see
Watch this breathtaking short film of a Krispy Kreme factory in action, and you'll wonder why you ever wasted your time on tripe like Citizen Kane. That glaze cascade alone is a modern Wonder of the World.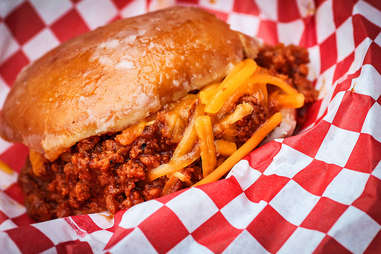 6. People use the donuts as Sloppy Joe buns
Long an all-star of the fair-food game, Krispy Kreme reached its peak when Chicken Charlie's transformed it into a Sloppy Joe at the San Diego County Fair last year. Mom's Manwich was never quite the same.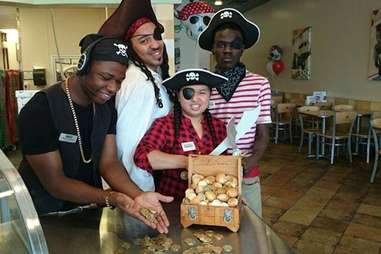 7. You score them for free throughout the year
Always looking to feed broke pastry lovers, Krispy Kreme offers free glazed donuts on National Donut Day, Halloween, and even Talk Like a Pirate Day. You do have to speak like Jack Sparrow to score your glazed treasure, but adding a few "matey"s to your speech isn't that harrrrrgh-d. Ugh. One glazed, please.
8. There's a Krispy Kreme donut run
In a perfect marriage of fitness and gluttony, 10 friends in Raleigh started the Krispy Kreme Challenge. This stunning feat of athleticism begins with a 2.5mi run from the Memorial Belltower to a local Krispy Kreme. There, you eat a dozen glazed donuts before running all the way back to the monument. The whole thing raises money for the North Carolina Children's Hospital. Do it for the children!
9. They make great wedding cakes
Screw multi-tiered buttercream nonsense -- get a donut tower to make your nuptials extra special.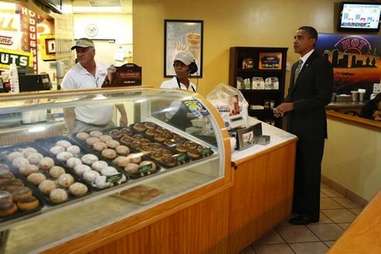 10. The president eats there
While stumping on the '12 campaign trail, Obama dropped by a Krispy Kreme in Tampa to pick up three-dozen of the store's finest. They were for a bunch of firefighters, but we have a feeling the dude "accidentally dropped one" before he delivered the goods.
11. They made cotton candy donuts
The "County Fair" donuts were just one shining example of Krispy Kreme's incredible limited-run pastries. While some never resurfaced after their maiden voyages, others make annual appearances. Red Velvet, we're excited to see you again soon.
12. They inspired a rapper
Tyler Cassidy, street name Krispy Kreme, conquered YouTube in 2012 with videos for singles like "The Baddest". Nowadays he goes by Froggy Fresh, because the real Krispy Kreme was not pleased he was cribbing their style. That's right: Krispy Kreme had rap beef. And its rival backed right off.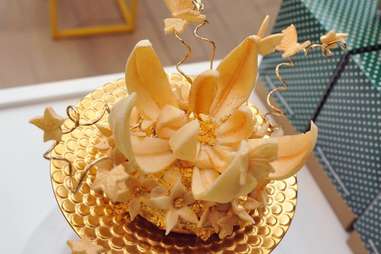 13. The Brits made a $1,685 donut
Featuring Dom Perignon vintage 2002 Champagne jelly with raspberry and Chateau d'Yquem creme, a 23-carat gold-dusted Belgian white chocolate lotus flower, and edible diamonds, this pricey pastry lived at a London department store for a brief time this year. It now resides in Scrooge McDuck's trashcan, along with a half-eaten, $3,000 croissant.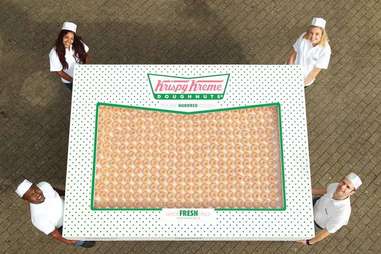 14. You can stuff 2,400 into a single box
The lucky winner of a Krispy Kreme UK Twitter contest received this 11ft-long box of 2,400 classic glazed donuts. It was dubbed the Double Hundred Dozen, and it makes frequent cameos in our daydreams.
Kristin Hunt is a Food/Drink staff writer for Thrillist, and hopes the Krispy Kreme factory gives guided tours. Follow her to glaze waterfalls at @kristin_hunt.