12 things you didn't know about Taco Bell
Lee Breslouer
Lee Breslouer
Back in the early 1950s, Glen Bell was just a dude who wanted to make people tacos. Today, he's left us an empire of snarkily-labeled hot sauces that is always there when we need it most. An achievement like that deserves its due, which is why we rounded up Taco Bell's most important oddities. Somewhere in doggie heaven, Gidget the Chihuahua is whispering, "Yo quiero Taco Bell" with pride.
1. Mr. Bell sold his sister's fridge to get started
Our intrepid TBell founder began with a hamburger stand called Bell's Burgers, where he would eventually test hard-shell tacos to phenomenal success. Only he didn't have any capital of his own to open a business, so he sold his sister's refrigerator for start-up cash. According to Taco Bell corporate, "She wasn't thrilled with the idea at first, but when she saw the little hamburger stand Glen built with his bare hands, she couldn't have been prouder." We hope he paid her back.
2. The early marketing campaign involved free sombreros and mariachi bands
Bell introduced tacos to his enterprise in 1951, and before long, they were outselling the burgers. Naturally, he decided to open a stand-alone Mexican restaurant, which is how the proto-Taco Bell, "Taco Tia", came to be. (A friend convinced him to be a little egotistical and call his restaurants Taco Bell in 1962.) Bell wasn't taking any chances on this one -- to make sure everyone knew about his new baby, he hired a mariachi band to perform outside the restaurant and drove around town in an old bread truck, handing out free sombreros like candy. Because the best candy comes from a random dude in a truck.
3. The first customer didn't have a terrific experience
Bell would end up selling billions of tacos, but he always remembered the first one he sold at his hamburger stand, mainly because he took the transaction as a terrible omen. As Bell recalled in a biography, the dude who bought the taco spilled juices all over his suit sleeve and tie, and Bell assumed he'd never come back. But he quickly returned (presumably with a bib this time), declaring, "That was good. Gimme another."
4. There used to be a "Seafood Salad"
Taco Bell has killed a lot of its creations -- the Black Jack Taco, the Bell Beefer, the Grilled Stuft Nacho -- but none quite so beguiling(?) as the Seafood Salad. The '80s menu item came with shrimp, whitefish, and snow crab, and, from the looks of this commercial, tried to slam the Filet-O-Fish. It did not work.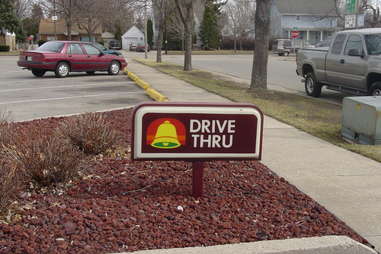 5. It hilariously ended a college athlete's career
Fans of the University of Kansas' defense and schadenfreude might remember the tale of Dion Rayford. Back in 1999, Rayford was a senior defensive end for the Jayhawks getting ready to play the last game of his college career. But thanks to a bad late-night decision, Rayford's run was cut short. The man got so angry at a local Taco Bell drive-thru staff for forgetting to include his chalupa that he tried to climb through the window, which broke under his weight, leaving him stuck. Rayford pled not guilty to charges of having an open container, disorderly conduct, and misdemeanor damage to property, but he was suspended from his final game and generally became the laughingstock of the sports world. Hopefully, that Taco Bell installed a pair of bronze, dangling legs outside its drive-thru, in tribute to this fallen hero.
6. Rocko voiced the Taco Bell Chihuahua
Though Gidget, the dog Taco Bell featured in its massively popular "Yo quiero Taco Bell" commercials, was a star in her own right, the dude who voiced her has a pretty awesome resume of his own. He was basically the king of old-school Nickelodeon shows, lending voices to Rocket Power (as Twister's Dad), SpongeBob Squarepants (as "Dude Fish"), and CatDog (as Winslow). But his most notable role was on Rocko's Modern Life, where he played Rocko and Spunky. Oh, and just to make things weirder, he's also Garcia from Reno 911!.
7. The coolest location is in Pacifica, CA
On one side, you've got a beach that's steps away from the wrap-around porch. On the other, you've got majestic mountains on the horizon. Either way, you're getting a kickass view.
8. The DLT was the result of a fan's grassroots campaign
Though you'd think the record-smashing Doritos Locos Taco was dreamed up by the Taco Bell innovation team, it actually came from an imaginative fan. Todd Mills first pitched his idea for Doritos taco shells to Taco Bell in 2009, and when they declined, he didn't give up. Instead, he launched a Facebook movement featuring hilarious Photoshops of everyone from Tyler Durden to Ron Burgundy endorsing his idea. The campaign gained enough traction that Taco Bell finally decided to test-run Mills' creation in 2012, and invited him to be one of the first official taste-testers. Though the DLT would go on to make a buttload of money, Mills never asked the company for a dime. He sadly passed away late last year, but needless to say, his fans remember him fondly.
9. The late-night drive-thru attracts tipsy brides and Charlie Sheens
In fairness to Dion Rayford, the Taco Bell drive-thru gets all sorts of weird visitors after hours. This burrito-hungry bride became Internet-famous earlier this year, while Charlie Sheen continued his campaign to scare and bewilder America when he crashed through the lanes this summer.
10. Creedence Clearwater Revival totally ate there
This was allegedly snapped in 1968, at the San Luis Obispo location. And while Creedence is the main attraction in this photo, let's not ignore the chili burgers advertised behind them.
11. Das Racist's "Combination Pizza Hut and Taco Bell" is deep, man
The song actually has subtle sociopolitical implications, but mostly it's fun to hear them rap, "I'm at the Pizza Hut. I'm at the Taco Ball. I'm at the combination Pizza Hut and Taco Bell" over and over again.
12. They got Shaq and The Dream to do this
It was supposedly for an ad campaign, but if Shaq and Hakeem Olajuwon are anything like the common American, they did this for nothing more than a Crunchwrap.
Kristin Hunt is a Food/Drink staff writer for Thrillist, and actually never had Taco Bell until she was out of college. Follow her to heresy at @kristin_hunt.