Courtesy of Culver's
Courtesy of Culver's
1984 was a big year for America. Apple debuted their Macintosh computers with an Orwellian ad. Kareem Abdul-Jabbar broke Chamberlain's career points record. And the Midwest was formally introduced to Culver's. While few outside the Heartland have even heard of this chain, on its home turf it's adored for its ButterBurgers, frozen custards, and plentiful Wisconsin cheese curds. But it's got a lot more going on than buttery buns. For tales of its thriving community theater and Brownie Thunder Pork, you're going to have to scroll below. And if you can resist the allure of Brownie Thunder Pork, you're a better man than I (also, I am a woman).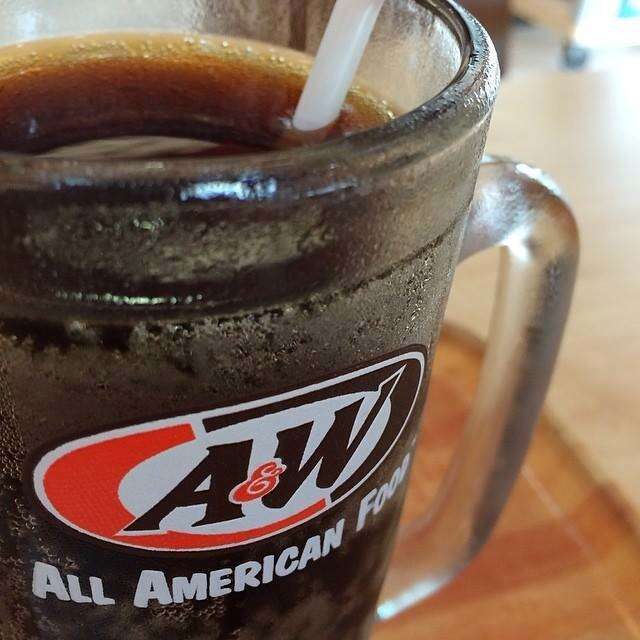 1. The founders had tons of food experience
Culver's was collectively started by four Culvers: George and Ruth, their son Craig, and Craig's wife Lea. But this wasn't their first family business venture. George and Ruth owned an A&W franchise in Sauk City, WI from 1961 through 1968, and then the Farm Kitchen resort at Devil's Lake after that. (Craig worked there during his breaks from University of Wisconsin-Oshkosh and actually met Lea while on the job.) After Craig graduated, he clocked in some time at McDonald's and tried to scheme up his own restaurant. Opportunity struck when the same A&W space the Culvers had owned in the '60s became available again in 1984. The four of them snagged it, and used it as the launching pad for their own spot.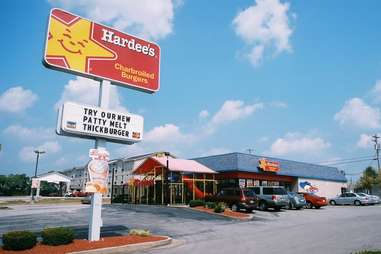 2. Hardee's gave them hell in the early days
Any restaurant's first year is tough, but it doesn't help when you have a fast-food big dog living a few doors down. Craig Culver told Forbes that he lost out on a lot of money in 1984, and the nearby Hardee's had plenty to do with that. Luckily, the Culvers managed to break even by year two. And when 1986 rolled around, they were firmly in the green with $100,000. Take that, you smug Carl's Senior!
3. The ButterBurger was based on Ruth's recipe
Culver's claim to fame came straight from Mom's kitchen. Ruth had apparently been serving her family burgers with buttered, toasted buns since Craig was a kid, and the team decided those needed to be on their fledgling menu. The so-called "ButterBurger" took off fast. Nowadays, Culver's trains their legion of fry-cooks for hours to make sure they have the signature item down pat, and the competition has been slowly creeping in on the action.
4. They've got over 80 frozen custard flavors
From Snickers Swirl to Orange Creamsicle, their custard caters to all tastes. Unless you're one of those weirdos who craves foie gras ice cream.
5. They're incredibly generous
Culver's has a philanthropy program that gives money to local groups, national charities (like the American Family Children's Hospital), and employees in the form of scholarships. But if you want a real mark of their kindness, consider what happened in Platteville, WI. After a catastrophic fire shut down the local Culver's, franchise owner Bruce Kroll assured his team of 40 that they'd be taken care of. They assumed he had worked things out through their insurance company, but it turned out the policy only covered up to 60 days. The rest of the money -- $144,000 -- came out of Bruce's own pocket. His grateful employees scored him a spot on Steve Harvey, where he was hopefully also rewarded with sweet Blu-rays of Think Like a Man.
6. Andrew Zimmern loves them
When the celebrity chef selected four burger chains "that get it right," Culver's nabbed one of the coveted spots. Zimmern said he and his family stop there frequently for burgers, crinkle-cut fries, and the signature root beer on road trips -- all "while cranking The Clash with the windows down." Clearly someone needs to reexamine London Calling for hidden drive-thru messages.
7. Their daily special signs are kind of hilarious
Every day, Culver's offers a different featured frozen custard, which they usually display on a sign out front. But they often tack on an entree to try as well, leading to such surreal flavors of the day as "Mint Chip Chicken Dinners" and "Brownie Thunder Pork." Dare to dream, Flavor Gurus.
8. They have a "community theater"
Well, it's actually a bunch of animated spoofs starring fries, custards, and onion rings, but they have an impressive repertoire. There's "Top Bun," "The Wizard of Cod," and even a tasty tribute to Jake and Elwood, "True Blue Brothers." If only we had as much range as that Belushi burger.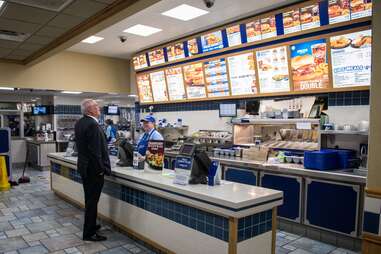 9. Their franchisees just don't fail
When the Milwaukee-Wisconsin Journal Sentinel took a deep dive into the Culver's franchise network in 2010, they uncovered a pretty amazing stat. Looking at loans guaranteed by the US Small Business Administration to franchise owners, they found the rate of failure among Culver's franchisees was just 1.7%. Meanwhile, the average rate of failure for all franchise loans was over 17%. Industry insiders credited the success to Culver's intense vetting process for franchisees and careful expansion plan, but we can't help feeling that it has more to do with their large quantities of fried cheese.
10. They are no friends to cats
Mostly just this one, which had to be rescued by the local fire department after it got stuck in a tree, Culver's custard bowl affixed to its furry face. That'll teach him to get greedy with the Cookies & Cream.
Kristin Hunt is a Food/Drink staff writer for Thrillist, and has never been a huge fan of cats either. Follow her to puppies at @kristin_hunt.