First it was raw almonds. Then it was quinoa. At some point chia seeds had their big moment. And, of course, we can't forget kale (seriously, I've tried). And now, may I present, the holiest of holy, healthiest of healthy, super-est of superfoods: TURMERIC!
Ground from a root similar to ginger, the dark yellow spice has been a fixture of Indian and Southeast Asian cuisine since time immemorial (think curries, biryanis, lentil soups). But now, what was once considered the poor man's saffron, has wooed the Western health elite with its alleged ability to treat a whole roster of ailments like psoriasis and indigestion. Plus, it might even ward off cancer.
The little seasoning that could has creeped its way into everything from face masks to French fries, despite its chalky, bitter taste. Thankfully, as its cred continues to surge amongst health-conscious cooks, an increasingly diverse bounty of delicious turmeric-rich recipes has been unleashed into the blogosphere. Here are a few of them.
If breakfast is the most important meal of the day, it can't hurt to incorporate a life-saving ingredient or two into your normal AM routine. This simple and ultra-satisfying recipe is ideal for Sunday meal planners since a single batch should last all week. Put more shine in your rise here.
Looking to up your veggie game? Try this hearty, fragrant one-pot stew on for size. Not only will your body soak up all that turmeric goodness, but you'll also be benefitting from the almighty high-protein, low-fat lentil. Get stewing here.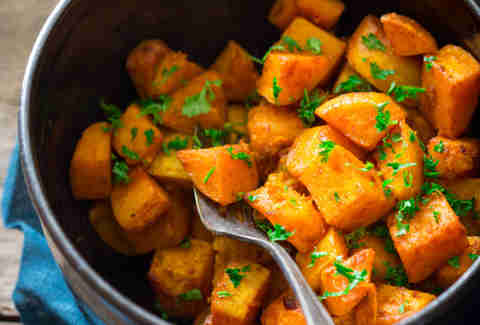 Trick everyone at the potluck into believing you're an ace in the kitchen with this vibrant, savory, and insanely easy-to-make vegetable dish. It's literally just squash, olive oil, and spices but it looks like a zillion bucks and tastes like a perfect fall day. Recipe here.
Turmeric is at its all-time best in this well-rounded chicken dinner and the coconut wild rice is so succulent and beautifully textured it's frankly addictive. Proceed with caution. But also proceed with the recipe.
Next time you're in the mood for Thai food, skip the greasy takeout and whip up this quick, easy, and super-flavorful shrimp curry. The recipe opts for a homemade spice blend instead of pre-made curry paste, putting anti-inflammatory powerhouses like fresh garlic, ginger, and, of course, turmeric front and center. Get cookin' with that sauce.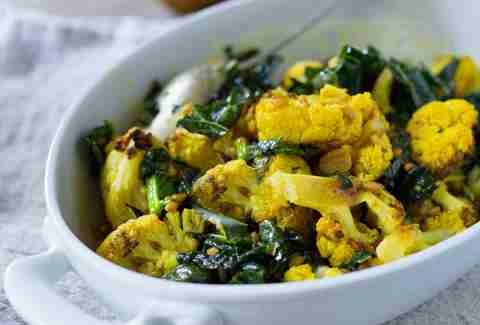 Warm roasted cauliflower, wilted kale, and nutty farro come together to form the perfect canvas for this sweet, earthy turmeric dressing. Maple syrup balances out the turmeric's bitterness, making the autumn-scented, vitamin-rich vegetables shine like never before. Get on it here.
A savory dry rub of Turmeric-heavy hawaij seasoning sets this grilled mahi-mahi sandwich far apart from the rest while the pillowy brioche and tahini slaw really make the dish sing. Summer has never tasted better. Grill on.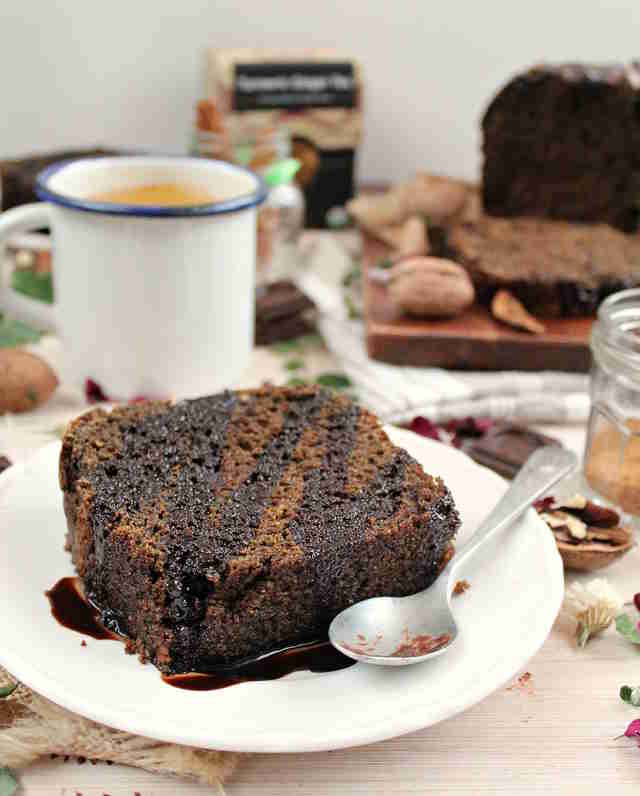 It sounds crazy, sure, but this rich, indulgent chocolate cake is actually kind of good for you. The recipe calls for turmeric tea bags, so it's a bit softer on the palate than some of the more powder-focused dishes while still retaining all the anti-everything-bad effects. See for yourself here.
Sign up here for our daily Thrillist email, and get your fix of the best in food/drink/fun.