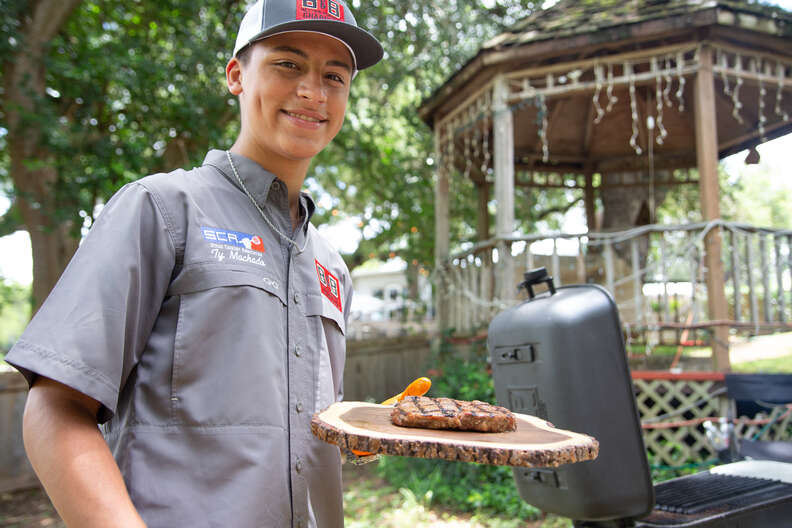 How a 16-Year-Old Texan Became a Barbecue Phenom
In his grandma's suburban backyard in Seguin, TX, Ty Machado stands next to a grill and whips a Zippo from his pocket like a gunslinger. He weaves it through his fingers and strikes the flint, but it doesn't light. His face curls in embarrassment, then a timer beeps. He flips a fat ribeye. Grates heated to 650 degrees brand the steak with grill lines so straight they could be used to graph his math homework.
At just 16 years old, Machado is a barbecue phenom. After appearing on the Food Network's Kids BBQ Championship at age 13, Machado began competing seriously in 2016 and traveled 22 weekends that year, consistently beating men three times his age who devote every ounce of their free time and disposable income to competition barbecue. He misses a lot of school, but he's learned to bring his teachers barbecue as penance.
I first met Machado at the Memphis World Championship Barbecue Cooking Contest in 2017 through grand champion Brad Orrison of The Shed, who was showing Machado how to remove the money muscle from a pork shoulder. A year later in 2018, Machado returned to Memphis, considered the Superbowl of BBQ, and took home first place in the exotic category by cooking bacon-wrapped lamb lollipops. Even for a pitmaster with a lifetime of experience that would be a career highlight, but Machado's patience with competitive barbecue has already worn thin.
Smoking a piece of meat can take all day, whereas grilling a perfect steak only requires seven minutes, so he's taken his talents from the Kansas City Barbeque Society (KCBS) to the Steak Cookoff Association (SCA). Maybe it's the millennial attention span, or Machado just prefers ribeyes. Either way the transition from culinary marathoner to charcoal sprinter has been seamless. His record this season qualified him for the World Food Championships this weekend in Orange Beach, Alabama, but does he have what it takes to be the best in the world? I'm not a certified judge, but I can confirm that Machado's backyard ribeye measures up.
Competitive cooking isn't necessarily a road map to fame, for most people it's more like an expensive hobby -- but the stakes are different when you're the youngest person in the room. But what does this mean for Machado? Could this be the beginning of a bright culinary career? Or is he just a kid who's good at cooking and working on his Zippo tricks?
Kids do the darndest things these days, like become rock star chefs. According to the Culinary Institute of America, half of their students enroll straight out of high school but many start cooking even younger. The media loves a prodigy story (guilty!) and it's reflected in TV and movies. The 2018 premiere of MasterChef Junior was that night's highest rated program. Flynn McGarry started a supper club at age 10 and at 19 he runs a tasting menu restaurant in NYC. In the barbecue world there's Michael Mixon, now a 27-year-old TV personality who followed in his father Myron's footsteps and dominated the Georgia Barbecue Association circuit at age 19.
"We have many more teams who are now multi-generational," says Carolyn Wells, executive director of the KCBS. "Dad is graying out and son becomes head pitmaster, it stays in the family."
Machado is a perfect example, he basically took over his father Joey's team. You can't be a head cook until you're 18, but everyone knows Machado is the one in charge. He already dresses the part of a professional, his lanky frame draped in a size-too-big collared work shirt with his name on the pocket. With a potential $1000 prize at each Steak Cookoff Association event, his college fund is well padded.
Machado's first steak competition happened by accident. His father registered for a celebrity cook-off but became too busy with work, so Machado took over. He competed against the likes of Malcom Reed (HowToBBQRight), Brad Orrison (The Shed), Shawna Roppolo (#1 female SCA cook), Johnny Joseph (the godfather of SCA), and 62 more BBQ icons. He refused to use a thermometer and his dad prepared a big lecture, but Machado placed fourth and his father ate his words. The next night Machado competed against the Top 50 cooks in the league and placed third. He won $750 that weekend.
"Ty is one of those people that has a gift for cooking, it comes naturally," says Ken Phillips, founder of the SCA. "It's something he's truly interested in, you can sense that when you're talking to him."
Machado walks me through his techniques as we hang out in his grandma's backyard. They are shockingly simple. Use a napkin with some oil on it to begin the fire instead of artificial starters. Preheat the grill grates to 650 degrees every time. Salt brines are popular on the competition scene, but unnecessary. He uses his own specially designed rub that will soon be sold on shelves under the B&B brand name.
Champions don't use thermometers, but if you must, aim for 132 internal temp. That amounts to seven total cooking minutes, flip it every 1:45. Rest the steak on a grate in a Tupperware container, just above a pool of melted butter. In competition, the only bite the judges taste is the spinalis, aka the ribeye cap, so that's what we try first. It's damn near perfect. By comparison, everything I've cooked tastes like lunch meat and I tell him so, but when I ask Machado what he thinks of the steak, his answer surprises me.
"I don't like to brag or anything," he says. He gives himself a firm C+.
Seguin doesn't have a great barbecue joint of its own, so on another afternoon I met up with Machado in nearby San Marcos at Hays Co. Bar-B-Que. It's not a long drive from the brisket haven that is Austin, only about 45 minutes down the road, but the strip mall-sized restaurant along IH-35 feels a world away from Austin's hip trailers and the ancient pits in small towns like Lockhart.
Machado arrives alongside his father Joey. In true teenage fashion, he brings his best friend along too. Machado's a good looking kid with a practical Texas Summer buzz cut. I ask if he's got a girlfriend and he says no, but his buddy laughs, clearly they're hiding something.
Most of our conversation involves the Food Network show Machado was on. It is awful television. The hosts sound like they're failing an infomercial audition. Tim Love makes a cringey cameo where he compliments Machado's creamed corn.
Today Machado is shy, but confident. On the show he looks like a different person. His voice is higher, nervous, a pitmaster in the headlights. Turns out, only three other kids had any barbecue experience. He was the only one who didn't serve raw chicken.
"It didn't take long to figure out it was a TV show," says his father.
Machado was eliminated on the dessert round, before the actual barbecue, which was a sham anyway. "It wasn't even really barbecue. The brisket was like this big," he measures with his hands. Less than two feet long, definitely not Texas-sized.
I asked if he was upset when he lost. He cleared his throat loudly and took a pause.
"It was very disappointing when I lost," he said.
"Gut-wrenching," added his dad.
"I cried my eyes out, really I did. Not the fact that I lost, it's just that, I disappointed him," says Machado, pointing to his dad. "He expected me to do so much more."
I wondered, is Machado's father the barbecue equivalent of a "stage mom"? His job selling charcoal aligns suspiciously well with his son's hobby. In conversation, he often speaks on Machado's behalf, proudly recapping his achievements. And at events where I watched him introduce Machado to legendary barbecue figures, the interactions always end with an elevator pitch and an exchange of a B&B business card. Is his son a tool to move charcoal?
Sure, it doesn't hurt sales to have a kid who can cook championship-winning meat, but the zealousness comes from a good place. What father doesn't like to brag about his son? In one of the more touching moments, Machado revealed to me that one of the main reasons he started cooking was to spend time with his dad, a sentiment that doesn't last long for most teens.
"He's 16 years old," says Joey. "I don't know how long he's gonna want to hang out with me."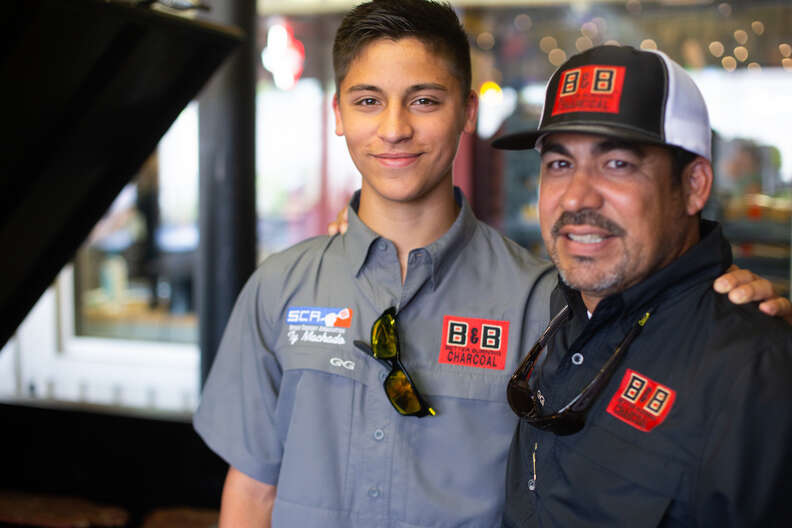 Machado is naturally gifted, but he doesn't seem hungry -- he has no idea what he wants to do "when he grows up," but what teenager really does? He's passionate about cooking, but doesn't practice much. Most of his training came from watching his dad during competitions, at this point it just comes down to execution.
He seems more excited to show me tricks with his Zippo than explain how to start a fire. Video games are a big part of his life and he spends much of his winnings on upgrading his computer. He likes to draw and is interested in electricity (he's considering studying engineering). He never grills without earbuds and his Spotify playlists range from country to hardcore rap. $uicideboy$ are his favorite (they terrify his dad, and me).
What's most refreshing to me about Machado is that he legitimately doesn't seem to care much about winning. Maybe because he has done it already. There's no chip on his shoulder, he doesn't need to be recognized. The Memphis win was a huge achievement, but he placed terribly at a recent contest in Edinburg, TX and didn't care. The loss wasn't a surprise; he was exhausted because he stayed up all night fishing with his friend (nobody tell Dad!).
As a 34-year-old man who's long past the potential prodigy age range and has never won $750 at anything, I find his healthy ambivalence towards his talent unsettling. Part of why people are so drawn to prodigies is that we hope for their success and relish in their failures as proxies for our own, but Machado exists in some uncanny prodigy valley. He's very, very good at cooking barbecue and very, very, pleased that it has afforded him a badass gaming computer, but doesn't care to process what winning the World Championship Steak Cookoff could mean for his future. Are you supposed to root for this kid or not? His answer would probably be "whatever."
Part of me hoped that Machado would be some cutthroat competitor with a rock star chef future, but I'm happy to report that he's not. There is no killer instinct, no relentless drive to succeed. Celebrity chef culture has not turned him into an fame hungry monster. He barely even uses social media. Machado's a young cook with no aspirations to be a young chef, he's just living one steak at a time. He loves to eat, but at a barbecue festival he recently attended he was more interested in the music than the food.
"At the end of the day, sometimes he still wants to be a kid," says his father.
Machado interrupts him and quietly says, "All the time."
Sign up here for our daily Thrillist email and subscribe here for our YouTube channel to get your fix of the best in food/drink/fun.
Dan Gentile was the original Austin editor of Thrillist and has contributed to Rolling Stone, Roads and Kingdoms, American Way, VICE, and the Food Network. Despite being 34 years old, he still can't cook a decent steak. Read more of his writing at dangentile.net or follow him on Twitter at @Dannosphere.