The Ultimate Hot Dog Style Guide Celebrates the Hot Dogs of the World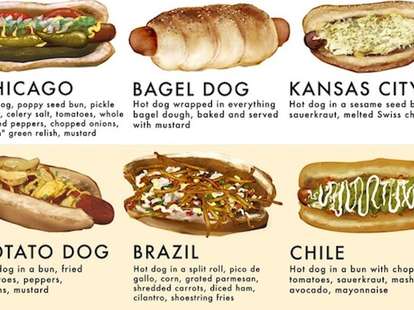 Courtesy of Food Republic
Hot dogs are undeniably great; they're delicious, and they can be dressed up or dressed down with little to no effort. They're also beloved far and wide: the US has numerous variations, and there's a ton to explore in the rest of the world as well.
To celebrate the beautiful ubiquity of the hot dog, Food Republic released the Ultimate Hot Dog Style Guide, displaying 40 unique varieties from around the world -- from the classic New York "dirty water dog," to the coney dog, to Amsterdam's pizza sauce and mozzarella-coated take -- including illustrations and ingredient blurbs for each.
Check out the full graphic below, and get started on your hot dog bucket list, STAT.

Lucy Meilus is a staff writer for Thrillist and wants a bagel dog ASAP. Follow her on Twitter at @Lucymeilus and send news tips to news@thrillist.com.