Despite what Backdraft would have you believe, dudes in fire trucks are not usually the ones starting fires... until now, with the debut of the ultimate tailgating vehicle, which is capable of cooking 5-alarm chili and putting out 5-alarm fires with equal vigor.
Recommended Video
You Can Now Get Artisanal Twinkies Delivered to Your Door in NYC
Debuted last weekend at the Austin FOOD & WINE Festival, the dude from Jack Allen's Kitchen (who looks and acts like the Dude from Lebowski) has modified a 1985 Super Pumper fire truck to into perhaps the most badass thing to ever roll into a parking lot on game day.
Decommissioned fire trucks are often sold or donated to stations in Mexico, but since this one was designed primarily to pump water from natural sources such as lakes and rivers, it ended up collecting dust in South Texas... until Jack found it on eBay.
The top of the truck is outfitted with both a rotisserie spit and a grilling station. There's also a second auxiliary grill that extends from the base.
The side of the truck is tricked out with a frozen margarita machine and two local taps: 512 Bruin and Real Ale's Fireman's #4.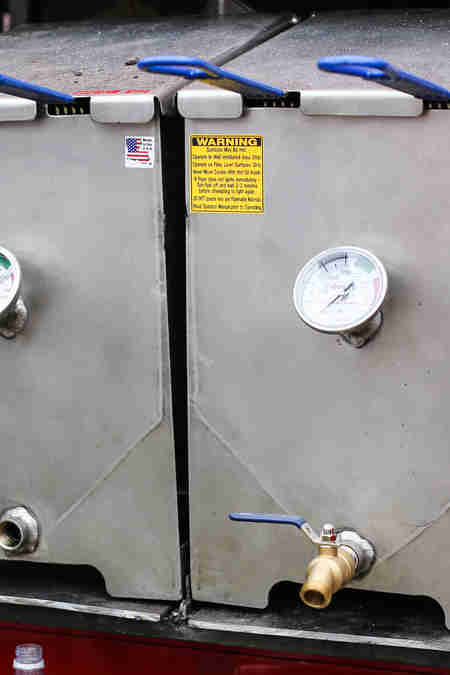 Dual deep fryers would be considered a fire hazard on most vehicles.
To the dismay of his neighboring chefs at the festival, the horn on the fire truck is still very functional and very, very loud.
Whole hog tacos were given to lucky festival-goers...
.. but there was plenty left over.
Quail was served with a side of pork-belly beans. Or rather, pork-belly beans were served with a side of quail.
There's nothing like a little father-son grilling. Here is Jack's Beard-nominated son Bryce Gilmore of Barley Swine and Odd Duck rips into a roasted goat.
After grilling on a spit, the goat was stewed and served on a toasted wafer of masa with house made hot sauce.
Cheers to you, Jack Allen, for carrying the tailgating flame.
Dan Gentile is a staff writer on Thrillist's national food and drink team. He came very close to honking the horn of that gigantic fire truck, but was distracted by roasted Filipino pork tongue. Follow him to fine examples of fire safety at @Dannosphere.
Previous Venue
Next Venue
Venue Description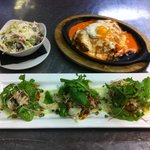 1. Jack Allen's Kitchen
7720 W Hwy 71, Austin, TX 78735
Jack Allen's has nightly rotating specials of locally sourced additions to their usual menu, but also make sure you stop by for their brunch, or even just to try a cocktail, like the Cucumber Jalapeño Rita, with Tequila, St. Germain, muddled cucumber, fresh jalapeños, simple syrup, and fresh lime.
Previous Venue
Next Venue
Venue Description
2. Odd Duck
1201 S Lamar Blvd, Austin, TX 78704
Communal seating, an expansive patio, and an open kitchen (the view is best from the bar) abet in the casual atmosphere at Odd Duck -- a second concept from the team behind Barley Swine -- on South Lamar Boulevard. Antithetical to its atmosphere, Odd Duck's menu features upscale, intricate dishes inspired by the daily pick at the local farmer's market, and thus the menu shifts with the Texan seasons. Odd Duck features craft cocktails, craft beer, and wine to pair with its flavor- and ingredient-forward dishes. If you happen upon the pimento cheeseburger, get it.