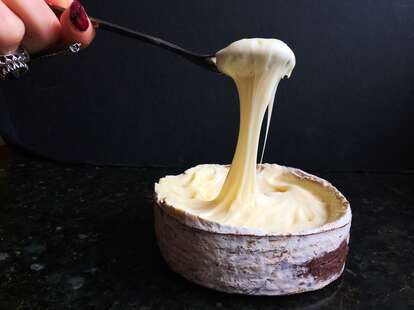 Photo courtesy of Cheese Sex Death
Photo courtesy of Cheese Sex Death
Even if you're a self-proclaimed cheese lover, odds are you could still expand your cheese horizons. If you're limiting yourself to the safety net of basic brie, block cheddar, and smoked gouda—all delicious, if not simple options—your lactose game is seriously lacking. Instead of reaching for whatever usual vacuum-sealed wedge you get in the grocery store aisle, try venturing to a cheese shop that has endless variety.
There are over 400 types of cheese in France alone and even America has really upped its artisan cheese game in recent years. Step out of your comfort zone and into the cheese shop. Here are nine cheeses you've likely never heard of but should definitely try:
Campo de Montalbán
If you love the smooth, nuttiness of Spanish manchego, then you have got to treat yourself to Campo de Montalbán. While manchego is made of pure sheep's milk, Campo is a triple threat combination of cow's, goat's, and sheep's milk. It's buttery and meltable with a fruity body and a clean finish. Order or make yourself to some tapas and pair this Spanish wedge with Marcona almonds, dried figs, and a bright red.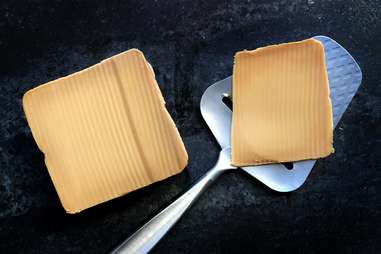 Gjetost
Gjetost, pronounced yeh-toast, is a traditional brown cheese from Norway that tastes like butterscotch and sticks to the roof of your mouth like peanut butter. It's made with whey, the liquid leftover when milk becomes cheese, and boiled until the liquid reduces and the sugars caramelize. From there, the cheese is formed into rectangular blocks. The result is a sweet, tangy cube that melts into silk in your mouth. Slice thin and layer on top of hot toast with strawberry jam for a PB&J (with cheese) that will blow you away.
Ossau-Iraty
This rich sheep's milk cheese from the French Pyrenees mountains is seductive and full-bodied. Legend has it this cheese was one of the first ever made; the recipe even predates the English language. It's pretty clear why Ossau-Iraty has stood the test of time, too: it's as smooth as satin and bursting with full flavors of toasted almonds and lush summer grasses. Pour yourself a farmhouse ale or dry cider for this suave fromage.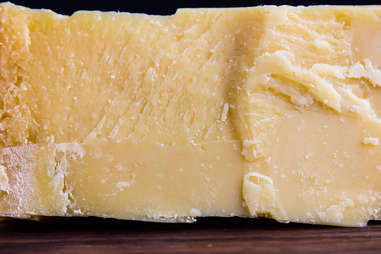 Sbrinz
If Parmigiano and Gouda met in Switzerland for a tryst, their love child would be Sbrinz. This grateable raw cow's milk cheese is studded with crunchy crystals, which are actually amino acid clusters that form as the cheese ages. The sweet, tangy flavor makes it perfectly snackable, especially when traveling as it doesn't need refrigeration. It's toothsome and nutty with a kiss of sweetness and a milky tang on the finish. Chip off a hunk and pair with a Manhattan, or grate over buttered noodles.
Robiola
These pocket-sized Italian cheeses are the cream dream. There are a lot of different kinds, but most of the ones you'll find in the States are made with a mix of cow's, sheep's, and/or goat's milk and have a thin, white rind. One of my favorites is the cupcake-shaped La Tur. It's lemony and fresh with a captivating mix of textures: the center is dense and creamy, cushioned by a layer of ooze and a pillowy-rind. Smear onto warm ciabatta and pair with something bubbly, like a hefeweizen or prosecco. And don't be afraid to eat the flavor-dense rind, too.
Spruce-wrapped cheese
These wheels are too gooey to hold their shape, so cheesemakers bind them with a strip of spruce bark. They're soft as frosting and bursting with notes of bacon, mustard, and forest. Look for Harbison from Jasper Hill Farm, or Rush Creek Reserve from Uplands Cheese in Wisconsin, which only comes out during the holiday season. Pair with sourdough toast, or—if you want to get really crazy—French fries.
Quark
This soft, tangy cheese tastes a little like cream cheese but with way more personality. Made from soured milk, this Eastern European staple can be smooth and dollopy like yogurt or meaty and crumbly like queso fresco. It's slightly crumbly but still spreadable at room temperature. It's delectable anywhere you'd use fresh ricotta, but prepare yourself for a punchier tang. I recommend stuffing a spoonful into a baked potato and sprinkling with chopped chives.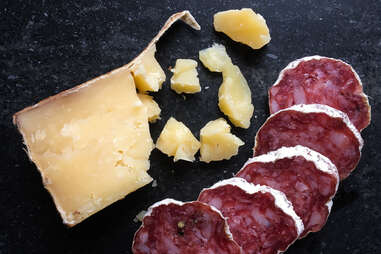 Clothbound Cheddar
When you think cheddar, you probably think of those clean, orange blocks from Wisconsin. Those are delicious and great for melting, but it's time you see how the British do cheddar, too. Formed in wheels, coated in lard, and wrapped in muslin, they're fruitier, more acidic, and much earthier than your typical block Cheddar. They're also dryer and won't melt well, so save these for the cheese plate. Look for Montgomery's cheddar or, for an American take on this style, Willi's Bandaged cheddar made in Wisconsin. Pair it with a juicy IPA for the ultimate combination.
Quadrello di Bufala
Maybe you've met Taleggio, that stinky Italian with a squeezable paste and a sticky orange rind on the outside. This is basically the water buffalo's milk version, which has twice the fat of cow's milk. Unbelievably buttery and milky sweet, this Italian stallion will melt on your tongue with a puff of mushroom caps on the finish. Indulge in a wedge on a hot summer day with prosciutto, melon, and rosé.
Erika Kubick is a monger-turned-cheese preacher devoted to turning on cheese lovers through her blog, Cheese Sex Death. Take yourself to #CheeseChurch and follow her at @cheesesexdeath.