UPDATE: Damn. Obviously we wished this was true, and you know you did too, but, yeah, turns out it's a prank. Enjoy the totally fake artwork all the same. Alright, unicorn believers. It's good news/bad news time. Good news: If this medieval cookbook discovered at The British Library is to be believed, unicorns totally roamed the earth in the 14th century. Bad news: If that same manuscript is to be believed, they were being roasted and marinaded for English queens.
Recommended Video
Make This Apple Brandy Elderflower Sparkler for Your Next Fancy Party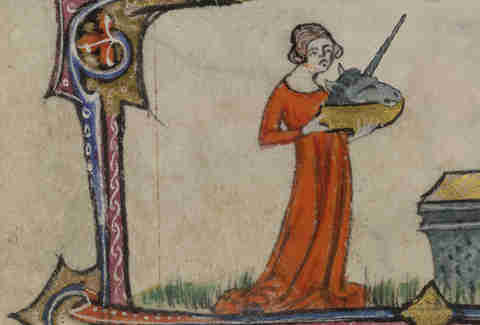 While the cookbook was discovered last year, its unbelievable unicorn recipe has just been going viral in the last week, largely thanks to these grisly depictions of unicorn slaughter. The experts at the British Medieval Cookbook Project (members only, dweebs) believe the book was written by Geoffrey Fule, a chef for Queen Philippa of Hainault, who sat on the English throne with King Edward III from 1328 until her death in 1369.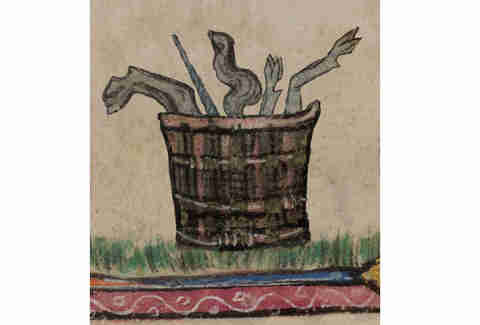 The recipe nails it right out of the gate with "taketh one unicorne". It then instructs readers to marinate the magical horse in garlic and cloves before roasting it all on a griddle. The remains obviously go in this receptacle, which we'd assume is subtly decorated with silver glitter to distinguish it from other animal bits buckets.

History may never know if our buddy Geoffrey was actually serving up unicorn entrees or just messing with future generations. But if you ever need to make a bunch of toddlers cry real fast, here's your new go-to.