12 Unexpectedly Amazing Meals You Can Order At White Castle At 5am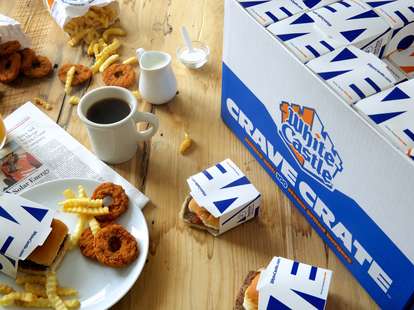 Anthony Humphreys/Thrillist
Anthony Humphreys/Thrillist
The princess may always be in another castle but the real prize, BREAKFAST ALL DAY, is always at this one. Yup, you can wander into a White Castle at any time of day and order breakfast and a shake, some onion rings -- any menu item you want, anytime you want. Breakfast and dinner are arbitrary human constructions for which the Castle has simply no respect. And if you're lucky enough to stroll into one of the White Castles that are open 24 hours, here's what you need to get at 5am.
1. Original Slider with Egg and Cheese and a Side of Hash Brown Nibblers
The dilemma of choosing between breakfast foods and lunch foods gave birth to the delicious in-between of Brunch. If hungry people can alter time to create an additional meal where one can eat breakfast and lunch simultaneously, then you don't need to choose between a breakfast slider and a regular slider. Hold off on the fries and get some hash browns on the side instead.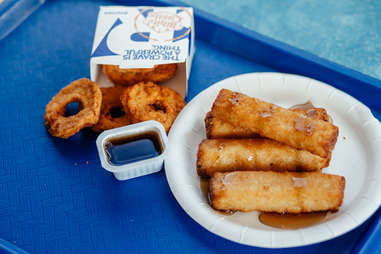 2. French Toast Sticks and Chicken Rings with Maple Syrup
Yeah, a plate of chicken and waffles in the morning is always a decent start to any day, but what about French toast and chicken? Too long has French toast been flung to the wayside, always behind waffles, always second string to pancakes. No more. Order some chicken rings and French toast sticks, then drizzle the lot in as much maple syrup as you want. Make a new breakfast tradition.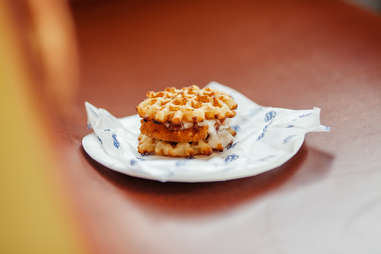 3. Chicken & Waffle Slider
Or you can just have a chicken and waffle slider, like the gods of breakfast and general good taste intended.
4. A Cheesecake/Brownie on a Stick with a Cup of Coffee
Utterly ignore meal-timing conventions and rock dessert hard. Pair your choice of cheesecake, brownie, or both with a cup of joe and wander into the night/morning a conquering hero.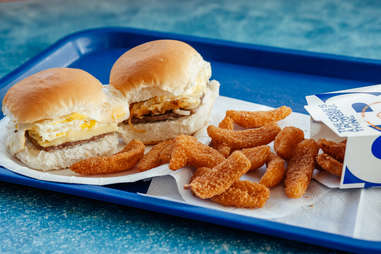 5. Two Breakfast Sliders with Onion Chips on the Side to put Inside Your Sandwich
Whether you're more of a sausage, egg, and cheese slider fan or a bacon, egg, and cheese slider kind of person, all sides may agree that ordering a side of onion chips to stuff into your slider for an extra kick is an innovative combination.
6. Loaded Fries with a Bacon, Egg, and Cheese on Toast
Forget your favorite diner breakfast potatoes. Get a bacon, egg, and cheese on toast with some LOADED FRIES on the side instead. And in this case, loaded means it's smothered in cheese, ranch dressing, and hickory smoked bacon crumbles. Yes, you would be having two servings of bacon.
7. Breakfast Waffle Slider with Sausage and a Smoothie
What can be a more appropriate vehicle for breakfast food than another breakfast food? Nestled in between two crisp Belgian waffles is your morning sausage, egg, and cheese (and anyone with any sense would be hard-pressed to judge if you added a little bit of syrup to that on the low). Wash it down with a strawberry-banana smoothie for maximum fuel to start your day.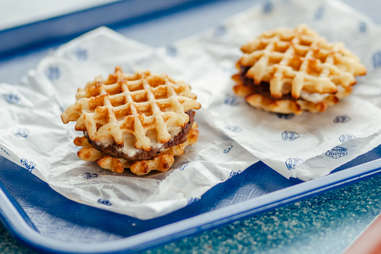 8. Sausage & Gravy Waffle Slider
Why yes, this new addition does taste like a full country brunch (including porch swing and late summer breeze) wrapped up into a White Castle slider, how did you know?
9. A Double Cheese Slider
We have it on good authority that if you stack 'em up, they only count as one slider.
10. A Veggie Slider with Jalapeño Cheese
You don't have to be a vegetarian to appreciate a good veggie patty -- especially when it comes with that spicy jalapeño kick to the face.
11. An Entire Crave Case of any of Your Favorite 30 Sliders
Walk into a party with thirty delicious sliders of your choosing and you'll know why they call it a brief case.
12. The Original Slider
These guys invented the dang thing, so keep it simple, keep it classic, and go right for the king of the castle.