Every State in the USA, Ranked by Its Fast Food
Fast food is about as American as apple pie (from McDonald's, of course). Seriously, recent Pew Research Center data showed that 50 million Americans are served fast food every day. And since we spend a damn good chunk of our time here at Thrillist writing about and tasting fast food, we began to wonder which states do it best, and which leave much to be desired when looking for quick eats.
To find out, we ranked every state by the fast-food options available there, concentrating on a variety of factors, including:
1) The big chains (Burger King, KFC, etc.) that began there
2) The regional ones (Whataburger, Culver's) that also originated there
3) The cool, little chains just in that state
4) The variety of choices and presence of enviable franchises
5) The deliciousness and uniqueness of their options in general
We also created a set of criteria to determine which places were fair game: there had to be counter service, food had to generally take between 1-8 minutes to prepare, and there had to be at least three locations for a place to be considered a chain. Also, no pizza. Stop calling pizza fast food, even if it's hot and/or ready. Clearly this ranking is based on science, math, technology, and hard facts (and maybe our extremely correct opinions), but hey, if you disagree or think we missed something, throw down in the comments. It'll give us something to eat next time we visit.
50. Vermont
In 2011, Bo Muller-Moore, a Vermont folk artist who made his own "eat more kale" T-shirts was sued by Chick-fil-a because they said his slogan was too similar to theirs. Muller-Moore fought the legal action, and the public outcry caused even the governor of Vermont to launch a "team kale" movement to help Bo with his legal fees, and warn fast-food companies about messing with VT's "buy local" movement. All of which is to say: Vermont is basically the antonym of a fast-food mecca. If only Al's French Frys in Burlington had a few more locations.
Notable fact: Vermont regularly wins all the "healthiest state" awards.

49. Alaska
Poor Alaska. It's not its fault franchises are too weak to handle its crazy-cold temps, but alas, they are, which means the fast-food landscape is pretty damn desolate. But hey: reindeer sausage!
Notable fact: This state is legitimately home to some of McDonald's best employees.

48. Maine
It's too cold in the winter to come up with your own fast-food chains. And -- despite Mickey D's infamous McLobster in the '90s -- lobster meat doesn't seem like the best fast-food move. (Note: oh be quiet, Red Lobster, you're fast-casual!)
Notable fact: They have 25 Tim Hortons?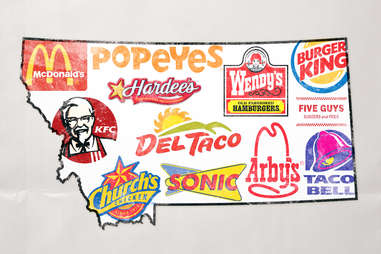 47. Montana
Montana's beef country, but its fast-food legacy is pretty limited to being the namesake of Arby's Big Montana. Also, there are a lot of Arby's in Montana.
Notable fact: Helena marks the Westernmost place where you can get Hardee's before it's magically transformed into Carl's Jr.

46. Rhode Island
Does Del's Frozen Lemonade stand count as fast food?
Notable fact: Coming up with a notable fact for Rhode Island is very hard... the Talking Heads are from there, though, and David Byrne often sings about fast food.

45. New Hampshire
In doing research for this story, we came across a comment on a blog in which a man named "Derek" from Southern New Hampshire discusses how he loves regional fast-food chains but can't get any good ones in NH, so he drove six hours to Delaware to get a Thickburger at Hardee's. And 14 hours to Ohio to go to Jack in the Box. And though I'm not sure why anyone would travel six hours to Delaware to do anything besides go to that weird pizza place with the swirled sauce, the point is this: the Granite State's chain game is subpar.
Notable fact: Dick and "Mac" McDonald, the brothers who opened the original McDonald's in 1940, grew up and are both buried in Manchester, New Hampshire.

44. South Dakota
It's not that South Dakotans don't love fast food. It's just that nobody wants to drive eight hours for a cheap burger, so if you're not in a place like Sioux Falls or Rapid, your drive-thru options are limited to whatever's in town. Or in whatever town is nearest.
Notable fact: There are approximately 3.65 million heads of cattle in South Dakota -- or about 4.3 cows per resident.

43. Delaware
Delaware might be the First State to, umm, rattle the Constitution or something -- but not in fast food. Two pluses: the tiny state has given the country Wings To Go, which has expanded to 10+ states, and the Thanksgiving sandwich-making folks at Capriotti's. And despite being such a small state, they still found room to host Southern chains like Chick-fil-A and Sonic.
Notable fact: Capriotti's has expanded to 14 other states (and DC).

42. Oregon
Oregon's pretty fast-food starved (sorry, TacoTime, but we sometimes forget who you are). Even its precious Burgerville is Washington-based. Plus, with the notoriously slow speed of service in Oregon, even getting a McDonald's cheeseburger can be a 15-minute affair (on a slow day).
Notable fact: Hipsters in Portland started planning road trips late last year when In-N-Out announced it might open a location in 2015... five hours South of Stumptown.

41. North Dakota
There's a ton of fast food in NoDak -- especially now that an oil boom is drawing hungry black-gold-collar workers -- but aside from Burger Time (which is not an arcade game), there aren't really any notable chains the state calls its own. Still, in Grand Forks, there's The Kegs, which is on the National Historic Registry.
Notable fact: Since the fracking boom, fast-food demand has grown so much that some McDonald's are starting people at $14/hour, plus a signing bonus.

40. Washington
Washington's so conscious, even its most notable fast-food chain, Burgerville, is local-centric... and like post-recession Seattleites, a huge number of Burgervilles are now located in Oregon. There're still drive-ins like Enzell's, Muchas Gracias, and Zip's, but much of Washington's too granola for fast food.
Notable fact: Vancouver-based Burgerville was one of the first fast-food joints to focus on local, seasonal ingredients.

39. Wyoming
Cheyenne-based Taco John's might have become a sensation with its loose take on Mexican, but Wyoming's not exactly known for its fast food, though there are some Midwestern tourists who would probably kill for a Whopper while watching Old Faithful blow its load. Think about it, National Parks Service.
Notable fact: Taco John's coined the term "West Mex," which is like Tex-Mex, but with more meat and fried potatoes.
38. Connecticut
Connecticut rises above most of New England on the basis of two Bridgeport legends: 1) Duchess, which is one of the only fast-food places I know of where you can order veal Parm, and 2) the original location of Pete's Super Submarines, aka Pete's Subs, aka Subway, and the $5 Footlong. But once you get out of Bridgeport (take the ferry!), you're left with the usual suspects. Unfortunately none of which are Stephen Baldwin.
Notable fact: Subway's original name, Pete's Submarines, was dropped because people thought it sounded like "pizza marines."

37. Mississippi
Despite letting their fast-food cash flow like frying oil, Mississippi has a huge dearth of their own chains. Holding down the solo honor is Bumpers Drive-In of America, which looks like it was plucked off Route 66 (that's obviously the name of their double cheeseburger, which you should order), and then multiplied throughout the Magnolia State, carhops included. Besides that, there are at least 26 (!) national chains, so we hope you like McDonald's.
Notable fact: According to Health mag, Mississippians spend 62% (!) of their dining-out budget on fast food.

36. West Virginia
West Virginia is a pretty bleak place; after all, it's earned the bottom spot in the Gallup-Healthways Well-Being Index for five years running. We can safely say, however, that this lack of well-being is not due to a lack of fast-food options (they actually might have too many). They've got all the major players (17 Chick-fil-As!! 7 Five Guys!!), plus a bunch of Long John Silver's and Captain D's for all their fast fried-fish needs. But, most importantly, they've got Tudor's Biscuit World, a West VA-born chain that bakes up fresh biscuits and makes them into a slew of different delicious sandwiches, along with breakfast platters and more.
Notable fact: Tudor's Biscuit World originated in Charleston, West VA in 1980.

35. Iowa
You can't fathom how many Arby's exist in Iowa. Though it started in Ohio, Iowa has its fair share of people practicing "meat craft." Also, Arby's website still uses MapQuest, but enough about Arby's, let's focus on the rest of Iowa's fast-food game. They've got some of the great Midwest chains (Culver's! Steak 'n Shake!) but their claim to fame is Maid-Rite, a loose-meat sandwich chain that specializes in un-sloppy Sloppy Joes. And, well, that's about it.
Notable fact: An assistant football coach at University of Iowa left his 200k a year job last year to open a Culver's franchise. This is a real thing that happened.

34. Indiana
Contrary to popular belief, Indiana has more than just popcorn (not that we weren't okay with just having popcorn). On top of a ton of national big-hitters, they boast Lee's Famous Chicken, which, though it was technically founded in Ohio, was the product of Colonel Sanders' nephew, who grew up in Indiana. So, really, it basically started here.
Notable fact: Lee Cummings, the founder of Lee's Famous Chicken, was related to KFC's head honcho, and much of his inspiration came from cooking in his Indiana home.

33. Arkansas
Clintons and Walmarts are probably Arkansas' most famous exports, but it could soon be chicken tenders. With state after state (four and counting) opening up more Slim Chickens locations than ever, they're poised to break out. And with local mini-chains like Mexican Chiquitos, Andy's, and David's Burgers -- not to mention a full complement of Taco Buenos and Sonics -- Arkansas has a lot on their plate (boom!).
Notable fact: Slim Chickens' first location was in Fayetteville.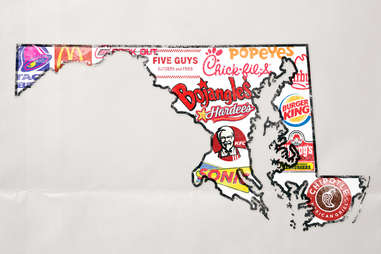 32. Maryland
Maryland's got a wealth of crab shacks and restos, but unfortunately that didn't quite carry over to their fast-food scene. They do have a few solid spots for quick eats though, like their very own Hip Hop Fish & Chicken, which has multiple locations serving a menu of golden-fried… fish and chicken. And hey, they've also got Southern darling Bojangles, the Asian-American Noodles & Company, wing winners A&D Buffalo's, Fatburger, and a single outpost of crazy-good chain Cook-Out. You're alright, Maryland. You're alright.
Notable fact: Hip Hop Fish & Chicken started here, and now they've got 12 locations.

31. New Mexico
There are around 75 Blake's Lotaburgers in and around New Mexico. They have delicious cheeseburgers with green chile. And you can also get a green chile cheeseburger at Whataburger. But seeing how Whataburger didn't start in New Mexico, you might already be able to tell that I'm running out of other options.
Notable fact: Blake's Lotaburger has its own construction business so they can build their franchises in-house.

30. South Carolina
SC doesn't have a ton going for it besides the rather difficult task of explaining what the hell a ButterBurger is to the rest of the comparatively Culver's-less South, and it's just two cities stuck with that duty. If Sean Brock wanted to franchise out a shrimp and grits quick-service spot, however, it would probably do really well.
Notable fact: Former Hootie/current country star Darius Rucker, an SC native, followed up the 16-time platinum success of Cracked Rear View by dressing up as a psychedelic cowboy and singing in a Burger King commercial.

29. Massachusetts
Though the tagline states that America runs on Dunkin', Massachusetts really, really, really runs on the donut shop founded in 1950 in Quincy. But alas! Bay Staters never tire of eating donuts, and so they also get credit for the small upstart, Honey Dew Donuts, which opened in 1973 in Mansfield, and now has 145 stores itself. Boston Market -- when it was known as Boston Chicken -- also started in Newton, and then we get into various pizza places that don't count (sorry Papa Gino's!). But still -- two donut shops and a chicken joint -- not too shabby, small New England state.
Notable fact: Dunkin', surprisingly, isn't the only donut shop to have started here.

28. Idaho
Fast food needs Idaho (and Idaho has a lot of chains, including Chick-fil-A, which is rare for the region). Along with basically all the potatoes, it's also home to the largest barrel-cheese factory. What's barrel cheese? It's the basis for processed cheese. AKA nacho cheese, American cheese, Velveeta, you name it. Which is to say: no Idaho, no cheese fries. And we can't have that.
Notable fact: Idaho produces approximately 14.2 billion pounds of potatoes a year... 4.6 billion more than its closest competitor, Washington.

27. Minnesota
Do you like gyros? Well, Dino's Gyros can take care of you in six locations. But after that chain, Minnesota gets shaky. After all, you can't call D'Amico & Sons takeout Italian fast food. Nor can you include Green Mill's deep-dish pizza. So back to my original question: do you like gyros?
Notable fact: Austin, MN is home of the Spam museum, a monument to the canned meat that has nothing to do with Nigerian princes who want to give you money.

26. Pennsylvania
PA has plenty of variety in their fast-food offerings, including branches of Shake Shack, Church's Chicken, and Potbelly. But sandwiches are what the state does well (winning basketball teams? Not so much.), so it's no surprise Tony Luke's Philly cheesesteaks are being eaten all over the place these days, including FL and CA. There's also locally grown mini-chains across the state that highlight Pennsylvanians cravings for something other than hoagies, like Brighton Hot Dog Shoppe, Neato Burrito, and Roburritos.
Notable fact: Tony Luke's has opened a location as far away as Bahrain.
25. Hawaii
Contrary to what you may think, there are a few sweet independent fast-food chains that can look disapprovingly at the standard fast-food fare and tell them "you flew here, we grew here." Zippy's is the most iconic, with 24 locations and a sprawling menu that feels random to outsiders (chili, oxtail soup, chicken katsu, sushi, lunch plate specials, pastries) but totally makes sense. But it's L&L Hawaiian Barbecue, which does the traditional plate lunch (rice, macaroni salad, and a hot dish like BBQ beef or Kalua pork), that has expanded the farthest, with nearly 200 locations now all over the US, plus New Zealand, Japan, and AMERICAN SAMOA.
Notable fact: The Zippy's chain sells over 110 tons of their original-recipe chili each month.

24. Nebraska
Though Nebraska lacks variety in fast-food restaurants imported from other states (Raising Cane's is a pleasant and unlikely exception), they make up for it with joints like the Lincoln-product Runza. 70+ locations cook up a sandwich made with ground beef, cabbage, and a whole bunch of spices in Hot Pocket-shaped bread that's baked throughout the day. Nebraskans also like their Mexican food fast, as Abelardo's and the Mexican/burger mashup Amigos & Kings Classic have numerous locations.
Notable fact: Runza will FedEx their sandwiches almost anywhere in the country.

23. Utah
Utah's not all 3.2 beers and ski bunnies. Ok, maybe it is, but it's also got a pretty great lineup of fast-food spots. For one, it's one of the few states where you can order from the coveted In-N-Out. But more impressively, Salt Lake City original Arctic Circle offers up Black Angus burgers, their own famous fry sauce, shakes, and chocolate-dipped cones, while Iceberg Drive-Inn serves similar fare (like a chicken cordon bleu sandwich). OR's TacoTime also makes an appearance, holding court with their crispy burritos and Mexi-Fries.
Notable fact: Arctic Circle is in seven states and claims to have invented fry sauce.

22. Missouri
Even though it has more locations in Kansas and the first one was in IL, Winstead's truly got its start in Missouri. Their popularization of the drive-in, their American-as-hell Skyscraper Sodas that quench the thirst of four people, and a damn good burger all help MO's drive-thru cred. The state also imports some of the best in Kansas fast food, taking in chains like Planet Sub and Freddy's. And St. Louisans (Nelly too, probably) love them some Lion's Choice roast beef and Lee's Chicken, but they also eat healthy sometimes at Crazy Bowls & Wraps.
Notable fact: Winstead's had a drive-in even before Sonic existed.

21. New Jersey
Named the best fast-food burger in the country, Habit Burger's only East Coast location is in Fairlawn -- giving the state fast-food bragging rights for the entire region. And despite Harold and Kumar's issues in finding a White Castle in NJ, the state currently has five of their burger castles to go along with 10+ Five Guys and a couple of Shake Shacks. And because eating only burgers can get stale, Cluck-U provides Jersey with fried chicken and super-hot wings from Toms River to Parsippany.
Notable fact: Cluck-U Chicken started in New Brunswick in 1985.

20. Kansas
Ohio likes to claim White Castle as its own, but those sliders were born in Wichita. And while the Buckeyes have since abducted Whitey, Kansas still has some notable chainlets, including burger joints Spangles, Nu-Way, and Freddy's Frozen Custard. But no White Castles. Not that they're miffed about it. (They are.)
Notable fact: Though not a fast-food joint, Kansas is home to Pizza Hut, which has since entered into a domestic partnership with Taco Bells throughout the country.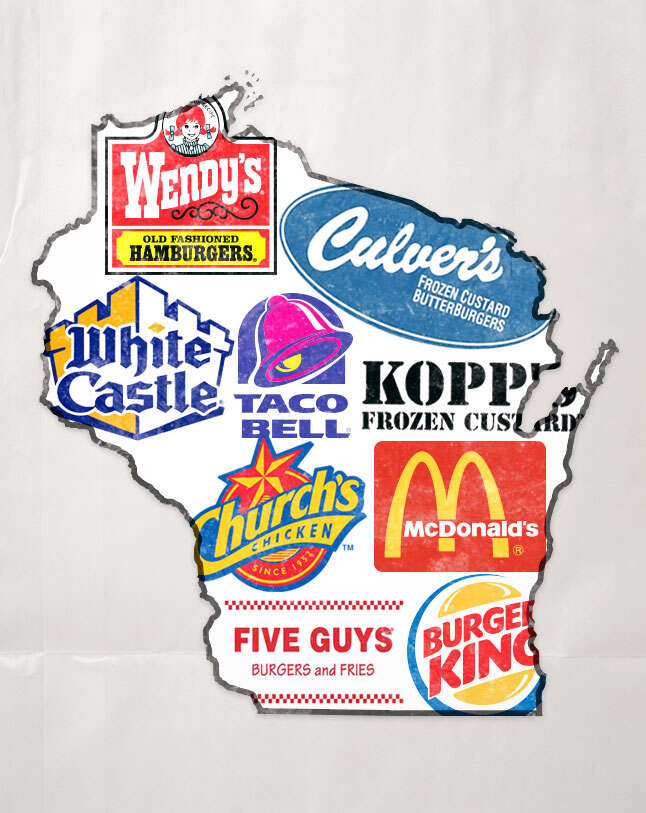 19. Wisconsin
Cheese is an integral part of fast food, so we owe a lot to Wisconsin. That's doubly true now that fried cheese curds are a nationwide hit, thanks in large part to ButterBurger/frozen custard chain Culver's. But Wisconsin's equally lovely for small chains like Flippy's -- which does Italian beefs and other Chicago-inspired fare -- plus the seas of little custard and hot dog stands dotting the landscape, just begging to help pad you up for the winter.
Notable fact: In 2014, Wisconsin produced 2,842,456,000lbs of cheese.

18. Nevada
Because not everyone wants to eat at the $10,000 caviar buffet when they visit Vegas (unless it's comped), Nevada has its fast-food bases covered, and not just in Sin City. With In-N-Out, Shake Shack, and Raising Cane's, they've got some mainstreamers to brag about, but they stand out (even more so than the ridiculous people in Vegas) because of their own 13-location Mexican taqueria (there's a salsa bar!) Don Tortaco, along with three hotel-housed Original Chicken Tender joints and the Chinese fast-food rarity, China A GoGo.
Notable fact: When White Castle opened in Vegas, they were forced to close and restock. The people were that stoked.

17. Illinois
We've gotta give Illinois props for being the place where Potbelly Sandwich Shop was dreamed up. What started as an antique shop serving its quirky customers lunch has now become a toasted-sammie institution that's spread to almost half of the 50 states. Though research showed that IL definitely has more tasty one-offs than chains, they do have incredible Italian beef shops like both Al's and Jay's, potstickers & buns from Wow Bao, Greek chicken & BBQ rib tips from Nicky's, and breakfast & burgers from Urban Counter, plus soup & chili from Capt'n Nemo's and Chicago faithful Harold's Chicken Shack. Even East Coast big dogs White Castle & Shake Shack are there for your consumption. Oh, and you didn't think we forgot the phenomenon that is Portillo's and their legendary Chi dogs, did you? Well, we didn't!
Notable fact: Potbelly's got a whole secret menu… which you can find right here.

16. Arizona
Arizona's Mexican fast-food game is seriously strong, and, while the state can't brag too much about their quick-service choices since they're pretty limited, the ones they do have help make up for that. Sure, they're fortunate enough to have access to regional big-timers like Whataburger, Raising Cane's, Culver's, and In-N-Out (!!), but their Mexican selections are where they really shine. In addition to the myriad one-off taco shacks, they've got the whopping combo plates and tortas of regional chain Federico's, plus outposts of Cali favorite El Pollo Loco.
Notable fact: Alice Cooper -- who grew up in Phoenix -- was recently inducted into the White Castle Hall of Fame.

15. New York
For a major state that usually dominates when it comes to culinary prowess, NY is still strong, but not the best in terms of fast food (and no, we're not counting pizza slices or street meat). Thankfully, NYC is responsible for Shake Shack, whose fresh ShackBurgers and SmokeShacks are beloved by all, even famous chefs. New York also gets to claim Nathan's, which has expanded globally but is still a Coney Island institution. There are healthy spots (Chickpea, Fresh & Co.) and the opposite (Ranch 1, Kennedy Fried Chicken), plus upstate joints like Ted's Hot Dog's (wieners covered in mac & cheese!) and the faux-Mexican Mighty Taco. It's a good scene, but you can't win 'em all New York (despite what the comments section tells you).
Notable fact: Shake Shack began as a mere hot dog cart in Madison Square Park.

14. North Carolina
What's that? You spent your entire childhood wishing your Grandmother made fluffy, fresh buttermilk biscuits every morning? Biscuitville's fried pork chop biscuit is a great way to work through those really weird, unresolved family issues. Soundly defeating its Southern counterpart, North Carolina is also the birthplace of Bojangles and Cook-Out, which manages to have Cheerwine at the drink fountain and a food selection that magically ranges from chopped BBQ plates to chili-topped burgers.
Notable fact: Fresh biscuits are made every 20 minutes at Biscuitville, which seems to be the perfect timing to finish one, eat a fresh one, and repeat forever.

13. Florida
In the 1950s, Jacksonville was home to Insta-Burger King, which sold $.18 hamburgers and milkshakes. Nowadays, the name is different, but their HQ is still in Miami. And lest you think it's all burgers and fries (and old people) in the Sunshine State, FL has also spawned the healthy Giardino Gourmet Salads, the chicken-forward joints PDQ and Pollo Tropical, the seafood-heavy Snappers, and the Tex-Mex-flavored Tijuana Flats. Florida is also home to some of the best fast-food from the South, like Bojangles, Whataburger, and Krystal.
Notable fact: Burger King has a restaurant in all 50 states (and over 70 other countries).
12. Tennessee
One of our editors used to work with a guy who got his face on Krystal's bags because that's a thing the tiny-burger purveyor that isn't White Castle does for inductees of their Krystal Lovers Hall of Fame. Sadly, those were limited-time bags and EXTRA sadly, Krystal decamped from Chattanooga to Atlanta in 2012 after 81 years in the Volunteer State. Pal's Sudden Service is holding things down, though, with an institute for training other small regional fast-food chains in their best practices. Also, they have excellent burgers to pair with all that HR talk.
Notable fact: The first order at Krystal, back in 1932, was six Krystals and a cup of coffee for $.35.

11. Virginia
Five Guys might have started with a single restaurant in Arlington, but they seem to be plotting to put one of their minimalist burger joints on every street in America (we hope) -- there's currently 1,000+ locations and no sign of stopping anytime soon. An up-and-coming burger spot serving up fried Oreos and tons of craft beer is attracting Virginians as well: Jack Brown's. Add to that a definite Southern influence from imported fast-food joints like Biscuitville, Cook-Out, Bojangles, and Raising Cane's, and VA is a solid fast-food oasis.
Notable fact: Five Guys refers to the founder's five sons.

10. Oklahoma
The drive-in deity known as Sonic began as a simple root beer stand & steak joint before switching over to the more popular burger & fry side to become the roller skate-clad empire we all know and get fat off of today. But that's not all the Sooner State has to offer, they've got outposts of Texas' Burger Street, Taco Bueno, Whataburger, Golden Chick, Grandy's, and Schlotzsky's, plus hamburgers, hot dogs & ice cream from OKC originals Braum's and Johnnie's Charcoal Broiler, and even frozen custard from Freddy's. So, yeah, if you go here looking for some quality fast-food options, you'll probably be more than OK (sorry).
Notable fact: Shawnee, OK is the birthplace of Sonic, which used to be called Top Hat.

9. Michigan
"I decree: let there be a coney joint on every corner," Mitten State founder Steve Michigan didn't say, because he isn't real. But the coney thing, well, that's very, very real, as you can find a Michigan-made dog pretty much everywhere. And when your state's as long as Michigan from wrist to the tip of the Upper Peninsula, "everywhere" means a lot of land. But it's not just hot dogs that make Michigan's fast food exemplary: it's also the abundance of local chains. Starting with National and other cultishly beloved fast spots in the D (what up, Travis burgers!), a trip North gets you something different in every part of the state, from Halo Burger to Big John Steak & Onion and Freeway Fritz (selling Frankenmuth fried chicken) all the way up to grab-n-go pasties above the Mackinac. Michigan takes its car food seriously (understandable, given the automotive history).
And that's to say nothing of the small-town burger joints that still host car cruises, poodle skirt-clad A&W servers, and tiny lakeside stands that aren't just places to fill up, but rather places where memories (and diabetes) are passed down from generation to generation.
Notable fact: The Boston Cooler -- a shake-like fast-food drink combining ice cream and Vernor's ginger ale -- is named not for Affleck Country, but rather for the Detroit street.

8. Colorado
The billion-dollar burrito makers at Chipotle started with one restaurant that caught on and became a phenomenon. But CO also can claim Quiznos, Qdoba, Noodles & Company, and Smashburger as homegrown success stories -- as well as local up-and-comer Good Times, known for tasty custard, but sadly not based on a TV show from the '70s.
Notable fact: Chipotle started a block away from the campus of Denver University.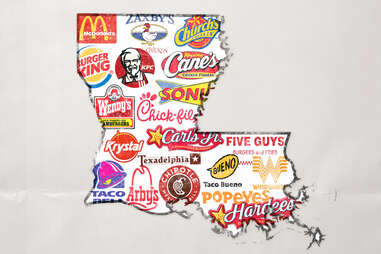 7. Louisiana
Between Popeyes' fried chicken and Raising Cane's chicken fingers, Louisiana can basically fill any and every poultry craving that could possibly hit you and, while Raising Cane's reach isn't too far out of the Southeast, Popeyes has made it as far as Kuala Lumpur. LA also manages to be the random mixing ground for small regional chains like Texadelphia, Taco Bueno, and Pollo Campero, plus its own teensy spots like Bud's Broiler and Lee's Hamburgers.
Notable fact: Popeyes was originally called "Chicken on the Run." The chicken did not run out. Ever. Rebranding came within a few months.

6. Kentucky
Did you know that Kentucky Fried Chicken was founded in Kentucky??? Did you?!? Well, now you do, and it's safe to say that the country's biggest fast-food purveyor of poultry is its biggest and most important claim to fame. Primarily because the Double Down is a thing that exists there. It doesn't stop there though. While their smaller, more unique chains are few and far between -- they include Wingstop and Wingzone (do you think Kentuckians like chicken?) -- they've got five Tom + Chee locations, which is a chain literally based on fancy grilled cheeses & tomato soup, aka a chain that should seriously be everywhere immediately. Factor in the the presence of Southern stars like Krystal, Bojangles, Cook-Out, and Raising Cane's, and the Derby is no longer the main reason to visit KY.
Notable fact: Colonel Harland Sanders left his home at the age of 13 and had a bunch of different job before he found his clucking calling.

5. Georgia
If Waffle House counted as fast food, Georgia would be the uncontested winner here. Unfortunately, it does not. (You're #1 in my heart, scattered, peppered, covered, diced hash browns!) But Georgia brings it strong with Chick-fil-A and Zaxby's, plus drive-in legend The Varsity that's equally famous for its weird paper hats as its chili dogs.
Notable fact: The odd honor of largest drive-in fast-food chain in America falls to cult favorite The Varsity.
4. Ohio
How much does Ohio love a quick bite? So much so that back in the 1830s Cinci was called Porkopolis because it was a hub of hot dog production. Ohio's the home of Wendy's and the adopted land of White Castle. Cincinnati chili is the king of dogs and spaghetti mounds alike, largely due to Skyline. M*A*S*H* may have helped make Tony Packo's hot dogs famous, but their deliciousness helped the café expand into a mini-empire, while Rax gives Arby's -- which also started in the Buckeye State -- a run for its roast beef. Most major chains have set up shop in Ohio, and tiny drive-ins like Swensons are everywhere. See, it's not all turnpikes and beat-up highways. Ok, maybe it is. But at least there's good stuff to eat while driving.
Notable fact: Columbus is one of the biggest test markets for new fast-food products, so you can go ahead and thank them for McEverything new you eat.

3. Alabama
Alabama has a fast-food empire that's almost as cultishly strong as its two football teams (that'd be impossible to really achieve though #RollTide #WarEagle). There's Milo's, the Birmingham burger empire that puts a second small square patty on top of every burger and coats it in a secret sauce that customers would probably just start guzzling on its own if that didn't interfere with the ability to drink Milo's Famous Tea that has such a following that it hit store shelves in gallon jugs in the '80s and has piled many rows deep since. There's also Taco Casa, which has such a cultish spot in the hearts of Alabamians that it was an instant rallying place after the Tuscaloosa tornadoes. The state also has Jack's, a 50+ year-old classic burger chain that is so condensed in the Northern half of the state that it could rival Sbux density in many cities. And while we couldn't weigh national chains as strongly as local spots, Alabama has one of the largest selections, from Whataburger to Five Guys to Church's Chicken.
Notable fact: Dixie's got the fifth-lowest fast-food to regular restaurant ratio in America, but one of the most varied selections.

2. California
In almost all state rankings we do, California tends to score highly based on size, weather, and various other things that make people who don't live in California infuriated. And when it comes to fast food, it's hard to argue against their continued dominance. The list of fast-food restaurants that originally started in the Golden State goes on forever, ranging from the really big ones (McDonald's, Taco Bell, Jack in the Box, In-N-Out, A&W) to Mexican favorites (Del Taco, Freebirds, Green Burrito, Jimboy's Tacos, Juan Pollo) and the small, cool chains (Foster's Freeze, Baker's Drive-Thru, Pioneer Chicken, The Hat, Original Tommy's, Hot Dog On A Stick), plus freakin' Wienerschnitzel.
Big chains regularly test menus in Southern California (uh, the Waffle Taco ring a bell?) before rolling it out elsewhere. Basically, our point is: if you've want to try and open a fast-food chain of any kind, and you're not thinking about doing it in California first, you may be thinking about this all wrong.
Notable fact: The founder of Wienerschnitzel only started thinking about getting into the fast-food business because the founder of Taco Bell owed him money, and offered to pay him back by letting him get an ownership stake in one of his taco shops. SYNERGY!

1. Texas
Everything really is bigger in Texas, like the sheer number of chains that got their start here, and really the number of fast-food choices in general. Though none of the huge heavy-hitters originated here, it really doesn't matter once you consider the smaller power players that did: patty paradises Whataburger and Burger Street, Golden Chick, Taco Bueno & Taco Cabana, and Schlotzsky's all make up the lineup. But of course the Lone Star State wouldn't stop there (show off!). It's also the birthplace of authentic New Orleans-style eatery Frenchy's Chicken, Austin's multi-location burger stand P. Terry's, and Houston's 20-strong hot dog haven James Coney Island and Mexi-Cuban joint El Rey Taqueria.
We wish we could stop there, because most of us don't live in Texas and we're seething with envy, but dammit, we can't. This already lucky state gets to reap the riches of almost-equally-as-dominant Cali with In-N-Out, Louisiana Famous Fried Chicken, and Pollo Campero, as well as the best of the Midwest and South in Culver's and Raising Cane's. Oh, and did we mention that Texas is gigantic? Because it is, and that kind of sprawl translates to a lot of roads, which translates to a lot of roadside mini-cities comprised of basically every chain you can think of.
Notable fact: The founder of Whataburger wanted to make a burger that required both hands and would have customers screaming "What a burger!" after the first bite. His life goals were very in order.
Sign up here for our daily Thrillist email, and get your fix of the best in food/drink/fun.
Rachel Freeman is a Food/Drink editorial assistant and thinks a cross-country fast-food road trip may now be in order. You should totally join her: @rachelifreeman.
Reporting was also contributed by: Andy Kryza, Kevin Alexander, Lee Breslouer, and Liz Childers.