Two months ago, Universal Studios finally made it possible for you to travel to Springfield when it opened a Moe's Tavern, a Krusty Burger, and a few more Simpsons-themed restos at its Orlando theme park. But that obviously wasn't enough for Homer's legion of donut-dunking, Duff-downing fans, which is why they just did a major expansion to include Duff Gardens, Lard Lad Donuts, and Bumblebee Man's Taco Truck.
Recommended Video
This Enchanted Speakeasy Takes You Through a Revolving Door Back to the 19th Century
The centerpiece of the new Springfield additions is Duff Gardens, an open-air bar in the heart of Simpsons-land that boasts shrubbery-covered statues of the seven Duff mascots (Tipsy, Queasy, Surly, Sleazy, Edgy, Dizzy, Remorseful) out front.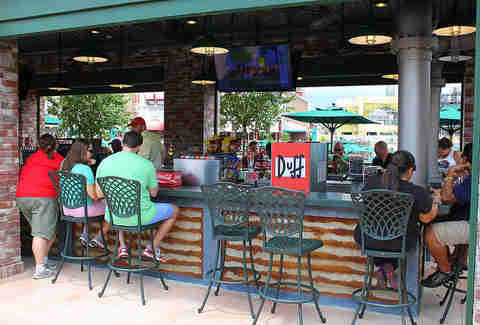 Grab a seat at Duff Gardens and you can order a cold Duff Beer, brewed exclusively for the park, or even a Squishee imported from the Kwik-E-Mart.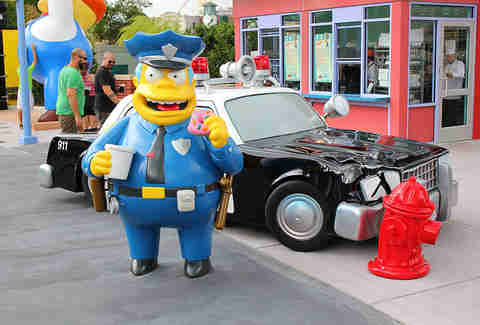 You can join a jubilant Chief Wiggum for a donut at Lard Lad...provided you offer him a ride back. As you can see, dude busted his car in a bear claw craze.
And to top it all, have a fish taco party by Bumblebee Man's Taco Truck, which is permanently parked by the entrance to this magical Springfield recreation. Best...theme park...EVER.