Unusual Starbucks Items From Around the World
There are some things you can count on at any American Starbucks location, like the uniform flavor of Pike Place Roast, a sub-par bagel, or the baristas' inability to spell Jennypher correctly. Outside of the US, however, the chain must make some menu adjustments based on local tastes.
Although the term "unusual" is certainly relative, here's a glimpse of Starbucks' weirdest international offerings. Items like green tea eclairs in China sound totally delicious to me, but others are a little questionable (looking at you, fruitcake latte).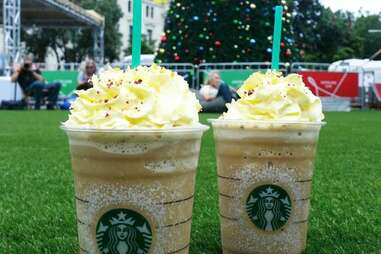 Christmas Panettone latte
New Zealand
Fruitcake might be a national joke in these parts, but elsewhere it's revered enough to make it onto Starbucks' seasonal menus. New Zealanders got a chance to try a latte inspired by an Italian style of fruitcake, complete with "bready flavors" that Starbucks has enough pride in to serve venti-sized. If there are no tiny chunks of dried fruit on top, know that it's been re-gifted.
Pizza
Peru
Although pizza in the form of flatbread is often offered at Starbucks in the States, one could argue that pizza at any coffee shop, anywhere, is mighty strange.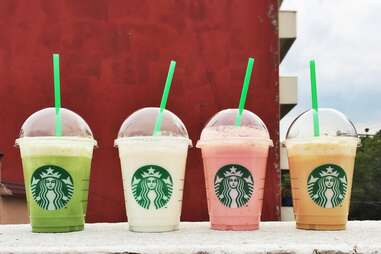 Yogurt pineapple coconut Frappuccino
Mexico
The tropical flavors pair just as well with a scenic Mexican beach as a sweltering city street.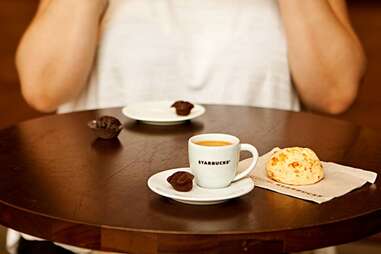 Pão de queijo
Brazil
Brazil is often associated with skewers of meat, but there's certainly a lot more cuisine variation. The fluffy balls of gluten-free cheese bread known as pao de queijo is a good example. The use of sour cassava starch dates back to the 1600s, before cheese was even in the picture, but today they're available everywhere you turn in Brazil, from beachside stands to grandmothers' kitchens to the Starbucks pastry case.
Tinto
Colombia
Starbucks coffee couldn't be further than the working-class style of Colombian coffee called tinto, but as part of an effort to blend into its surroundings, the chain sells short cups of the stuff. It's served black, and has a slightly thicker consistency than your average joe.
Mulled fruit drinks
UK
Mulled wine is a British tradition that never quite caught on in the States, but Starbucks is happy to tailor to UK tastes with a hot dose of non-alcoholic grape or apple juice that's given an extra kick with chai spices and garnishes like cinnamon sticks and orange peels.
Three mushroom and Emmental cheese on vegan roll
Philippines
Sure, the Philippines' Starbucks Spam, egg, and cheese breakfast sandwich is a little strange because Spam is not a typical American staple, but in other parts of the world, the stuff's the norm. The biggest palate puzzle on the menu is actually the three mushroom breakfast sandwich, which in addition to the AM assault of mushrooms, also inexplicably puts cheese with a vegan roll.
Green tea everything
China
Tea is king in China, and Starbucks has managed to sneak the flavor into lattes as well as just about everything else on the menu: green tea tiramisu, green tea eclairs, green tea and red bean cheesecake. You name it, Starbucks has turned it green.
Origami pour-overs
Japan
These folded paper pouches of grounds basically function as single-serve versions of pour-over coffee, a style for which America actually has Japan to thank.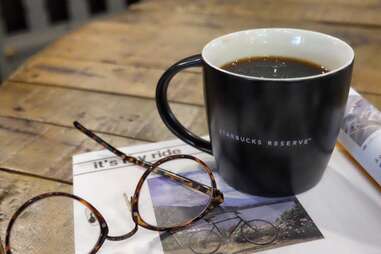 Muan Jai Blend
Thailand
Indonesian beans aren't particularly rare, but you'll almost never see Thai-grown coffee in the US because 99% of its beans are of the robusta variety, which is fading in popularity compared to the more nuanced arabica. To the pleasure of Thai farmers, Starbucks has made a significant investment in sourcing high-quality local beans for its Muan Jai blend, which is characterized as having notable body and earthy spiciness.
Avocado yogurt Frappuccino
South Korea
Is it sweet? Is it savory? I'm not sure what differentiates a Frappuccino from a smoothie here.
Curry chicken cannoli
Taiwan
Traditionally, this Sicilian-style pastry skews sweet, but the Taiwanese have reinterpreted it as a savory snack. It would be woefully out of place in either America or Italy.
Sign up here for our daily Thrillist email, and get your fix of the best in food/drink/fun.

Dan Gentile is a staff writer at Thrillist. He once spent 18 hours in a Starbucks. Follow him to more regrettable decisions at @Dannosphere.