Serving up shellfish at home, especially raw, can cause the same amount of anxiety as getting 9:30pm emails from your boss. That's because the idea of shucking and boiling live creatures seems pretty daunting to the average amateur cook. But Josh Capon, the executive chef behind Lure -- one of NYC's top seafood and raw bar restos -- insists that shellfish, and a raw bar in particular, is the ultimate party food. (Because hell, you don't even have to cook anything.)
We caught up with Capon at Samsung 837's tech playground in Manhattan's Meatpacking District. Capon was in town hosting a VR experience with Samsung that took the audience on an oyster harvesting adventure to Long Island's Blue Island Oyster Farm (where he gets his shelled goods for Lure.) The video was shot on a special Samsung Gear 360 camera and viewed via the Samsung VR Gear -- a virtual reality headset that looks like an intense pair of goggles and gives you a 360 degree look at everything the camera captured. The VR experience brought us deep into the Great South Bay with Capon, shucking oysters in a kayak, before flipping back to his restaurant in SoHo. This was all part of Meals 360, a series of cooking demonstrations that take place in both virtual and actual reality with Samsung 837 serving as host to prominent NYC chefs.  
But best of all, besides showing us the proper way to shuck an oyster and treating us to lobster rolls, Capon also gave us a few tips to make serving up shellfish simple. Here are his tricks to the seafood trade.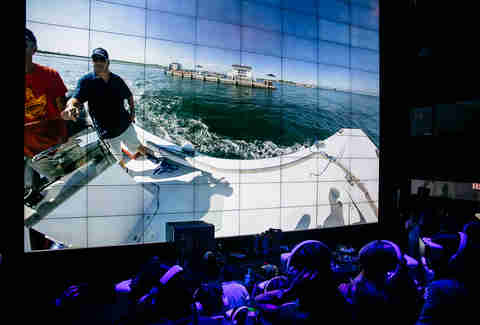 Pay attention to the seasons
According to Capon, seafood is actually as seasonal as produce. You wouldn't expect a tomato to be anything but mediocre in January, so if you're trying to fry up a soft shell crab before the first full moon in May, you're going to be very disappointed. "You should always listen to the seasons and to purveyors about what you should be buying and when you should be buying it," Capon says. That way, you won't only be getting the freshest product, but you'll likely be paying the best price for it -- because you won't be paying to ship it frozen halfway across the country. Halibut, Capon says, is actually in season now, as are stone crabs. Oysters, traditionally, were supposed to only be eaten in months that have an "R" (ie, September through April) but now that more oysters are farmed rather than harvested wild (and there are better food safety procedures) they've become more year-round. We'll cheers shells to that.
Oysters from different places have different qualities -- tastes included
Sort of like how wine has terroir, oysters will also taste slightly different based on where they come from. Even just being a few miles apart can alter how an oyster shell is shaped or colored. One hard and fast rule about oyster "terroir" is that East Coast oysters tend to be brinier than their West Coast counterparts, which Capon says make them a better option for frying up. Different oysters will also be complemented by different toppings, like the Kusshi oyster, which is harvested off the coast of British Columbia and has a super clean flavor. At Samsung 837, Capon topped these with jalapeno and ponzu, and the result is enough to make even non-oyster lovers want to slurp one down. "For somebody who might be afraid of the whole 'ocean water' thing, it masks it a little bit and takes it in a different direction," he says. "Eventually once they taste that, then they might try to taste [an oyster] in their true form."
Oysters should always be kept cold, and alive
Right until you're ready to start slurping them down, oysters should be kept chilled so they stay hydrated. While some may suggest keeping them on layers of wet newspaper, this isn't a Papier-mâché project, so Capon says to store them on ice so they stay their freshest. And if an oyster is open? Don't eat it, or you'll seriously regret it. "If they are open, they're dead. And if you open a bad oyster, you'll know immediately that it's a bad oyster just from the smell of it," Capon says. "[A good oyster] should have some weight and heft to it. There should also feel like there is some liquid in there. Most importantly, when you open it, it should be plump, juicy, and it should be flowing with ocean water."
Learn to shuck like a pro
To Capon, the reason oysters are relegated to raw bars at upscale seafood places, instead of being served up at weekend football parties everywhere, is because people are nervous about shucking them. And we get it, the thought of shoving a knife into a shell like some sort of MacGyver is nerve-wracking, especially if you don't know what you're doing. So here's how it goes: you'll need a shucking knife, and a towel to protect your hand. Then, make sure the top side of the oyster is down and glide the tip of the knife into the back of the oyster shell. Once it's stuck in there, turning the knife a bit will cause the top of the shell to pop a bit. To properly finish shucking, you'll need to run the knife along the top of the shell to release it. (Oysters are bivalves, meaning they have two hinged parts to their shell, one is on the top, and one is on the bottom.) Then, gently run the knife under the oyster (careful not to spill any of the salty liquid inside) to release it from the bottom. Clink shells and slurp.
Cook your lobster whole (and be nice to it).
If you're shelling out for lobster (see what we did there?) you better cook it right. Lobsters should be kept alive until they are ready to be cooked, because a dead lobster will be mushy and mealy when you eat it, Capon says. And he suggests that you leave your lobster whole while you cook it, instead of removing the tail or claws while the poor thing is still scuttling around, wondering what on earth is going on. (Just because it's nicer, honestly.) The right boiling time for a lobster is about 8 minutes per pound, and you need to stick it in ice water after. Sort of like what you do with green veggies, shocking a lobster will stop the cooking process, and ensure you don't end up with an overcooked disappointment.
Don't be afraid to bring the heat
While there's really nothing greater than a fresh oyster slurped raw (preferably as close to the ocean as possible) -- sometimes you need to spice it up. Literally. For Capon, a dash of spice can do a lot to elevate a shellfish dish, be it a Kumamoto oyster with some wasabi leaf and lemon, or a dash of hot sauce in a lobster roll. Or, for a deeper flavor in a shellfish stew, he tosses some chorizo in with littleneck clams and shrimp. "Pork and shellfish is a winner," he says -- add in some red onions, garlic, and white wine, and you've got a one pot meal too.
The best seafood comes from the best supplier
The reason why Lure Fishbar is known as one of the top raw bar spots in NYC is because it packs the best seafood. To have that, Capon says you have to have quality products and for that you need connections. For Capon, that means relying on farmers like those at Blue Island Oyster Farm, which he has worked with since Bill Clinton was prez. "You have to trust the people you're getting any kind of item from, whether it's near or far, you have to make sure it's handled properly," he says. "I guarantee whenever I get oysters from [Blue Island] they are better there than from anywhere else I get them because I know he handles them well and treats them well." (See, even in the restaurant biz, networking matters.)