Double Play: 12 U.S. restos that also pack in clubs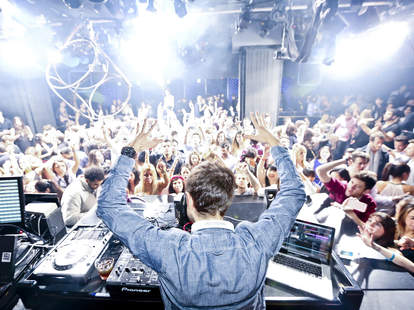 A busy traveler can't waste time on mass transit, or a cab, or even a pedicab. To add a little efficiency to your baller, nation-hopping lifestyle, we've lined up 12 restaurants in six cities that'll provide you an excellent meal and an on-premise venue for rocking 'til the break of as late as they'll let you stay.
Courtesy of Acme
ACME & ACME UNDERGROUND
9 Great Jones St
New York, NY 10012
ACME was a Cajun dive before Mads Refslund (head chef at "the world's best restaurant", Copenhagen's Noma) introduced a hunter-gatherer-focused New Nordic menu, and the owners of party-dinner staples Indochine and BONDST introduced glitzy neon sculptures and black leather seats. Marked only by a largish bouncer, the dimly lit ACME Downstairs offers small batch booze, small plates, a DJ spinning retro beats, celeb spottings, and events like Miley Cyrus' magazine cover party, during which her mouth hung open for reasons having nothing to do with New Nordicism.
Image courtesy of Southside
BRINKLEY'S
406 Broome St
New York, NY 10013
SOUTHSIDE
2 Cleveland Pl
New York, NY 10013
Infamous in its Bar Martignetti days for bringing Uptown bankers Downtown, Brinkley's now offers a more neighborhood pub feel, where you can casually take down gourmet mac & cheese on mahogany church pews. Hang a quick right for the innocuous door with a not-so-innocuous bouncer guarding Southside, a cozy basement danceteria with pretty regulars, a packed floor, a typically solid DJ, and… well, there are still a lot of finance dudes!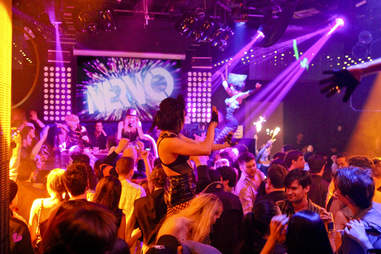 Image courtesy of Finale
THE GENERAL & THE JAZZ ROOM/FINALE
199 Bowery
New York, NY 10002
Top Chef's Hung Huynh's modern Asian menu at The General looks like cheesecake spring rolls. The spot itself looks like they burgled a Japanese castle from the future. Think that's opulent? Follow the neon arrow downstairs to Finale (6,000sqft of dance floor encased in LED strip lights and lined with blue velvet); and The Jazz Room, where you'll find live band karaoke celebrating Beyoncé, and, occasionally, the real life version of LeBron James.
Photo courtesy of Sumi
SUMI & CHARCOAL BAR
702 N Wells St
Chicago, IL 60654
After chowing on Chef Gene Kato's chicken oysters and admiring Sumi Robata Bar's smoothly appointed bamboo interior, head down the elevator to Charcoal Bar, a hyper-cozy Japanese lounge with just 12 seats. Expect hand-sculpted ice and a freaking exquisite cocktail menu from Michael Simon, who won't think twice about pairing a 17yr-old whiskey with shochu and naming the result after the hot girl from Game of Thrones. No, the other hot girl.
Photo courtesy of Studio Paris
PARIS CLUB & STUDIO PARIS
59 W Hubbard St
Chicago, IL 60654
When in Paris, sink into a plush leather booth, then sink into Le Royal: two dozen oysters, shrimp cocktail, whelks, whole Maine lobster, and 1lb of Alaskan king crab. If you don't sink too far, head next door to Studio Paris Nightclub, Chicago's top oontz oontz hotspot that's outfitted with steel girders for pillars and has hosted EDM's heaviest hitters, including Tiesto, DeadMau5, Avicii, Kaskade, and Calvin Harris, all of whom sound even better paired with an impressive champagne bottle list that includes 15L magnums of Veuve.
Photo courtesy of Next Restaurant
NEXT RESTAURANT & THE OFFICE
953 W Fulton Market
Chicago, IL 60607
Chef Grant Achatz's spaceship-like restaurant changes up its menu every three months. Like seriously changes -- from full vegan to traditional multi-course Japanese. The ultra-exclusive eatery requires tickets to attend (though every day a lucky fan can nab an open table via Facebook). Not exclusive enough? First of all, who are you? But fine, beneath the ground floor, just past a locked door (text a special number beforehand to get ushered in) there's the 14-seat Office, a VIP lounge that serves up crazily ingenious cocktails (whiskey with truffles?) for reasonably priced entrée dollars.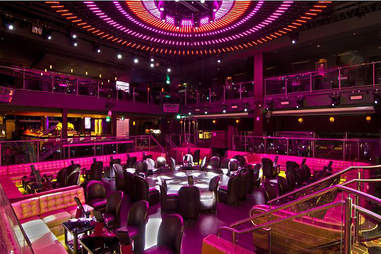 Photo courtesy of E11even
TOUCHÉ
15 NE 11th St
Miami, FL 33132
E11EVEN
29 NE 11th St
Miami, FL 33130
First, head up to Touché for lamb lollipops courtesy of Top Chef firecracker Carla Pellegrino. It's a high-end lounge experience in what's a rapidly developing area… but the hood is still pretty desolate. That is until a special elevator whisks you to E11even, a 24-hour club that promises eats and girls during the day, and dancing and girls at night. While there's gyrating and often scantily clad club employees, E11even isn't quite a strip club… more a cabaret, burlesque, has-aerial-performers-and-contortionists hybrid. Disappointed? Don't be, there's a daily happy hour.
Image courtesy of BÂOLI
BÂOLI
1906 Collins Ave
Miami, FL 33139
The resto's mix of sushi, cooked seafood, and pasta is essential to fortify you for post-midnight outdoor garden action, when some of the prettiest people you'll ever see dougie under the stars to DJs David Guetta and Avicii. BÂOLI's Cannes pedigree (they have a French location) shines through with a solidly international crowd -- even Pelé partied there -- while Wednesday nights see the infamously popular "My Boyfriend's Out Of Town" ladies night, when you'll hopefully bust out your "moves like Pelé".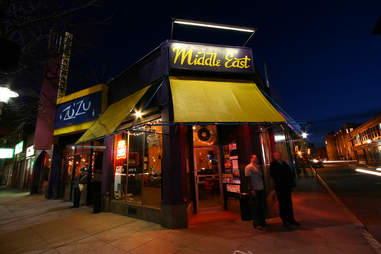 Image courtesy of The Middle East
THE MIDDLE EAST
472-480 Massachusetts Ave
Cambridge, MA 02139
The Middle East was born as a Lebanese restaurant, and you can still get a great kebab (or Guinness Braised Lamb Shank at ZuZu, another resto in the same complex), but afterwards head to their basement, a former bowling alley that for decades has hosted one of Boston's most crucial indie clubs, providing a home for everyone from the Mighty Mighty Bosstones to possibly the best-named Justin Timberlake tribute in America… The Timberfakes.
Image courtesy of Church
CHURCH
69 Kilmarnock St
Boston, MA 02215
Dip into a low-slung couch in the casually gothic upstairs lounge for a meal of PEI mussels chased by a cocktail off one of two menus: Seven Deadly Sins, or Seven Heavenly Virtues, which weirdly also have alcohol in them. Head into the back room for a cherished concert venue (everyone from hip hop legend Kool Keith to Japanese punks Peelander Z play there) musicians have described as "booming" if you stand up front, yet quiet enough for a conversation about your many virtues if you hang in the back.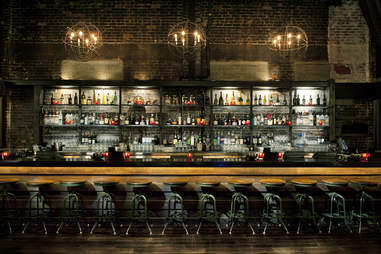 Image courtesy of Sayers Club
SAYERS FRONT ROOM & THE SAYERS CLUB
1645 Wilcox Ave
Los Angeles, CA 90028
Originally, those hoping to catch a brown leather couch in the decadently appointed Sayers Club would creep through the Papaya King through an unmarked door. Now the hot dog stand has been replaced with a rock and roll gastro-lounge, where you can pop gourmet fried dates before heading back for bottle-service, surprise drop-ins (Florence and the Machine, Slash, some guy named "Prince"…), and weekly staples like Thursday's "sessions" night, when nightlife director Jason Scoppa backs a lucky up-and-comer with the house band.
Image courtesy of Foreign Cinema
FOREIGN CINEMA
2534 Mission St
San Francisco, CA 94110
LASZLO
2526 Mission St
San Francisco, CA 94110
Foreign Cinema itself is a Swiss Army knife of experiences, from sitting at the bar tasting Point Reyes Kumamotos, to taking down a Cali-Med feast while watching actual foreign cinema projected on the wall on the open-air back patio. Pop over to the adjacent, admittedly "Euro-friendly" industrial warehouse for DJs, tartare tostadas, and film-themed cocktails like the Body Heat -- a jalapeño-infused vodka number inspired by a young, sexy Richard Gere, as opposed to an old, weirdly sexier Richard Gere.