Valentine's Day is an easy target, and not just because of its relation to a mythical god with excellent bow aim. There's plenty of things about the holiday to hate (commercialization, relationship stress, "love"), but also a lot of great things (chocolate, lobster, "sex").
And like everyone else, servers have conflicted feelings about the Hallmarkiest of holidays. To our surprise, some actually enjoy working February the 14th! Others... don't. So, to give you a better idea of what's going on inside the mind of a server as they rattle off the courses of a prix fixe menu, we've compiled 10 reasons servers both love and hate Valentine's Day.
Recommended Video
The Best Cheap Chicken Slider in DC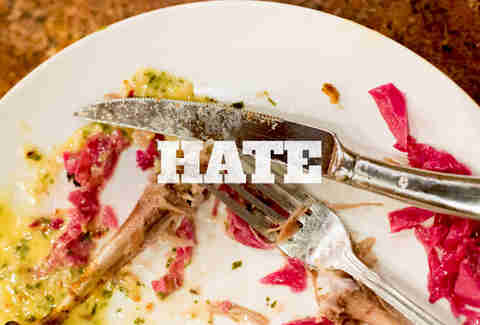 It's amateur hour
Some people who rarely go to fancy restaurants are a pleasure to wait on (see below), but one bad apple ruins the bunch. You'll get folks who don't know what to expect, are out of their culinary league, and simply don't know that 10% tips went out of style with Diners Club cards.
 
Every customer thinks they're special
The best seat in the house is singular, meaning not everyone can sit in it. And a fixed menu is just that. But too many diners think that on February 14th the world revolves entirely around them.
 
Alternative V-Dayers are the worst
Sad sacks who cho-cho-choose not to care about Valentine's Day... until it's the day after and they're full of regret. Or, "Galentine's Day" parties of roaming packs of single ladies. Pick your poison, though both of these are the worst.
You need a reservation
When you come in without one, the server has to make you look like a tool in front of a girl who you're trying to make sex with. Nobody wants to do that.
 
The lunchtime cheater's date is just awful
Cuckolds need to go out to eat too. Usually they do it at lunch (double entendre!), with dinner reserved for the wife/husband. Infidelitors, your server realizes what's going on! You should know each other's wine preferences, it's a dead giveaway. For the next hour, the server feels your guilt (or lack thereof).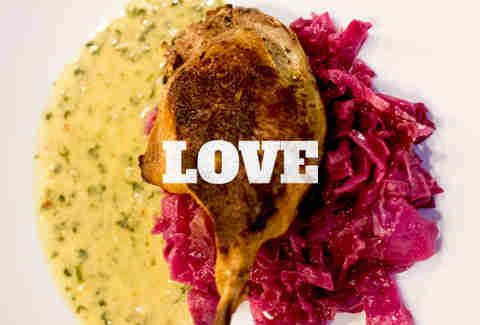 The orders are easy and lucrative
Ribeyes, lobster salads, piece of cake. Literally a piece of cake, but also figuratively! Things get even easier if the restaurant is going prix fixe. Plus, all those steaks mean larger ticket totals which mean larger tips (unless, see above).
 
It's wonderful to see people treat themselves
Plenty of people can count their yearly number of fancy restaurant meals on one hand and servers can usually tell a special occasion diner from someone who goes out all the time. It's refreshing for hardened service industry veterans to see couples make like Tom Haverford and treat themselves.
 
There are no large groups
You're not likely to get a party of 12, unless it's a Galentine's Day pack (see above).
You get to put on your best face
For servers who truly view hospitality as a career, it's actually fun to help people have a good experience, and Valentine's Day is a time when professional attention to detail and personality can make a lasting impression.
 
Diners are in a good mood (and on their best behavior)
Everyone's eating ribeyes and staring into each other's eyes, and overall the vibe is significantly more eye-rie than usual. Plus, people are drinking especially responsibly because everyone's on a date.
 
Dan Gentile is a staff writer on Thrillist's National Food and Drink team. He thinks Valentine's Day is just great. Follow him to romantic chocolates purchased with a February 15th discount at @Dannosphere.