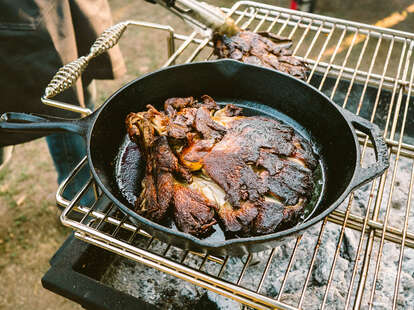 Peppered Lion's Mane Steak

| Photo courtesy of Wicked Kitchen
Peppered Lion's Mane Steak

| Photo courtesy of Wicked Kitchen
Barbecue is more than just a style of cooking—it's practically a way of life. Some people love barbecue for the experience alone, associating it with bustling backyard parties and summertime, a refreshing drink in hand. Many revel in the smoky goodness that emanates from grilled pork chops and baby back ribs. That's why it's nearly impossible for some to even comprehend the concept of vegan barbecue.
Long gone are the days of showing up to a Memorial Day cookout only to be served (if you're lucky) a bland veggie burger or abysmal tofu dog. But a few trailblazing chefs are providing alternative BBQ ideas for us vegans and vegetarians—finally allowing us to indulge in a flavorful backyard feast.
"Barbecue is a technique of cooking. It has nothing to do with meat. It is the act of cooking over an open flame," says Chef Terry Sargent, owner of Atlanta restaurant Grass VBQ Joint,. "We are smoking and cooking all of our items in a smoker, over heat and over wood."
As a longtime vegan, Sargent started Grass VBQ Joint in 2020 when he found himself longing for beloved dishes like beef brisket and pulled pork. Instead of waiting for someone else to explore the bounds of barbecue, he took charge and did it himself. The general base of the meat replacements he serves is made of vital wheat gluten, chickpea flour, and pea protein. However, each dish (such as the vegan chicken or beef) is flavored in their own way. Sargent has received the bulk of his feedback from pleasantly surprised meat eaters.
"Non-vegans don't know what to expect, so those are the ones I want to wow," he says "Those are the ones that make me want to spend the most time on these recipes."
Others are utilizing vegetables to recreate reminiscent flavors. Chef Derek Sarno recently turned heads at Austin's Hot Luck Festival, a food and music party known for being a meat-heavy experience. The only vegan chef invited to participate, Sarno blew onlookers away by grilling and pressing 400 pounds of mushrooms into vegan steaks.
"When we have to explain that 'it's not meat,' it is a job well done," says Sarno, who is a co-founder of Wicked Kitchen, a company that makes plant-based products with goals of making the diet more accessible.
Sarno seeks to "bring vegan BBQ dreams to life." In order to guarantee success and satiate his customers, Sarno has three requisites for cooking vegan barbecue: making the food as delicious as possible, ensuring it has a satisfying texture, and creating a pleasant and memorable experience for his customers.
"When I became vegan, I refused to compromise on taste or the cooking experience," he says. "Chefs, good ones anyways, go to great lengths to bring pleasure into people's lives."
And the West Coast, naturally, has become a hotbed for the vegan barbecue craze. Kayla Lamberson, owner of beloved Portland establishment Homegrown Smoker, seeks to prove just how tasty it can be with a selection ranging from the BBQ Soycurl Sando slathered in housemade sauce and layered with pickles and coleslaw to the Philthy Nocheeseteak, a smoked seitan dish complemented by chipotle aioli and served on a hoagie.
"There's a lot more love that goes into vegan barbecue. Especially if you're working with seitan; it is a lot of work," says Lamberson. "We season it up really good, we smoke it real good, we make our sauces in house. It's definitely not lacking in flavor at all."
Vegan barbecue is making its way all around the country. In fact, Lamberson hopes to franchise Homegrown Smoker by the end of the year, furthering the ultimate goal of making it accessible to everyone. Some of the most satisfying moments for these chefs is changing the minds of their most carnivorous customers.
"I want to make it as appealing as possible to the skeptics, to show them vegan food isn't bland or dull," Sargent says. "We're living good over here."