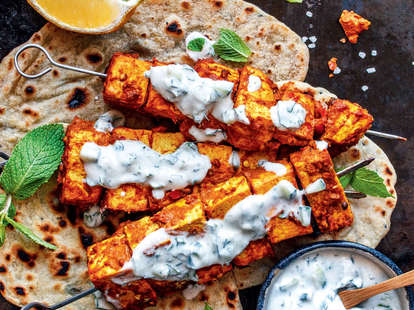 Tandoori Tofu Skewers

| Photo courtesy of VBQ: The Ultimate Vegan Barbecue Cookbook
Tandoori Tofu Skewers

| Photo courtesy of VBQ: The Ultimate Vegan Barbecue Cookbook
Imagine this: It's the middle of summer—the sun is anchored high in the sky and beads of sweat are dripping off of your face as you tend to the burgers and hot dogs you have charring on the grill. You guests are already tearing into the ribs you spent all night smoking, piling their paper plates high with tender meat, and beloved sides like mayo-laced potato salad and bacon-y baked beans. And then your vegan friend arrives.
"Oh shit," you think to yourself as you take a look at the spread. "I guess they can have watermelon?"
Not only is the lack of vegan options terrible for your friend, but it's also a giant miss for all of your guests. While it might seem surprising: vegan and barbecue go together as well as, say, beef and barbecue. They go together so well in fact that there is an entire cookbook dedicated to meatless backyard grilling called VBQ: The Ultimate Vegan Barbecue Book.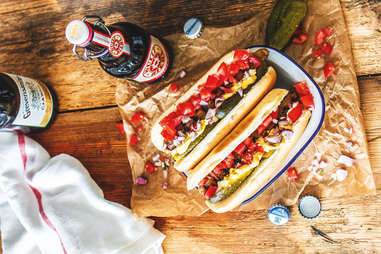 The book, written by German bloggers Nadine Horn and Jörg Mayer, reveals just how diverse vegan barbecue can be. Sure there is tofu, but it shows up in the form of spiced-packed Tandoori Tofu Skewers and Peppered Tofu Steaks. Eggplant also gets the star treatment: Turns out you can make everything from eggplant steaks (with a savory miso-glaze) to eggplant hotdogs, complete with the usual beloved toppings of bread and butter pickles and good mustard. The book even includes a recipe for vegan spareribs that look just as tender as their vegan counterparts.
While vegan barbecue can be dry, boring pucks of fake meat, it doesn't have to be. Horn and Mayer offer up several tips to make vegan barbecue dishes a great addition to any grilling spread. The biggest key to achieving vegan barbecue perfection is to make sure to heavily marinate pretty much everything you want to put on the grill. This helps the proteins and the vegetables really absorb as much flavor as possible. Horn and Mayer recommend really soaking beets, asparagus, squash, and peppers in a marinade before grilling them up.
Same goes for tofu. But to get good, crispy, flavor-packed tofu, the authors also suggest draining and freezing the tofu before putting it on the grill. As the tofu thaws, it will release even more water, resulting in an even firmer—and more delicious—tofu.
If you're hoping to cook up some tempeh, Horn and Mayer recommend blanching the tempeh in salted water before cooking. This move helps the tempeh become more flexible and helps cut down on the plant-protein's naturally pungent smell. And as with every other item they suggest grilling, you should properly marinate tempeh, too.
Now all you need is some mayo-free potato salad and a package of Oreos for dessert, and none of your friends—vegan or not—will ever be disappointed again.
Khushbu Shah is a former senior food editor at Thrillist and would rather eat eggplant steak over regular steak anyday. Follower her @khushandoj.