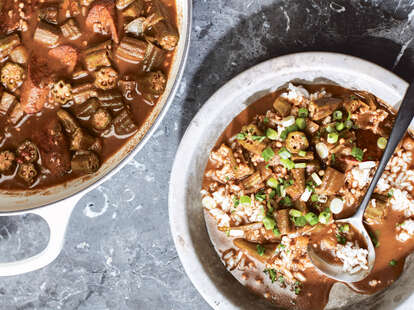 Photo by Emily Dorio
Photo by Emily Dorio
Welcome to
Recipes to Remember
, a collection of passed-down recipes that remind us to gather around the table, share a meal prepared with our own hands—or, perhaps even better, the hands of our loved ones—and simply enjoy each other's company. As the holiday season arrives, let's try new-to-us recipes and make lasting memories along the way.
Charity Morgan wants to circumvent the idea of a perfect vegan. She's even coined a term for imperfect vegans—plegans—which she defines as plant-based eaters who are empowered by their lifestyle decisions and aren't seeking judgment from those within the vegan community. The term started while she was helping her NFL-player clients adapt to their new plant-based diet.
"I wanted to encourage more NFL players to eat like this without feeling like you have to completely be this perfect vegan, because you're not protesting for animals or you're not screaming for climate change," says Morgan, who is married to former Tennessee Titans linebacker Derrick Morgan.
It's not that these principles don't matter—or aren't worthy reasons for transitioning into a plant-based diet. "What the vegans don't understand is all streams lead to the same water. We're fighting for the same things, just using a different approach." To Morgan, pioneering veganism with inclusivity and an open mind will undoubtedly lead to more changed minds and plant-based meals.
This is one of the guiding philosophies woven into her debut cookbook, Unbelievably Vegan, which released in January 2022. Morgan has been vegan for five years now, after a host of digestive issues that she connected to animal products in her diet. For her, shifting to a plant-based diet was definitely met with some hesitancy and anxiety, especially because Morgan was classically trained in French cooking at Le Cordon Bleu College of Culinary Arts.
But she stopped eating animal-based products cold turkey, tossing everything in her fridge five years ago and decided that culinary school was merely a stepping stone to her new style of cooking. "When I realized, you know Charity, screw all the rules in the kitchen—that's when I became my most empowered," she explains. "Some chefs can't even make a dish without using some form of animal product and I'm doing it without them."
It hasn't always been easy. One of the challenges of turning to a plant-based diet that Morgan also faced is the fear of missing out on nostalgic childhood favorites and pieces of her heritage. Morgan wondered how she'd enjoy her mom's pasteles and pastelitos, or her grandmother's gumbo that she looked forward to eating every year. "It's a warm place in my heart that I don't want to leave," she says.
Thankfully, becoming vegan is getting easier every year, with new plant-based meat options hitting store shelves and techniques shared far and wide through social media. Not only that, but Morgan remains inspired by the things naturally found in nature that can mimic the flavors and textures of meat. "It's amazing what the world has to offer when it comes to ingredients that are almost like its original source of a meat-like substance," she beams.
So instead of letting fear devoid her of enjoying her grandmother's gumbo recipe, Morgan has veganized her childhood favorite. And although she admits Grandmother Duplechan might be rolling in her grave a little bit, she notes her grandmother's recipe has always begun with a plant-based roux.
"I bump it up with my Cajun spices and real spices and bay leaves and all my herbs," she explains. "By the time I make that broth, you're not thinking of what source it came from because it's so, so flavorful." With smoky plant-based sausage, chopped okra, and bloated rice, this vegan version of gumbo allows Morgan to remain connected to both her grandmother and her roots.
"I'm so sick of reading about what a gumbo is supposed to be," Morgan says. "It comes from African slaves mixing with native roots, like sasafras is a native ingredient. I'm here. This is me being Creole and Native American."
Grandma Duplechans's Creole Gumbo
Serves 6
Ingredients:
1 cup vegetable oil (plus 1 tablespoon if using plant-based shrimp)
¾ cup all-purpose flour
1 large yellow onion, diced
1 large green bell pepper, stemmed, seeded, and diced
4 large celery stalks, diced
6 garlic cloves, minced
8 cups Chik'n Broth or any vegetable broth
3 bay leaves
1 tablespoon Creole-Cajun Seasoning (page 85), or to taste
2 teaspoons dried thyme
2 teaspoons fine pink Himalayan salt, or to taste
¼ teaspoon ground cayenne pepper
¼ teaspoon ground white pepper
3 pounds fresh or frozen okra, trimmed and cut into ¼- to ½-inch pieces
1 (14-ounce) package plant-based andouille or plant-based smoked sausage, sliced
1 (9- or 10-ounce) package plant-based shrimp (optional)
Ground black pepper (optional)
1 tablespoon gumbo filé, or to taste
¼ cup chopped scallions (green and white parts), plus more (optional) for garnish
Hot cooked long-grain white rice, for serving
Chopped fresh flat-leaf parsley, for garnish

Directions:
1. Heat a large pot or Dutch oven over high heat. When hot, add ¾ cup of the oil. Whisk in the flour. When the mixture begins to simmer, turn the heat to its lowest setting. Cook low and slow, stirring at least every 60 seconds (I alternate between a and a silicone spatula), until the roux turns blond, then light brown, and finally becomes a deep, rich chocolate color and smells nutty and buttery. (This can take up to 1 hour; be patient—your gumbo is only as good as your roux.) It should be thick enough to coat the back of a spoon but silky textured, too.
2. When the roux is chocolate-colored, increase the heat to medium-high and immediately add the onion, bell pepper, and celery. Cook, stirring constantly, until slightly softened, 6 to 8 minutes. Add the garlic and sauté until fragrant, 30 to 60 seconds. Slowly pour in half of the broth while whisking vigorously, then add the remaining broth, continuing to whisk until smooth. Add the bay leaves, Creole-Cajun Seasoning, thyme, salt, cayenne, and white pepper. Bring to a simmer, lower the heat to medium-low, and simmer, uncovered, for 30 minutes.
3. Meanwhile, heat a very large cast-iron skillet over high heat. Add 3 tablespoons of the oil. Once the oil is hot and shimmering, add the okra. Sear the okra for 10 to 12 minutes, stirring every 2 minutes or so, until the edges are golden and most of the liquid has been released and evaporated. (This helps prevent it from getting slimy.) Transfer the okra to a sheet pan and set aside.
4. Add the remaining 1 tablespoon oil to the pan. Add the sausage and cook until lightly browned, 3 to 4 minutes. Add the sausage to the gumbo. Stir from the bottom to prevent sticking. If using shrimp, add 1 tablespoon oil to the hot skillet and cook the shrimp until seared, about 3 minutes. Remove from the heat. Set aside.
5. After the gumbo has been simmering for 30 minutes and has been thickened by the roux, add the cooked okra and simmer an additional 10 to 15 minutes, stirring frequently to make sure nothing sticks to the bottom of the pan and burns. During the last 5 minutes of simmering, add the shrimp (if using). Continue to cook just to heat through. Taste, add black pepper (if using), and adjust the seasoning, if needed.
6. Turn off the heat and stir in the gumbo filé and scallions. Discard the bay leaves before serving. Ladle over rice and garnish with parsley and/or scallions (if using). Gumbo keeps in the refrigerator for up to 5 days or can be frozen in an airtight container for up to 3 months.
Tip: Roux should never be rushed, so be sure to cook low and slow and stir often—if you scorch it, toss it out and start over.
Chik'n Broth
Makes 10 cups
Ingredients:
2 large yellow onions, quartered
8 celery stalks (including leaves), coarsely chopped
6 carrots, scrubbed and coarsely chopped
10 garlic cloves, smashed
1 bunch flat-leaf or curly parsley
6 sprigs fresh thyme
4 bay leaves
2-inch piece fresh turmeric root, scrubbed, or
1 teaspoon ground
3 tablespoons nutritional yeast
2 tablespoons fine pink
Himalayan salt, or to taste
2 teaspoons whole black peppercorns
¼ teaspoon ground cayenne pepper
16 cups water
¼ cup fresh or freeze-dried minced chives (optional)

Directions:
1. In a very large stockpot or Dutch oven, combine the onions, celery, carrots, garlic, parsley, thyme, bay leaves, turmeric, nutritional yeast, salt, peppercorns, cayenne, and water. Bring to a boil over medium-high heat. Reduce the heat to low and simmer, uncovered, for 45 to 60 minutes for a deep, concentrated vegetable flavor.
2. Let the broth cool slightly, then strain it through a fine-mesh strainer into a large bowl. Discard the solids.
3. Stir in the chives (if using). Use immediately or cool completely and store. You can divide among freezer-safe containers, like deli containers, reusable plastic bags, or ice cube trays, and freeze for up to 6 months or refrigerate in an airtight container for up to 1 week.
Tip: This broth is amazing during cold and flu season; for extra immune boosting magic, add a 2-inch piece of peeled ginger and an extra pinch of cayenne to the finished broth and simmer for 10 minutes. Sip warm.
Creole Cajun Seasoning
Makes about ¾ cup
Ingredients:
6 tablespoons sweet paprika
2 tablespoons onion powder
2 tablespoons garlic powder
1 tablespoon dried thyme
1 tablespoon fine pink
Himalayan salt, or to taste
2 teaspoons ground black pepper
2 teaspoons ground white pepper
1½ teaspoons dried oregano
1½ teaspoons ground cayenne pepper (use ¾ teaspoon if you don't like heat)
1 teaspoon smoked paprika (optional)

1. In a small bowl, combine the sweet paprika, onion powder, garlic powder, thyme, salt, black pepper, white pepper, oregano, cayenne, and smoked paprika (if using). Use immediately or store in an airtight container in a cool dry place for up to 6 months. Stir or shake before using.
Tip: Save old condiment jars or other small glass jars for storing your homemade spice blends.
Kat Thompson is a senior staff writer of food & drink at Thrillist. Follow her on Twitter @katthompsonn.