The Plant-Based Yogurts Worth Your Precious Coin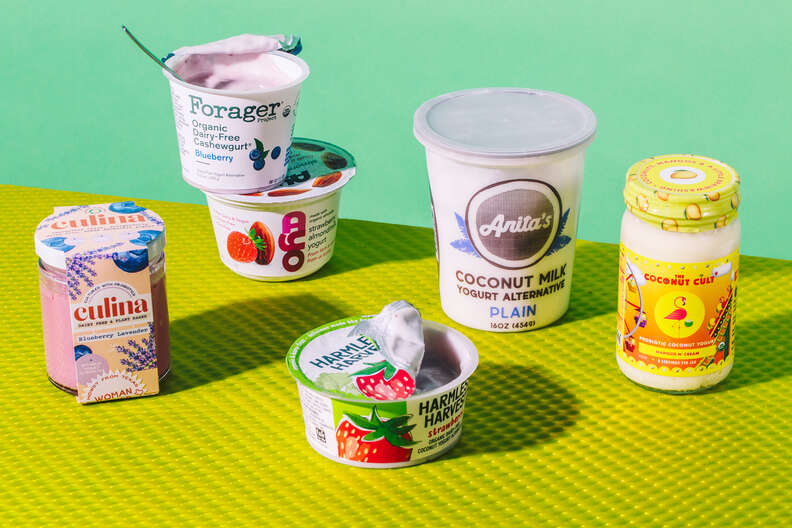 Cole Saladino/Thrillist
Cole Saladino/Thrillist
I was standing at Thrillist's metaphorical water cooler and waxing poetically about Januwelly, our declaration that this month is a "month-long wellness holiday," as senior editor Adriana Velez puts it. The discussion moved from the wave of non-alcoholic spirits bars to the whole plant-based food boom. We are witnessing a shift in conscious consumption for our three-plus square daily meals, and breakfast staples are an easy win. Morning routines are about taste, texture, convenience, and the ability to punch up when needed, perfect for trying out a plant-based yogurt, especially if it's top-notch good.

Most mornings I'll indulge in yogurt bowls and parfaits. I reserve the weekends for layering and experimenting, but my weekday before-work grub is all about fuel for the body. Years ago, I was stuck on those little single-serve Greek-style yogurt cups with the attached fruit compote-like mixture. Since then, I've graduated from cream-on-top full-fat to the new, luscious plant-based goodness, and I've found a winner that speaks to my vegan-ish ways. More on that in a minute.
My plant-based yogurt search came about organically. I gave myself weeks to explore the grocery coolers, asked my colleagues to bring in products, and raided the Thrillist fridge for samples sent by producers. My goal was to taste only plain varieties (I prefer starting with unsweetened and adding seasonal fruit myself), but I found that rather difficult. The vast majority of plant-based yogurts come flavored or at least sweetened. I tried coconut, almond, oat, and cashew-milk varieties.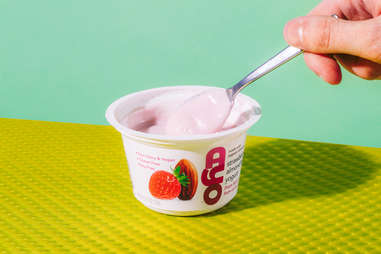 My criteria for good plant-based yogurt come down to a creamy mouthfeel with no funny aftertaste and a rich flavor with a bit of that classic yogurt tang.

I'll say it now, all the coconut yogurts made using fewer thickeners and an abundance of live cultures (active organisms that assist with preserving and give yogurt a distinctive taste) are the move.
Vegan yogurts with the best taste and texture
I'm all about obsessive tanginess and smooth texture. The Coconut Cult has the flavor down pat and wonderfully weird delicate bits of coconut meat in the jar. Despite my preference for a smooth texture, it's outstanding and reminds me of my late-night ice cream creeping.
Culina Coconut Blueberry Lavender gets both taste and texture right, no leftover taste on your tongue, and a smooth spoon dip. Anita's Coconut Plain Yogurt reminds me of Kesso, a Queens, New York-based conventional dairy milk strained yogurt. The brand has nailed the consistency; it's thick like full-fat Greek yogurt. These are my classics and my holy grails.

My all-time favorite? Anita's Coconut Yogurt in mango.
But how expensive is vegan yogurt?
The easiest to find single-serve options that we like include:

Forager Project Cashew $2/5.3 ounces
The Coconut Cult $17/8 ounces
Culina Coconut $5/5 ounces
Anita's Coconut $3/4 ounces
Harmless Harvest Coconut $2.30/4 ounces
Ayo Almondmilk $1.99/5.3 ounces

Most of these have fruit mixed into the creamy substance or medley coating the container. Anita's makes a plain, unsweetened version. Harmless Harvests' plain is sweetened (5 grams of sugar), but they make an unsweetened, plain drinkable yogurt that we have not yet tried.

Convenience and price are cousins. Let me keep it real, the prices on some of these plant-based yogurts might cause your back account to go negative. Don't do that. Maybe instead save it as an occasional treat.
The most sustainable vegan yogurts
With all this talk about coconut milk, we have to consider the sourcing and ask ourselves a very uncomfortable question. How earth-friendly is vegan yogurt if it's shipped from halfway around the world, involves pesticides, or exploits humans in the production? Harmless Harvest is committed to fair trade (third party certification), social responsibility, and organic practices. It's still made (in the US) from coconut meat shipped all the way from Thailand, but we appreciate its sustainability efforts.
Our plant-based yogurt punch up
Anita's plain coconut yogurt is versatile -- add a dollop to your favorite store-bought pie or cake. The only drawback is that the brand hasn't expanded to beyond the east coast, yet. But you wait; vegan yogurt is just getting started.
Sign up here for our daily Thrillist email, get Eatmail for more food coverage, and subscribe here for our YouTube channel to get your fix of the best in food/drink/fun.