Where Are All the Vegetarian TV Shows?
With Meatless Week, Thrillist is taking a break from its meaty tendencies to indulge in all things vegetarian and vegan. We'll prod the philosophical quandaries of our dietary choices, ask for a reassessment of what it means to live meat-free, and much more -- all without a single salad in sight.
Not long after Michael Symon and his sous-chef lugged half a veal carcass across Kitchen Stadium and Cat Cora cleaved the head off a barracuda with two hands in Iron Chef America's title sequence, the Chairman unveiled the day's secret ingredient: broccoli. The 2010 episode seemed ordinary, until Alton Brown introduced a "special twist." Eight seasons in, this would be the Food Network competition show's first vegetarian battle.
Pitted against Iron Chef legend Masaharu Morimoto was Amanda Cohen, who had opened the 18-seat restaurant Dirt Candy in New York's East Village hardly a year prior to getting the casting call. Fog plumed from the dry ice machine and fell over the sides of a table bursting with purple and green broccoli, broccolini and rapini, and swirled around the two competing chefs. If Cohen looked nervous, it's because she was. Along with her entire restaurant staff of two, she'd brought a heavy burden with her: she'd be standing in for vegetarians everywhere.
"I felt like it was a huge, huge responsibility," recalled Cohen in a phone interview. At least on network and cable television, vegetarianism has always been underrepresented, and TV has yet to produce a wildly famous, meat-abstaining personality on the level of Julia Child or Anthony Bourdain (who called vegetarianism "an affront to all that I stand for" in Kitchen Confidential). When vegetarian and vegan chefs do appear on cooking competitions, they tend to be introduced as foils to "normal" chefs. "Vegetarians never do well on these shows," Cohen said.
She dissected the episode in her comic-strip-style cookbook, depicting her hand-wringing over whether to go on the show using the trope of the shoulder angel and devil. "Focus on the restaurant," says the angel. "You could be the first vegetarian to win Iron Chef," whispers the devil. Across the next two panels, she grabs the angel, shoves it in her mouth, and swallows, and then frets, Does that mean I'm not a vegetarian anymore?
The pressure Cohen felt leading up to the taping wasn't just about breaking new ground on a popular nationally televised cooking competition program or whether she'd win. She hoped to puncture stereotypical perceptions of what cooking without meat looks like -- that it's not just about what you can't have, that it's about more than just wellness and conscientiousness. She wanted to show that vegetarian chefs can be sophisticated and playful, and are allowed to luxuriate food with a shit-ton of butter, like most any restaurant-worthy dish is. In addition to drilling knife skills, Cohen said, "We worked on learning how to look like we were having fun."
That freewheeling mentality was baked into the core of Dirt Candy. Yes, Cohen cooks meat-free meals (or dairy-free, if you ask nicely), but she's quick to correct battle commentator Brown when he characterizes her business as vegetarian. "It's a vegetable restaurant," she quipped. "[Cohen uses] humor as one of her weapons," wrote Pete Wells in his 2012 review for The New York Times. Still, the intimidating battalion of cameras and the massive set of Iron Chef America promised to make it difficult for Cohen to stay as loose as she is in Dirt Candy's kitchen. "As long as we didn't totally screw up," Cohen said, "it was a step forward."
While Cohen lost, 45 points to Morimoto's 54, the judges weren't particularly unkind to her five courses, especially considering that one of them admitted to hating broccoli in the first 10 minutes. She suspects that they might not have been ready for "healthy" cooking that's not concerned with calorie-counting, but doesn't regret her decision to appear on the show. "It's a point of view that isn't seen very often, especially on the Food Network," Cohen said, "and I wanted my chance to put a different face on vegetarian food."
Amanda Cohen's big swing on Iron Chef America was far from the first time a plant-based viewpoint had aired on Food Network, but it was likely the most prominent. As Cohen wrote in a 2010 blog post, vegetarians are "usually made to look like kooks, then thrown off the show before the first commercial break." Despite Alton Brown's recurring jokes about her usage of butter -- exactly 15 of them in the hour-long episode, with the final dig, pictured above, clocking in as the credits rolled ("I've learned so much about healthy vegetarian cuisine," said Brown, bringing a plated block of butter pierced by a head of broccoli into frame, "that I've decided to turn over a new leaf. So if you'll excuse me, I'm going to dive into my dinner.") -- Cohen emerged unscathed, and Morimoto took the battle seriously enough to counteract any underlying "vegetarian food is weird!" vibes in the episode. But it didn't exactly change the conversation.
Even though the non-cooking aspects of Iron Chef America are intended to be good-natured, the viewpoint they collectively give off in Cohen's episode is that vegetarians are self-righteous and aloof, stereotypes that propelled her to enter the studio in the first place. On principle, Cohen -- whose restaurant has occupied a larger space on the Lower East Side since 2015 -- was there to demonstrate that vegetables deserved to be treated as sanctimoniously as pork, on-screen and off-. Chefs who'd rather not cook with meat for whatever reason shouldn't be made to feel like they're showing up with a rubber knife to a gunfight. Just maybe, viewers would be ready for an unrepentant vegetarian host to teach them something other than how to grill flank steak to medium-rare.
A little more than a month before Cohen's loss aired, a ripple of vindication had shot from the TV to the vegetarians and vegans who never felt adequately represented on mainstream food programming. The source was unlikely but its effect decisive. A 22-year-old named Chloe Coscarelli, who'd forgot to tell producers at the casting call that she was a vegan, won Food Network's Cupcake Wars, defying the expectations of pretty much everyone, including a fellow contestant who said to her, 'When I first found out there was a vegan chef, I knew you were going to be out on the first round.'" Coscarelli, who New Yorkers, Angelenos, and Londoners might recognize her as a founding partner of vegan eatery By Chloe, told me. "It definitely gave me a lot of confidence that this cuisine had mainstream appeal and that people who weren't vegan could still enjoy this cuisine and be excited by it."
Coscarelli's victory signaled that veg-based programming could be a welcome changeup and instigated the search for a host with an alternative perspective. In 2013, Chopped did a vegetarian episode, won by Rich Landau of the highly acclaimed Philadelphia vegetable restaurant Vedge, and, that same summer, Food Network Star featured a semi-vegetarian contestant named Nikki Dinki.
Calling her spin "meat on the side," Dinki nailed her first camera test, breezing through her concept like she'd done it a hundred times before. Brought in to evaluate the screen tests, Susie Fogelson, then the senior vice president of marketing at Food Network, called Dinki's pitch "so simple and genius." Food Network Star judges lauded the idea behind Dinki's cooking throughout the season; even Alton Brown called her viewpoint "needed." When she was eliminated, an angry viewer even started a Change.org petition to give her a show anyway.
"After I left, I felt like people were equally, if not more, sad about my point of view being off the show than they were me," said Dinki, who said she still gets emails from affected fans watching her season for the first time. She went on to co-host Cooking Channel's Junk Food Flip, a travel-cooking-competition hybrid that debuted in 2014 and ran for two seasons.
Internally, Scripps, which owns Food Network and Cooking Channel, had been looking to do a vegan cooking show, bypassing the middle ground of vegetarianism altogether, when Jason Wrobel's reel landed on their desks in 2012. A Cool Tattoo Guy born in Detroit, Wrobel has a charisma and winsome goofiness that translated to an undeniably magnetic camera presence. He'd first taken his idea for a plant-based cooking show to Animal Planet, which had begun developing programs that didn't feature animals. Their ideal host, however, was the Midwestern lumberjack type. ("I am from the Midwest, but I'm not a lumberjack," Wrobel told me over the phone.)
He moved on and pitched Scripps. In his meetings, executives said they'd wanted to do a vegan series ever since Coscarelli's Cupcake Wars episode, but none of the concepts or hosts they'd seen were strong enough. "They were like, 'We think you're the host that can pull this off,'" Wrobel said. There was a caveat, however. [They said,] "We weren't going to push the word 'vegan' in terms of the marketing or the concept."
The pilot of his show, How to Live to 100, debuted on the Cooking Channel on January 6, 2013, earning the channel's top ratings of the day, according to Wrobel. The network ordered a season, to air in 2014. In each episode, Wrobel offered healthy takes on American comfort foods -- Buffalo cauliflower, vegetable casseroles, pasta with "neatballs" -- without ever uttering the v-word, thereby avoiding the risk of losing viewers who might be turned off by cooking labeled as vegan. Four episodes in, he got a call. The ratings didn't meet the network's expectations, nothing against Wrobel. They really wanted this to work; audiences just still wanted burgers, beer, and bacon. "That's a direct quote," said Wrobel.
Food Network is hardly the only media entity that "counts," but it has been a beacon of cooking trends and personalities since its inception in 1993. Its general shift away from dump-and-stir how-to shows like Essence of Emeril in favor of programming involving competition and travel is based on the notion that food TV is still, well, TV. "What I've heard from a lot of people who work in TV is: think about when you're relaxing at the end of a day," Dinki said. "When you turn the TV on, you don't really want to be preached to about how you're supposed to eat your greens. You want to live vicariously through that host and think about, 'I want to sink my teeth into that pizza.'"
Adding to that is the declining percentage of people who actually enjoy cooking. A 2017 study published in the Harvard Business Review found that a mere 10% of people love to cook and do it often, down from 15% in 2002. Why waste valuable TV time demonstrating how to properly emulsify hollandaise on an audience that only cares about how it tastes at Sunday brunch?
The era of personality-driven reality TV has produced ratings-grabbing phenomena like Gordon Ramsay's Fox primetime empire (which has ballooned to include Hell's Kitchen, MasterChef US, MasterChef Junior, The F Word, and, soon, 24 Hours to Hell and Back), and helped turn shows like Bizarre Foods With Andrew Zimmern into marathon programming block staples. Banking on reliably liked personalities is no fault of any network, but it leaves little room for experimentation. "You just eliminated any opportunity to slide in a pilot for a new episode of, say, a vegan show," said Allen Salkin, author of From Scratch: The Uncensored History of the Food Network. "So people turn on Food Network now expecting to see Guy Fieri eating cheeseburgers."
Salkin added that it's a question he gets at almost every book event he's done: Where are the vegan cooking shows? Is there a network that's not "allergic," as Salkin put it, to topics deemed terribly niche? At this moment in 2018, the answer is, yes, two: PBS and go90, an on-demand platform owned by Verizon.
Laura Theodore has been hosting Jazzy Vegetarian since 2011 on PBS, a channel that's historically friendly to eccentric or idiosyncratic shows and turning them into cult hits. (Look no further than The Great British Baking Show and the TV filmographies of figureheads like Julia Child, Jacques Pepin, Martha Stewart, Martin Yan, to name a mere few.) Along with the more cut-and-dry Christina Cooks, Jazzy Vegetarian is a vegan show that's had surprising longevity.
First airing on Oregon Public Broadcasting for the Portland crowd, it's outgrown its original trajectory of a two-season run as it enters the pre-production stages for its seventh season. These days, it's part-cooking show, part-guest Q&A, part-improvised music segment, with an educational interstitial here and there, but during its initial production phase, Theodore handled the concept more cautiously. It took five years of pitching to networks for one to say yes, and she wasn't about to jeopardize the chance to broadcast her viewpoint.
Like Wrobel, Theodore was advised to use the word "vegan" as minimally as possible, but a lot had happened since she got the instructions from the pilot shoot in 2005. "By the time the first season ran, we were actually dubbing back the word 'vegan' because they were like, 'OK, you can say it a couple of times,'" Theodore said. "Now it's the mainstay of the show because the people watching want to make sure that I'm not cooking with any kind of animal products, and we like to assure people of that."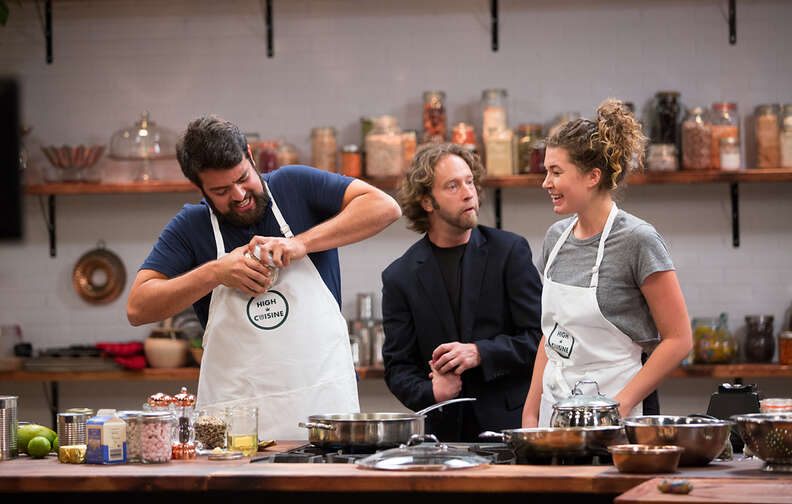 Currently releasing its first season on the streaming service go90, High Cuisine was made to crack open more stereotypes than one. In partnership with mitú, a media company targeting a younger audience from a Latinx point of view, it's a vegan competition cooking show that gets the two participating chefs very, very high before they embark on a themed esculent mission that hardly takes itself too seriously. It's been available since November 2017, and already more than one episode asks for candy to be a key ingredient.
"It's not about stoners sitting in a basement giggling," said Asher Brown, the show's executive producer. "It's about incredibly high functioning chefs making incredible things." The lighthearted tone might insinuate a lack of consequence -- though no one is made to feel like a loser at the end -- but there are real stakes. Winners get to come back to compete for their composed dish to appear on the chef judge's menu for his new restaurant.
Brown has made it his business to produce quality content for plant-based brands, and animal and human rights nonprofits, so when the opportunity for High Cuisine arose, he jumped at it. He was steadfast in that it didn't need to compromise on values for it to land. High Cuisine could reach a broad audience if veganism was like wallpaper, not the centerpiece, Brown maintained. Based on the reception thus far, Brown was right; the demographics are diverse, granted it's veg circles doing the bulk of the soapboxing. "Part of it is the plant-based community has been so desperate for a cooking show that they could watch, they've just been coming out in droves," Brown said.
His hope that High Cuisine's food-as-entertainment tactic can be both teachable and impactful serves a greater purpose: to succeed where other shows have failed. By substantiating that the market exists but it takes more than an episode for it to catch on might prevent other networks from balking a show in its fourth episode because it's not reaping impossibly instant results. "When High Cuisine does well," Brown said, "it makes it easier for someone else to greenlight a show."
These starkly different shows approach the same problem with care: if you're gonna make a show that's unapologetically plant-based, you better make it damn entertaining to watch. Producers and chefs have to face down the assumption that you're immediately partitioning your audience by labeling something as "vegetarian" or "vegan." Subversive normalization already occurs in nearly every cooking show out there: sometimes chefs wind up whipping up dishes sans meat or animal products without making a whole thing about what they're doing. The nonchalant shrug works to disarm the carnivorously inclined viewer before they even realize what's going on.
Almost inevitably, the moment one of the v-words is dropped, you are gently confronting people about implied associations. "We're introducing the concept of ethics into eating and a lot of people don't want to think about that," Wrobel said. "They just want to be entertained, they want escapism, they want to be dazzled." At the same time, Wrobel points to the mainstream popularity of documentaries like What The Health, Forks Over Knives, Cowspiracy, et cetera. Scroll through Netflix, and you'll have a month's worth of alarmist bounty to pick from, most recently, the nonfiction series Rotten. In its "Big Bird" episode, editors aren't shy about showing snapshots from broiler chicken processing and meatpacking lines, lingering on the dead animals hung up by their feet as their heads are systematically chopped off, each head sliding down a stainless steel chute as the rest of its body follows the mechanical Rube Goldberg of meat production.
Netflix notoriously keeps most metrics close to the chest, but it's telling that docuseries like Rotten or Michael Pollan's Cooked, which came out in 2016, seem to have carved out a home on a streaming platform, where it's safer to take risks on sensitive topics that question the dealings of corporations that might otherwise be advertisers. People are prepared to confront the realities of animal welfare and our deranged, bloated food system; they're just maybe not ready for it in the things we turn to for comfort.
"We're asking TV to do something that really hasn't happened in the mainstream either," said Cohen. She's right: only 3 and 6% of Americans call themselves vegan and vegetarian, respectively, numbers that haven't fluctuated much since a 2014 explosion of interest. But they're diets that are becoming more visible and receive better mainstream reception than ever before. Outspoken celebrities and athletes (most recently, top-tier basketball players) have helped normalize misconceptions like vegans don't get enough nutrients or protein. Reportedly, more people are open to reducing their meat consumption: 31% of Americans practice meat-free days (with marketing help from Paul McCartney and Meat-Free Mondays) and 83% of consumers are adding more plant-based foods to their diets, each according to a 2018 forecast by the research firm Baum+Whiteman. It was the kind of data that punctuated the growing number of people consciously cutting out meat a meal or two a week, Wrobel said, that most captured network executives. "Back in 2012, that was enough interest for them to go, 'That's not just a trend,'" he said. "'This is continuing to escalate.'"
Massive corporate entities are also catching on, in spite of the confusing data indicating that, as a population, we're eating more pounds of meat a year than ever. Cargill, the second-largest beef processor in the United States, took equity in Memphis Meats, a food startup vying to be the first to make in-vitro meat a commercially viable product, as did Bill Gates. In late 2017, Campell's acquired Pacific Foods, a producer of organic and plant-based items from non-dairy milk to seitan. Nestlé, which recently sold off its candy business, bought up Sweet Earth, makers of frozen vegan meals. Even Wal-Mart is asking suppliers to provide them with more plant-based products to keep up with the exploding market demand.
The industry is also organizing: the first-ever trade organization promoting plant-based interests formed in 2016 to lobby Washington alongside Big Agriculture. If "plant-based" is poised to break out into the mainstream in 2018 as has been predicted, it won't be long until media companies, driven by public interest and ad revenue, are put on notice to respond with programming in kind.
In late 2016, well after the Nikki Dinki petition, another proposal popped up on Change.org asking Food Network to start a vegan show. The string of comments voice various reasons for signing, including plenty along the lines of, "I'm not vegan, but I'd like to learn more about it." Optimistically, it was an unprecedented display of amalgamated support for programming that would celebrate its vegan identity. Cynically, it was a group of excitable naifs shouting into the void. Seeking 15,000 signatures, the petition fell 44 short.
Truthfully, it's not like Scripps and other mass media companies have completely ignored the rallies below their windows. In a post-How to Live to 100 ecosystem, Scripps has dipped its toes into less costly productions, throwing up two seasons of a digital-only show called Like a Vegan on the Cooking Channel's website and repurposing its host, chef Ayinde Howell, for a series of Tuesday lunchtime Facebook Live videos on the Food Network Live page. Before the social network deprioritized live video in early 2017, effectively ensuring publishers would leave the infrastructure to rust, Howell's weekly videos corralled in helpful comments, all [sic], like "i hate tofu," but also sentiments like "you have inspired me to go to a vegan restaurant," and, "There's FINALLY a vegan chef on food Network making vegan food?!"
Those who are desperate to see this kind of show harbor a healthy belief that we're closer to a mainstream plant-based chef than we've ever been. How Discovery's $11.9 billion deal to purchase Scripps, which also owns HGTV and Travel Channel, will affect Food Network specifically remains to be seen. (Disclosure: Discovery is an investor in Group Nine Media, Thrillist's parent company.) Already, the decision to move Discovery's global headquarters to New York City by 2019, packing up Scripps corporate offices in Knoxville, Tennessee, and Discovery in Silver Springs, Maryland, have people curious to see if it'll reignite the sort of television that so bewitched the younger demographic when Food Network started in the '90s.
"Young people, for the most part, think it's this old stodgy network that doesn't interest them," Salkin said. It's noteworthy that the generational gap between the vegetarian-inclined is stark. About 12% of Americans 18-49 identify as mostly vegetarian, whereas it shrinks to 5% in those above 50, according to Pew Research Center data from 2016. "The US is becoming a nation of food tribalists with cultures built around close-knit viral communities based on personal values and behaviors," a director of New Hope Natural Media told a natural products expo in 2015. It's Generation Z, with a proclivity for social responsibility, carrying the torch. "If you want to try to keep your viewers into the next generation," said Salkin, "you will throw them a vegan show that will excite them."
Anything to leverage the fact that it still wields undeniable power. "It goes past the TV and really goes into this community," said Dinki. "There's so many opportunities for chefs once you're involved with them." Think of all the real estate that cookbooks with a cross-armed celebrity chef plastered on the cover get at your average bookstore. This is who gets the bankable book deals, who have blogs with their names as the URL even when the posts and recipes are penned by ghostwriters. They're not just chefs, they're brands, fertilized and pruned to fit the cult of their culinary-defined personalities.
Of course, in spite of its enduring authority, cable television is not the only player in the game. As TV viewership diminishes year over year -- research firm eMarketer estimated that the number of US adults who will have gotten rid of their cable subscriptions would increase by 33% from 2016 to 2017, totaling 22 million -- streaming platforms flourish with exponential user gains. By the end of 2017, Hulu's paying membership base was up to 17 million, and the company drove $1 billion of advertising revenue for the first time ever. Netflix gained 5 million subscribers during the past quarter alone, bringing its total users to 112.8 million; its predicted peak market saturation is two to three years away, especially as it continues seeping into international markets. Meanwhile, Food Network viewership slid 10% in the coveted 18-49 demographic from 2016 to 2017, according to Nielsen data, although Discovery's broader investments in platform-based programming mitigate the general cord-cutting trend.
I would make the case that streaming is where this kind of programming really has its best shot at breaking through -- my sources have speculatively corroborated my suspicion! -- but considering that this is the internet, this fact would be shocking to nobody. But here's Wrobel, in the throes of developing a new show: "When the pitch package is together, I'm not even gonna touch regular TV."
Talking to Variety in 2013, then-president of Food Network and Cooking Channel, Brooke Johnson, used the term "bleeding edge" to describe the kind of programming Food Network produced. That may have been true during the years when English-dubbed versions of the original Iron Chef would air during primetime, but in 2018, Food Network doesn't need to deviate from the tried and true. "They're not a network that generally throws something up on the air and sees if it works," Salkin said. "They want to know beforehand it's going to work."
It's as if breaching the topic of a veg-based cooking show is as strange as Congress entertaining the idea of farming hippopotamuses in the Louisiana bayous in the 1910s as a solution to a dire meat shortage in America. The calls demanding a New Food Society back then rings with the familiar echo of the convictions of scientists and activists today: our broken food system is desperate to be fixed. Not because we just feel like it, but because it's contingent on the vibrancy of society forthcoming. If we want this to work out, one of the many things we should all probably try to do is eat a little less meat.
In these interviews, more than several people asserted that eating a vegetarian or vegan diet is the way of the future. An increasing amount of the meat-eating public are becoming sympathetic to this roaring minority, more than in any year prior, and yet, because of complacency, because of money, because it's easier to duck a problem than it is to solve it head-on, TV gatekeepers haven't even flashed their turn signals to change lanes. "I am a loss to understand...," said W.N. Irwin, a pro-hippo researcher working in the US Department of Agriculture, in an interview with The Washington Post in 1910. "Everyone seems to hate to go out and blaze a trail."
Sign up here for our daily Thrillist email and subscribe here for our YouTube channel to get your fix of the best in food/drink/fun.
Leanne Butkovic is a features editor at Thrillist. Follow her @leanbutk.