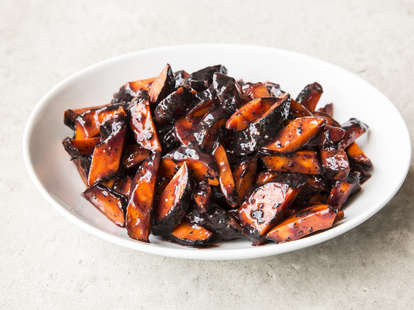 Courtesy of Julie Soefer/Underbelly
Courtesy of Julie Soefer/Underbelly
Meat! It's delicious, and you can eat it all the time and there are never any side effects! But because every once in a while it feels nice to eat a vegetable, we talked to a few top chefs to get their best vegetarian recipes. But not just any chefs: ones who know their way around cooking meat. We figure, when these chefs get around to eating a vegetable or two, it's gonna be damn tasty. And we'll give it to them, these recipes look damn tasty.
Lima bean gravy... or hummus
"Cook lima beans with water, butter, salt, thyme or rosemary, and a little lemon juice at the end. Cook for longer than you expect. They will release all of their starch and make a natural lima gravy. Add salt pork or bacon if you like, but there's so much umami in the 'gravy' you don't need meat. Eat it with a spoon alone, or put it over rice and eat with a fork. You can also add a little more lemon juice, garlic, tahini or peanut butter purée, and turn it into a lima bean hummus." -- Elliott Moss, Buxton Hall BBQ (Asheville, NC)
Charred, grilled carrots
"I like to completely char whole carrots on the grill. I let them cool down, cut them, and toss 'em in a tasty vinaigrette with shaved red onions and sunflower seeds." -- Chris Shepherd, Underbelly (Houston, TX)
One grain, one root, one leaf
"The best and easiest vegetable dish involves simple cookery of a grain, a root, and a leaf. For example: toasted farro cooked in mushroom broth and dressed with olive oil, lemon, and parsley. Or baby turnips roasted whole -- olive oil is great, but in the South we use bacon fat -- with sautéed baby collards. It's very sweet and requires little prep. Chiffonade and high-heat cook them in peanut oil; finish with a little apple cider vinegar. I often accompany this with a soaked and whipped cashew puree to add creaminess, as well as some toasted and pestled nuts for crunch and contrast." -- Linton Hopkins, Holeman and Finch (Atlanta, GA)
Chickpea and lentil stew
"I love to stew chickpeas and lentils with Indian spices and mint. It's such a great meal, and I never miss the meat." -- Jamie Bissonnette, Coppa (Boston, MA)
Cucumber and sweet onion salad
"One of my favorite vegetarian dishes is cucumbers and sweet onions with distilled vinegar, sugar, salt, and pepper. My grandma used to make it and it's one of my favorite dishes in the whole world." -- Justin Brunson, Old Major (Denver, CO)
Heirloom tomato sandwich
"My favorite vegetarian sandwich of the summer is an heirloom tomato sandwich. Super quick, super easy, crazy good. Toasted seed bread, two heirloom tomato slices, a few slices pickled onion, and mayo." -- Jonathon Sawyer, The Greenhouse Tavern (Cleveland, OH)
Tomato + hot pepper salad
"I have a garden at home, and I love pulling tomatoes and hot peppers from there. My favorite thing to make is something simple that I call 'Everything Tomatoes.' It's a slightly more complex tomato salad you can eat on its own or as a side dish. I slice tomatoes, lay them on a plate, and dress them with salt, black pepper, red wine vinegar, lemon juice, fresh hot peppers, and occasionally a little yogurt. Everything accentuates the flavor of the tomato. The key is to use ripe never-been-refrigerated tomatoes." -- Bethany Zozula, Whitfield (Pittsburgh, PA)
Grilled veggies
"I love tossing whatever hearty vegetables we find at the farmers market in a little olive oil, salt, and pepper and either roasting them in a super-hot oven at 425 degrees or on a hot grill until they're a little charred and delicious. Finish them off with a few herbs, garlic, and a little butter for bonus points!" -- Karl Worley, Biscuit Love (Nashville, TN)
Baked ziti
"If you're making this dish in the summertime, prepare ziti with a little sautéed mushroom and fresh tomato tossed in olive oil. In other seasons, you can make the dish a little heavier by adding butter and caramelized onions. I like using the small cans of black truffle pieces, or paste in oil. It gives it an amazing flavor without adding a ton of fat. Plus, it's always nice to have truffle loveliness at the house. Makes you feel kind of luxurious while you eat it and watch Netflix, or whatever." -- Erik Niel, Easy Bistro & Bar (Chattanooga, TN)
Stir-fried broccoli
"I like to stir-fry broccoli, adding in sour cabbage and dehydrated corn, and then finishing with lime and olive oil." -- Kevin Nashan, Sidney Street Cafe (St. Louis, MO)
Charred veggie salad
"One of my favorite things to make with vegetables, especially during summer when you're constantly lighting up the grill, is a charred vegetable salad. I slice summer squash, zucchini, and sweet onions in half, season them generously with salt and pepper, and then char them face-down on the grill (or in a searing-hot cast-iron pan). That way they develop a nice charred surface with all the flavor of the grill, but still maintain some of that crunchy snap. I cut up the vegetables into bite-size pieces and dress them with a little olive oil, lemon juice, and torn fresh herbs." -- Ashley Christensen, Chuck's (Raleigh, NC)
Sign up here for our daily Thrillist email, and get your fix of the best in food/drink/fun.
Lee Breslouer is a senior writer for Thrillist, and is trying to eat more veggies. Follow him to the farmers market @LeeBreslouer.