Welcome to Grillist, our annual celebration of all things smoke and fire. Join us all summer long as we get up in your grill with expert BBQ advice, insightful interviews, and bad grilling puns -- but mostly those first two.
Plump little bite-sized black bean burgers topped with crisp sweet potato fries and zesty lime sour cream? Yes, please. Forget those gnarly frozen patties, there's a new veggie burger in town.
Jackfruit is a fruit that when prepared properly, has a taste and texture almost exactly like perfectly tender pulled pork. I don't know why this is, but I know enough to stop asking questions and start eating. Your friends will, too.
If you grew up thinking that the only way to make baked beans taste amazing was by dropping a massive chunk of pig into the pot, think again. These guys are so rich and flavorful you won't know what hit you (but rest assured, it's not pork).
No one could possibly turn down these kebabs. Fresh summer tomatoes, chewy, charred halloumi, crusty bread, and fragrant basil make this an excellent addition to any cookout, vegetarian or otherwise.
How do you make a macaroni salad simultaneously creamy, refreshing, and vegan? Follow this recipe from Minimalist Baker, full of dill, crisp veggies, silken tofu, and spicy mustard for a little extra heat.
Ever put sweet potatoes on the grill? They're amazing, and they don't need much to shine -- just a splash of lime and a bit of cilantro and every meat eater will be lining up to load their plate.
Drench a well-charred 'shroom with enough delicious grilled vegetables, spices, and herbs and, as the great Kevin Garnett once said, ANYTHING IS POSSIBLE!!! As in, you know, wooing the veggie-averse with some incredible burgers.
Ain't nothing wrong with a little dip and grind, am I right? Especially if you're a vegetarian at a cookout. This smooth, unctuous blend is rich, cheesy, and totally indulgent -- just make sure you're the first chip to the bowl.
Think juicy, super-satisfying barbecue ribs are only for carnivores? Think again. A little wheat gluten, some nutritional yeast, smoked paprika, and peanut butter and you've got yourself the meatiest meat-free dish on the block.
This potato salad is light, fluffy, tangy, and extremely simple to make. Like, foolproof simple. Like, you could not possibly screw it up if you tried. But, then again, why would you try to screw up your own potato salad? Just make it here.
Mushrooms aren't burgers, sure, but literally no one will care after downing a few of these saucy sliders. Pile them high with fresh, crispy toppings, smother them in condiments, and it's smooth sailing, my friend.
"What better to make a vegetarian sausage out of than a vegetable that has a meaty texture and is already pretty much shaped like a sausage!?" asks the Chubby Vegetarian. Exactly. Get the deets on these flavorful, surprisingly easy-to-make bangers here.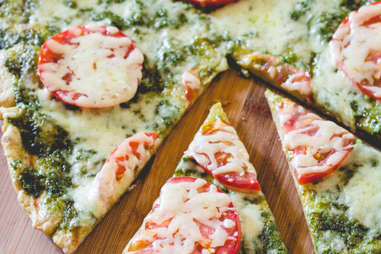 Cauliflower is one of those miracle foods that can transform into just about anything and still taste amazing, and these smoky, spicy, easy-to-make, and completely gluten-free burgs are case and point. Stuff these guys in a pita and load 'em up with toppings or drop them in a salad for a totally carb-less experience.
Dress up that boring old Not Dog with this step-by-step guide to the ultimate meat-free summer weenie. This is one veg you'll want to drag right back through the garden.
If you haven't tried throwing some pizza on the grill yet, you need to stop what you're doing and ask yourself, "What am I even doing with my life?" Make up for lost time with this fresh, green, and ridiculously uncomplicated crowd-pleaser here.
This recipe is one of the most creative veggie dishes I've ever seen, and it's also one of the most delicious, guaranteed to sweep nay-saying cookout buddies right off their meat-loving feet in just 35 minutes.
Good grief is this summery grilled flatbread recipe spot-on. It's also easily veggiefied by swapping out the bacon for soy bacon or losing the fatty strips all together -- the other ingredients are so enticing, no one will miss it.
This recipe goes to show that if you marinate just about anything in sweet-and-spicy barbecue sauce and then give it a good char on the grill, it's going to be amazing -- even tofu. I recommend doubling the sauce recipe here, since you'll definitely want to jar some up for later.
This is in no way our first grilled corn rodeo here at Thrillist, but this combo of tart lime juice, creamy queso fresco, and smoky roasted pasilla pepper might be our best showing. Pony up, cowboy.
Who doesn't want to spend the summer chilling on a boat? Make your (edible) yacht dreams a reality with this warm, cheesy, and veggie-packed grilled squash recipe.
Sign up here for our daily Thrillist email, and get your fix of the best in food/drink/fun.
Meredith Heil is a former staff writer for Thrillist. Match wits with the best of y'all, the rest of y'all is like vegetables in her presence, check it. See young @mereditto if you got beef.