Make These Clever Versions of Vegan and Vegetarian Sushi
Torched eggplant, pickled vegetables, and miso tofu go a long way.
Eggplant "Eel" Unagi

| Photo by Remy Morimoto Park
Eggplant "Eel" Unagi

| Photo by Remy Morimoto Park
When Remy Morimoto Park first told her grandparents she was switching to a vegan diet, they couldn't understand why. "For them, it's hard to comprehend why I wouldn't want to eat luxurious items like fish or meat," Park says. "Having those ingredients on the plate is still seen as a sign of money, wealth, and status."
Now, eight years later, Park has built a following on her website Veggiekins and various social media platforms for vegan spins on traditional Asian dishes. Using her Japanese, Korean, and Taiwanese background, she creates recipes ranging from quinoa bibimbap to eggplant "eel" unagi.
"When I first started out, there were a lot of vegan mac and cheese recipes, but not a ton of Japanese or Korean dishes," she says. "But I do throw out the disclaimer that it's not traditional sushi, for example, because we're not using fish."
Yes, the terms vegetarian or vegan sushi are a contradiction, as sushi by definition needs to contain fish. But with changing dietary restrictions, both home cooks and restaurants have had to adapt and invent creative ways to create something plant-based while keeping distinct Japanese flavors intact.
"Sushi was invented in the Edo period in Japan and fish was always the centerpiece," says Chef Sho Boo of Maki Kosaka in New York through translation. "Now that sushi has become such a global cuisine, we've had to come up with many different varieties to cater to the vegetarian population around the world."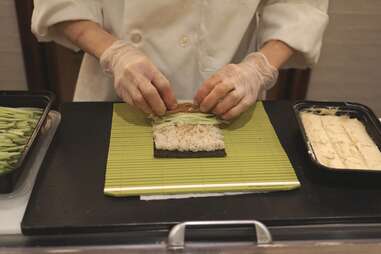 At Maki Kosaka, Chef Boo does offer vegetarian ingredients as substitutions—like lightly seared mushrooms, grilled peppers, and avocado. (Though she admits it's mostly her American customers that want vegetarian versions and her Japanese guests who crave fish.) She also makes a Tofu Futomaki roll, which is traditionally a thick roll filled with various vegetables. Her version includes miso-marinated tofu, pickled daikon radish, julienned cucumber, and toasted white sesame seeds.
"Tofu is so soft when you bite on it, so you'll want some crunchiness from the cucumbers," Boo says. "Plus pickles are great for saltiness and sourness to add depth of flavor, and mixing fresh and pickled vegetables together adds great texture."
Plus, she makes sure to use firm tofu and marinates it overnight in white miso, sake, mirin, and sugar to ensure the dish is as flavorful as possible, even if there is no fish.
Park agrees that seasoning and texture are key, and frequently enlists her grandmother to be the official taste tester. She says understanding what makes the traditional dish sing and then coming up with close flavor substitutes has been the backbone of her recipe process.
"Specifically, with Japanese cooking, a lot of flavor comes from the dashi," she says. "But I use mushroom or seaweed broth instead to achieve a similar flavor. Once my grandmother approves of a dish, I know I've really nailed it."
When developing her recipe for the Eggplant Unagi, Park experimented with a few different ingredients, but radishes held onto too much moisture and carrots ended up being too sweet. She ended up landing on Japanese eggplant because, once torched, it had a similar texture to fish skin and soft, buttery interior.
"A little bit of torching goes a long way, and a lot of raw fish is given a quick torch to give off that flavor of the grill," she says. "Treat the vegetable the same way you would treat the animal protein because it's not fun when everything is mushy browns and greens."
She also advises to salt your eggplant to tenderize it and be sure to use a classic sushi rice instead of a long-grain, as the dish will be able to hold together more easily.
Both Chef Boo and Park agree that traditional sushi rolls aren't going anywhere, but that vegetables are an incredibly important part of Japanese culture. (In fact, Shojin cuisine, which originated with Buddhist monks in Japan in the 13th century, is entirely vegan.)
"It's really easy to make a Japanese meal vegetarian. As long as you have nori seaweed and sushi rice, it's a matter of what you choose to wrap into it," Boo says. "Any household in Japan has their fridge full of vegetable options for sushi."
Tofu Futomaki Recipe
By Chef Sho Boo, Maki Kosaka
Ingredients:
• Nori seaweed
• Seasoned sushi rice
• Saikyo miso tofu (see below)
• Pickled daikon
• Julienned cucumber
• White toasted sesame
Directions:
1. Using a sushi rolling mat (makisu), spread a sheet or half a sheet of nori seaweed.
2. Spread seasoned sushi rice.
3. Sprinkle sesame seeds on the rice.
4. Place Saikyo Miso-marinated tofu (recipe below) on the rice, and spread evenly.
5. Place other vegetables on the rice and roll the mat.
6. Roll and press tightly, to make a nice cylinder shape.
7. Cut the roll evenly, and plate on a plate.
Saikyo Miso Tofu
Ingredients:
• 7 ounces Saikyo miso/white miso
• 1 tablespoon sake
• tablespoon mirin
• 2 teaspoons sugar
Directions:
1. Press tofu to get rid of excess water.
2. In a container, add white miso (or Saikyo miso), sake, mirin and sugar and mix well.
3. Add the press tofu into the marinade (cut the tofu if necessary to fit in the container).
4. Cover the tofu with the marinade evenly. Leave overnight.
5. Take out the tofu, remove excess miso if desired.
Eggplant "Eel" Unagi
By Remy Morimoto Park, Veggiekins
Ingredients:
• 2-3 Japanese/Chinese eggplants (I used 3 pieces roughly 8″ in size)
• ⅓ cup gluten free soy sauce or tamari
• ⅓ cup mirin
• 2-3 tablespoons coconut sugar
• salt
• neutral oil
• optional garnish
• green onions
• sesame seeds
• nori
Directions:
1. Begin by preparing the eggplant. Remove the skin using a veggie peeler and then slice lengthwise into 1/4″ thick planks. If you're enjoying as donburi, you can keep your slices long, otherwise, cut planks into roughly 4-5″ long pieces to enjoy as sushi!
2. Generously sprinkle salt over both sides of every eggplant piece and allow to sit for 15-20 minutes. Rinse off any excess salt and pat dry with a kitchen towel.
3. Cook both sides of your eggplant pieces in a large pan with a touch of neutral oil, just until lightly golden. Then make your sauce by combining tamari, mirin and coconut sugar and adding to the pan.
4. On low heat, braise your eggplant in the sauce until it starts to reduce down and becomes slightly viscous.
5. As an optional step, finish your "eel" by torching with a blowtorch.
6. To serve, top your rice with your eggplant pieces, brush or spoon over leftover glaze from the pan and top with green onions and sesame seeds if desired.
Jess Mayhugh
is the editorial director of Food & Drink for Thrillist
.