Food Culture Has Invaded Video Games, and the Results Are Mesmerizing
There is something so satisfying about crafting curries and baking pies in a digital space.
Have you ever perfectly peeled multiple potatoes in a 45-second timeframe? Or browned onions and carrots in a minute, sauteeing them rapidly to ensure they cook evenly without burning? It may seem like an impossible task, but in the world of Cooking Mama -- among glowing pixels of digital cream puffs and inaccessible steaming pots of curry -- anything is possible.
Cooking Mama is a cooking simulator where players follow the recipes of the watchful, wide-eyed, bandana-wearing "Cooking Mama." The game is cute and simple enough: confetti explodes out of the top of the screen upon completing a dish, and Mama applauds your effort through every step by awarding you with a shiny medal. The game skyrocketed to acclaim back in 2006 when it first launched, selling over 500,000 copies in the United States alone. The Nintendo DS game proved that cooking simulations are not only fun, but that there's also a huge market for them -- an undeniable appeal that combines food with gaming.
Cooking Mama isn't the first food-related video game. Pixelated chefs have been around since at least 1982, when the classic game BurgerTime hit arcades. That game sent its protagonist, chef Peter Pepper, careening down ladders and building burgers while simultaneously avoiding the clutches of the evil Mr. Pickle, Mr. Egg, and Mr. Hot Dog. There was also Tapper, a 1983 arcade game in which players function as a bartender slinging rounds of root beer for thirsty customers. Hell, it could even be argued that Pac-Man is an eating-related video game.
But Cooking Mama changed everything because the focus was entirely on food; there was no frantic running, no succumbing to untimely falls or villainous enemies, and no real game-ender. The worst that could happen in Cooking Mama was that you screwed up the recipe, and Mama was slightly disappointed.
"I [remember playing] Cooking Mama nonstop when I first got it. It was super appealing -- way better than real food," said Everest Strayer-Wong, a New York City-based illustrator whose work revolves around food, with the occasional video game reference. "I loved peeling the potatoes and chopping cabbage... I feel like I learned real cooking skills from that game."
"The idea of reinventing different versions of ourselves online is nothing new in 2019, but cooking video games definitely fold into that same concept."
Strayer-Wong is not alone in her food-related obsession to Cooking Mama, and the ways it has translated into her professional work. Nelson Wu, a Toronto-based artist whose most recent work for the Los Angeles Times' food section also incorporated a video game theme. Wu was similarly inspired by the cooking simulator, in addition to Restaurant City, a game tied to social media where players can open their own restaurants, specialize their menus, and visit friends' establishments.
"I've had an interest in cooking since I was a kid. I used to watch my parents cook and try to copy them with this toy kitchen set," Wu explained. In middle school and high school, that interest was further developed by games. "I became really obsessed with Cooking Mama and Restaurant City. There was something so exciting about perfecting a recipe I've never heard of or [making] something as simple as cup noodles."
As Wu got older and began drawing more, he realized his food illustrations, often inspired by his time gaming, could convey emotions that ranged from nostalgia to understanding and familiarity. "As someone who enjoys food very much, I want to capture my experiences in these drawings… The vibrancy of color and shine of the highlights make food all the more juicy looking. Doing this, I want to make the dish the best it can be in hopes that people can connect with that experience somehow."
Interestingly enough, Strayer-Wong claims that food in video games gives her a sense of nostalgia for meals she's never had. "Maybe it's because drawing is like putting the world through the filter of your own experience and aesthetic. In food art, and video game art, what's left is the best parts of the food's spirit -- and someone else's expression of that food from their own nostalgia."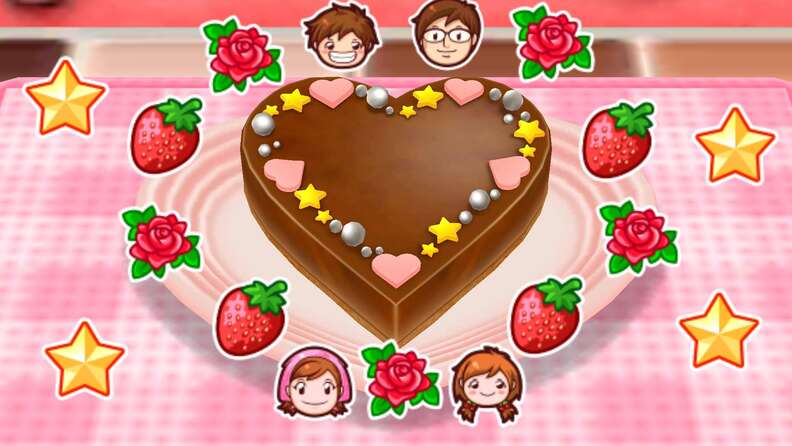 Though a lot of the appeal of cooking video games has to do with the dazzling sights of food, similarly to Studio Ghibli's whimsical animations, another big draw has to do with being in an alternate reality where one can actually be successful at cooking -- without the dangers, like cuts and flames, of being in a kitchen. At least that was the case for Allisyn Ruttle, a recruiter at Los Angeles-based video game developer Riot Games.
"I'm much more prompted to play games like Overcooked when I feel like cooking rather than cooking in real life. Less actual effort, no trips to the grocery store, no doing dishes," Ruttle expressed. Overcooked is a multiplayer cooking simulation, where players cooperate and coordinate fixing up dishes -- like pancakes, smoothies, and sushi rolls -- in the fictitious Onion Kingdom.
That being said, Ruttle realizes that video games can't fill all the voids that cooking actually provides -- and not just the lack of actual sustenance. "The great thing about cooking in real life that is lost in video games is the community aspect of it. Sure, you can play multiplayer Overcooked, but there's something to be said about developing a meal with friends or family, buying ingredients together, and making something with your hands."
Even so, over time, cooking in video games has drawn more and more popularity. Perhaps it also has something to do with the rise of food fandom and the larger interest people have in celebrating, looking at, and diving into food -- even if that means doing it virtually.
In Nintendo's highly acclaimed 2017 hit, The Legend of Zelda: Breath of the Wild, it's up to players to gather their own ingredients and cook masterpieces over an open flame in order to obtain healing meals. Half the fun of the game is combining different ingredients in hopes of developing a new recipe, like simmered fruits, rice balls, and spicy meat and seafood skewers. Websites like Polygon have even dedicated articles with the best recipes to provide Link, the protagonist, with proper meals. Nintendo has just announced the unnamed sequel to Breath of the Wild at E3, and no doubt it will include more intricate recipes for the hero.
Though not as in-depth as Breath of the Wild, Red Dead Redemption 2 also allows players to cook sustaining foods, like flame-grilled venison, flaky fish seasoned with oregano, and healing tonics, offering a respite to the gunplay.

Another modern game that includes aspects of food and cooking -- though it isn't the focus of the game -- is Final Fantasy XV. Players collect recipes on their travels and the food provides their party with helpful stat boosts. Additionally, the depictions of food are mouth-watering and elaborate; there are steaming bowls of bisque, mushroom risotto, and even grouper carpaccio delicately plated with flowers. For those less concerned with luxury, foam cups of instant ramen also make an appearance.
The game boasts over 100 dishes for Ignis, the character who assumes the role of the party's chef, to learn. The dishes have become so popular that Square Enix, the game developer, opened up a cafe in Tokyo -- aptly named the Square Enix Cafe -- that serves food from Final Fantasy XV.
There's even a Reddit thread specifically devoted to cooking with Ignis, where Redditors attempt to recreate the video game dishes in real life. Enthusiastic fans rallied and created an unofficial, community-driven cookbook of all the recipes in real life, free to fellow gamers and amateur chefs.
"The idea of reinventing different versions of ourselves online is nothing new in 2019, but cooking video games definitely fold into that same concept," Ruttle explained. "Cooking games allow you to see what ingredients compliment each other and help you discover recipes, without having to deal with burning, undercooking, friends hating the way it tastes, or doing dishes."
Ruttle describes the act of food-related gaming as a "fantasy of existing in real life without actually existing."
Wu concurs, and also notes that some dishes aren't always physically accessible due to lack of ingredients, but can be dreamt up in virtual spaces.
"At least for me, it's a great opportunity to learn about a variety of dishes, dishes that have ingredients that aren't quite readily available in real life," he affirmed. "I have a lot more freedom to be creative with what I make in games and there's an overwhelming feeling of accomplishment when mastering a recipe."
Food video games have come a long way since Pac-Man devoured cherries while dodging ghosts and Mario dosed on powerful mushrooms to increase his size. These days, in the world of food-related video games, there is no "game over" -- only "what are we cooking up next?"
Sign up here for our daily Thrillist email, get Eatmail for more food coverage, and subscribe here for our YouTube channel to get your fix of the best in food/drink/fun.
Kat Thompson is a staff food writer at Thrillist whose favorite part of
Breath of the Wild
is riding horses and cooking. She can make a mean chicken curry on
Cooking Mama
and drools over the food in
Final Fantasy XV
. Follow her on Twitter @katthompsonn.