Vietnamese Barbecue Is the Healthy Flavor-Packed Meal You Can Make at Home
Stock up on fish sauce, lemongrass, and plenty of garlic, according to the chefs behind Madame Vo BBQ.
Barbecue often feels synonymous with two things: summer and America. For many, the term brings to mind racks of ribs kissed with char, bubbling batches of tangy and sweet barbecue sauce, and tender brisket that shreds with the slightest touch. But barbecue isn't limited to this singular picture of American food. Within the scope of the United States itself, there are regional specialties, like white barbecue sauce from Alabama and all things pork in Memphis. And when you open up the picture even wider, you might just end up with the fragrant, fish sauce- and lemongrass-infused barbecue dishes that hail from Vietnam.
Jimmy Ly and Yen Vo, the husband-wife duo behind Madame Vo BBQ in New York City, have made it their mission to bring Vietnamese barbecue to the forefront of the barbecue and Vietnamese cuisine conversation. As a matter of fact, Ly and Vo bonded over the lack of Vietnamese options in the city when they first met. "We got married because we love Vietnamese food," Vo, whose surname worked as inspiration for their initial flagship restaurant, told me over a video call with a laugh. "When we opened Vo, we couldn't find Vietnamese food being represented the way we were used to eating it. I was telling my husband, [Vietnamese barbecue] is one of my favorite things to eat. I want to show the world, I want to show New Yorkers, another side of Vietnamese food aside from the classic [dishes] that people know."
So after opening up their first restaurant, Madame Vo -- which features reimagined classics of Vietnamese fare like steaming bowls of pho and vermicelli noodles laced with pickled veggies -- Ly and Vo set their sights on establishing one of the only Vietnamese barbecue restaurants in New York City, complete with grills embedded at the table.
Vietnamese barbecue was always a part of the pair's upbringing. For Ly, who was born and raised in New York, eating bò 7 món -- or seven courses of beef, a Vietnamese barbecue specialty -- was reserved for celebratory occasions. "[We ate it] maybe two times a year because it was a ceremonial meal. It was always used to celebrate weddings, graduations, birthdays -- just big moments," he explained. "Mom made bò 7 món at the house and it was very time-intensive and it always required big groups to come."
Alternatively for Vo, who grew up in Long Beach on the coast of Mississippi -- which boasts a large Vietnamese community -- bò 7 món was more prevalent. She describes get-togethers with family members that included platters of fresh seafood wrapped in sheets of rice paper and beef cooked in aromatic, sizzling butter.
"We're deep in our roots and we felt that Vietnamese [food] hasn't gotten that spotlight yet that it deserves," Ly explained. "We wanted to push the envelope and introduce a new side of Vietnamese food and dedicate a restaurant fully to barbecue."
"We wanted to push the envelope and introduce a new side of Vietnamese food and dedicate a restaurant fully to barbecue."
What came next were excursions to Vietnam, trying barbecue from all parts of the country. In Vietnam, barbecue restaurants sit on rooftops, where curls of charcoal-tinged smoke can escape. The aroma of meat hangs heavy. In New York, Madame Vo employs electric grills. The smell of caramelizing beef is just as enticing.
For those who've never had Vietnamese barbecue, there are a couple things to expect. "Vietnamese barbecue -- when you eat it -- the flavor is really bold and the meats are already marinated. It's not like American, when you dry rub," Ly explained. "For all Vietnamese barbecue, it's really deeply marinated and embedded in the meat."
And rather than slather meats with sticky, ketchup-based barbecue sauces, the key ingredients to Vietnamese barbecue marinades call for fish sauce, lemongrass, garlic, sugar, and butter. Then there's the dipping sauces.
"Vietnamese barbecue is known for their dipping sauces," Ly explained. "That completes the meal." At Madame Vo BBQ, Ly and Vo serve three different dips to complement their grilled meats. There's nước chấm, the classic sweet, tangy, and garlicky fish sauce dip that pairs well with pretty much any protein, fried egg rolls, and fresh spring rolls. There's mắm nêm, a fermented anchovy and pineapple mixture that's pungent and salty -- a perfect complement to beef, according to Vo. The pair also serve a tamarind sauce reminiscent of Thai cuisine that's thick and tart from the fresh tamarind pulp.
The last portion of the Vietnamese barbecue equation are the sides. Like Korean barbecue's banchans, Vietnamese barbecue also has components outside of the meat. "Yes, the meat itself is good but [you don't] get the full experience of barbecue," Vo said. "You eat it with the noodles, the rice, the sides, the sauce -- you have to do the whole thing."
As Ly mentioned, Vietnamese barbecue is a celebratory meal meant to be shared with others. There's a sense of camaraderie to getting together and customizing your own rice paper wraps filled with herbs and grilled proteins (Vo specifically likes putting tart green apples in hers) and dunking the creations into boldly flavored sauces. But with the pandemic looming overhead, dining out and traveling for such a meal is more challenging than ever.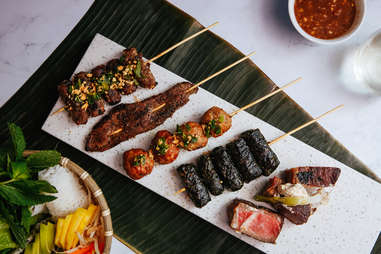 Ly, however, is adamant that people can easily bring Vietnamese barbecue into their own homes. "If you have a grill, like a grill in your backyard, that's ideal. [Otherwise], the electric skillet is probably the main thing that you need to make it happen. The recipes are very simple," he explained. "I don't think you need anything specific to accomplish a Vietnamese barbecue at home. In Vietnam, we're a very poor country. We had to figure out how to cook with whatever we had. That's the beauty of it. It's so simple, but yet complex in terms of flavor."
Vo agrees, and emphasizes that Vietnamese barbecue can take shape in many ways; it's not a one-size-fits-all meal. "The secret is of course in the sauce and marinade," Vo said. "But the thing with barbecue is that it's not just meat. We do a whole catfish, and we make wraps out of it. [Just] marinate your meat, get the butter going, and rice papers and all the herbs. All of this you can find in grocery stores right now." Vo cites mint, basil, and tarragon as some of her favorite herbs to include in her wraps.
And if you can't find herbaceous stalks of lemongrass and funky bottles of fish sauce right now, Vo recommends trying Omsom: a new food brand that specializes in prepackaged Asian sauces and marinades. The Vietnamese barbecue starter from Omsom, afterall, was made in partnership with Ly and Vo. "Obviously people can't come to our restaurant so they can bring [our flavors] home to them. We're so grateful," Ly said. "At the end of the day, we love our culture and we just wanted to represent it properly -- the best that we know and we could."
Sign up here for our daily Thrillist email, get Eatmail for more food coverage, and subscribe here for our YouTube channel to get your fix of the best in food/drink/fun.