The Southern Chef Guiding Our COVID-19 Cooking Plans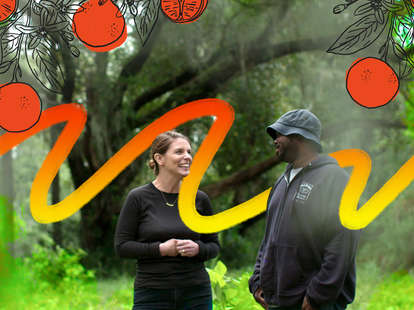 Photo: Somewhere South/PBS; Illustration: Maitane Romagosa/Thrillist
Photo: Somewhere South/PBS; Illustration: Maitane Romagosa/Thrillist
Every hour of my day revolves around food. I'm either in the kitchen putting together dishes, reading culinary essays, or clicking through food YouTube--nothing like finding addictive nourishment for this southerner. So when PBS premiered A Chef's Life with Chef Vivian Howard in 2013, I was hooked. The storytelling, set in eastern North Carolina, was fresh and approachable. It focused on Howard's departure from New York City for her hometown, Kinston, to open The Chef and The Farmer restaurant. Viewers got to witness her becoming a celebrity chef. Sure, we fell in love with Mrs. Lillie's biscuits, but the takeaway from that show was (in my Rapper Andre 3000 voice): "the south has something to say."
The daughter of a hog farmer nicknamed "Big Time," Chef Vivian is back with a new series called Somewhere South. It runs Fridays, March 27-May 1, 9-10 pm ET on PBS (check local listings), PBS.org and the PBS Video App. It's for the curious, and it takes an in-depth look at singular food gems in places like Charleston, South Carolina, and Greenwood, Mississippi. Vivian plays part student, part tour guide in each episode, and her humility shines bright when she learns to make empanadas and tastes shark and grits.
I spoke with Chef Vivan right when the US was getting pummelled with COVID-19. I got her thoughts on the effect of the virus on the restaurant industry, of course, but also on dumplings, Black foodways, and cooking at home.
I'm excited about 'Somewhere South'; it's a much-needed TV break from what's going in New York City, North Carolina, and all over the country. I have to ask, what are your general thoughts about COVID-19's effect on restaurants?
Whoa! It's unprecedented. There's some comfort in this feeling that it's not something that we're experiencing regionally and it feels it's nationwide, it's industry wide, and it feels very much like we're going through this together. And the restaurant community is one that really rallies around each other and I'm seeing that happen and so I'm choosing to be hopeful that we'll emerge whole.
We got to dig into your new show. You've done a beautiful job of talking about the American South and all the cultures that continue to evolve there. What's on the cutting room floor, first?
Well, I'm particularly glad that Chef Ed Lee's line made it in there, that he wanted to open a restaurant called Take a Dumpling. So if you know that didn't end up on the cutting room floor, most everything made it in. I think probably what you don't see is the table of producers and thoughtful academics that really huddled and came together to figure out how to tell these stories, how to paint a picture of what the south actually looks like, how to be respectful of people's journeys, how to be a part of telling stories that are inclusive and whole, and telling stories that are not often told and going to places that don't often get celebrated.
So I cannot express to you how much research and collaboration and thought and sensitivity went into this project. It took us three years to do this and it's not because we were moving slow, it was because we were moving mindfully.
Is this a series for southerners or everyone?
I mean, this show, the word "south" is in it. But really, I think what it's meant to do is show how the south is a microcosm of the rest of our nation. And how, in that way, it's not distinct and not antiquated and it really represents all the communities that exist in our country. And for all of those reasons, I think it's for everyone. And like A Chef's Life, I think it is a show that is not necessarily about food, it's about people and place and community and we use food as the lens that all of that is projected through. So I think it's for people. I think people will enjoy it and get something out of it from everywhere.
In the hand pie episode, there is a young man who started as a busboy for you, and now he's a bartender. His story was lovely.
Yes. You're speaking about Jose. So Jose has worked with us for maybe six years now. He started off polishing silverware. And then he became a runner and a server and now a bartender. He started working for us because I have worked with his mother for more than 12 years. I don't really speak Spanish. But we've worked together and had this shared language forever. And so we wanted to tell more of their story. And actually, we did. Jose is a thoughtful, really quiet, but always-paying-attention young man. And he's a great bartender. He doesn't seem very far over the bar though. I think he gets the question a lot, like, "Are you old enough to be doing this?" And he absolutely is.
I cried during the porridge episode when you went to Charleston. It was very moving. To me, this moment in the series says southern food is Black food, or the basis of southern cuisine is Black food.
Thank you, Nicole. That episode really ... I'm so proud of it because I'm sure when you watched it, there are so many moments that are uncomfortable, that really raise the question, should I even be making the show? And I'm just very proud of what we were able to do there. I learned so much about the basis for southern food, about the basis for the economy of Charleston, and therefore, in many respects, the economy of the American South and how slavery ... I had always equated slavery with labor. The story that we are told is that people were enslaved from Africa to work in the fields. And really, in so many cases, people were selected and captured for their knowledge, for their skill, for their expertise in growing rice. And then they became the engineers and the thought leaders and the skilled technicians that allowed, that built the foundation for the rice economy in Charleston. And that's not something I had ever thought about. It's not something that I knew, but it's something that I was really grateful to learn and very grateful that I can be part of sharing what is accurate history.
I want to talk a bit about you cooking at home.
Yeah. It's always been an ongoing joke with my husband and I that he can't imagine why somebody would cook in a restaurant all day and then want to come home and cook again. But cooking at home is so much different than cooking in a restaurant. And I really love to cook brothy things. Almost every Sunday I boil a whole chicken, I boil it to pieces and I know that it's not what you're supposed to do, but ... And then use that broth to make any number of soups. And then we'll stretch that chicken over a number of dishes. And that tradition kind of comes from my mom making chicken and rice and that being the comfort food of my childhood.
Sign up here for our daily Thrillist email, get Eatmail for more food coverage, and subscribe here for our YouTube channel to get your fix of the best in food/drink/fun.