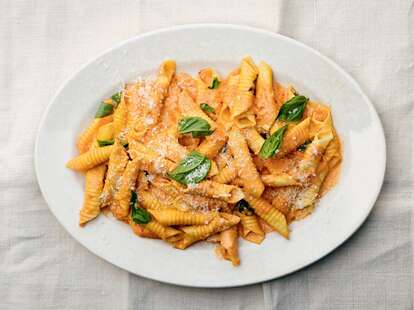 Photo by Graydon Harriett
Odette Williams was 40 the first time she attempted handmade pasta. "I couldn't believe that I, someone who had come to worship pasta so many nights of the week, had not done it myself," she laughs. Now she's celebrating this life milestone in her cookbook Simple Pasta, which releases at the end of this month.
You might scoff at the idea that someone who did not have a nonna showing her all the literal ropes of eggy pasta from birth could write a cookbook about the craft, but perhaps Williams is truly the best person to teach us—especially those of us who are intimidated by making it fresh. Afterall, she is proof that you don't have to be the most experienced pasta maker to create something delicious and joyful.
In a world occupied with algorithms and social media aesthetics, Williams wants to circumvent the busyness and return to simplicity, which is what SimplePasta is all about: good food, spending quality time with family, and finding a sense of accomplishment in the simple art of shaping dough, whether that be into bowties or angel hair strands.
"It's so noisy out there right now, but I think doing simple things well is hard," Williams explains. "It takes a lot of curation by the person—like with good design in furniture or architecture, it's beautiful because it's edited so well and gone through a process where everything that's not necessary has been eliminated."
Williams gravitates towards recipes that may be simple and approachable, yet still refined and undoubtedly appetizing. Her philosophy when it comes to cooking is to use fresh ingredients and highlight their genuine, natural appeal. "Pasta is one of those rare foods where you can just add butter and salt and you're already onto a good thing," she muses, "so when there's fresh produce involved, the sky's kind of the limit."
It's why Simple Pasta is broken into four sections, each with a devoted menu perfect for the changing seasons and inspired by Williams' love of blackboard menus. "I really want to help people figure out how to make pasta a meal, how to put the whole thing together," she says. So while pasta is the star of the show, recipes for drinks, desserts, salads, and dips are also present.
"Pasta is one of those rare foods where you can just add butter and salt and you're already onto a good thing."
When a trip to Italy was postponed due to the COVID-19 pandemic, Williams instead escaped by making pasta, laying the foundation for a cookbook she had yet to know she was writing. "I always knew I wanted my second cookbook to be a savory cookbook, but it was my editor who saw me making pasta on Instagram and commented, 'Wow, you make it look so easy, you're making pasta on a Wednesday night?'"
From there, the idea for Simple Pasta just clicked. Although Italy was far away, pasta was present. "Even if I couldn't travel in my mind or imagination, pasta allowed me to escape in some way, to fantasize and treat myself." Williams found herself sheltered on Fire Island with her family and friends, delighting in a summer of fresh pasta and wine. The manuscript and recipes for Simple Pasta just flowed.
Although the cookbook boasts simple recipes, that doesn't mean Williams didn't pore over her ingredients and technique. It just means that the recipes are forgiving, and the results will taste good, even if they weren't executed to perfection. "It's like a box cake, you know?" she says. "It's really only adding wet to dry."
That includes her recipe for vodka sauce, a classic staple that comes together quickly, especially if opting for store-bought pasta. "Vodka sauce is one of those things that people have often eaten, either through restaurants or supermarkets, but never made their own," Williams says. "And once you make it, you're going to go, 'Oh my God, is that it?' And you'll never order it at a restaurant again."
Just make sure you properly cook out the vodka, which Williams admits her daughter mistakenly did not do once—resulting in a bitter, boozy sauce.
For those scared to try their hand at making fresh pasta, Williams is encouraging. "Honestly, it's so easy. And the other thing too is that it gives you so much pleasure, eating your own fresh pasta," she says. But if you're too intimidated, her recipes offer alternatives that include dry pasta. After all, the heart of the book is about simplicity.
"I am so, so grateful for just having had this experience with this delightful subject," Williams says. "I think, 'Well, if I had it, I hope someone else can have it, too.' Because yes, it's about pasta, but really it's about pleasure, and finding our way in life."
Garganelli with Vodka Sauce Recipe from Simple Pasta
Makes 4 servings
Ingredients:
Fresh pasta: 1 recipe Large-Batch Egg Dough (below), shaped into garganelli, or store-bought pasta: 1 pound dried garganelli or penne
3 tablespoons extra-virgin olive oil
1 shallot, finely diced
2 garlic cloves, grated
1 small red Thai chile, stemmed, seeded, and finely diced, or ½ teaspoon red pepper flakes
3 tablespoons tomato paste
¼ cup vodka
¾ cup heavy cream
½ cup grated Parmigiano-Reggiano, plus more for topping
⅓ cup coarsely chopped basil leaves, plus small leaves for topping
1 teaspoon kosher salt

Directions:
1. Bring a large pot of lightly salted water to a boil.
2. In a large heavy-bottomed frying pan over medium heat warm the olive oil. Add the shallot, garlic, and chile and sauté just until translucent, about 3 minutes.
3. Add the tomato paste to the pan and cook for another couple of minutes, then pour in the vodka and cook it off for a couple minutes more.
4. Add the cream to the pan and bring to a gentle simmer for a couple of minutes. Lower the heat and keep the sauce warm.
5. Add the pasta to the boiling water and cook until al dente, 2 to 3 minutes or according to package instructions if using store-bought. Using a large spider or slotted spoon, transfer the pasta into the warm sauce, along with ¼ cup of the pasta water, and toss to coat. Stir in the Parmigiano and basil, then season with the salt.
6. Serve the pasta topped with additional Parmigiano and small basil leaves.
Large-Batch Egg Dough Recipe
Makes 4 to 6 servings (about 1½ pounds dough)
Ingredients:
3 cups / 400g tipo 00 flour, plus more for dusting
4 large eggs, at room temperature
2 teaspoons extra-virgin olive oil
1 pinch kosher or fine sea salt
Water, as needed

Directions:
1. To bring the dough together using a machine: In a stand mixer fit- ted with the paddle attachment, on low speed, combine the flour, eggs, olive oil, and salt and mix until crumbly. If using a food processor, pulse together the flour, eggs, olive oil, and salt until the dough starts coming together. Incrementally, add 1 teaspoon water at a time until the dough becomes a craggy ball and there are barely any dry crumbs of flour remaining. (Some days, it's 3 teaspoons; other days, it's a little more. Just don't add too much water, since the flour will continue to hydrate as the dough is kneaded by hand.
To bring the dough together by hand: Place the flour in the center of a clean, dry, large, wooden work surface. Make a well with high walls, leaving some flour on the floor of the well. Add the eggs, olive oil, and salt to the well, then, using a fork and without bringing in any flour, gently beat the eggs and oil together until combined. Gradually start incorporating the flour from the inner walls into the egg mixture, whisking away any lumps as you work. Think of it as gradually making a smooth batter. When the dough starts to come together in a scraggly pile and the eggs aren't runny anymore, use a bench scraper to fold the dough onto itself a few times, then use your hands to bring the dough into a mass. (You will most likely not need all the flour. However, if you did incorporate it all and the dough has become dry, add 1 teaspoon water at a time until you can bring it together into a ball.) Use the bench scraper to completely clean your work surface of any drying bits of dough. Wash and dry your hands before kneading.
Kat Thompson is a senior staff writer of food & drink at Thrillist. Follow her on Twitter @katthompsonn.