At its worst, brunch is waiting in line for an hour to spend $15 on a plate of scrambled eggs you could've made yourself, and, at its best, the line is only 45mins long. But there's a third option for brunch: eating at these restaurants that make out of control dishes like French toast (with Cap'n Crunch!), pancakes (with mac 'n cheese!), Eggs Benedict (with kimchi!), and many more.
Gawk at their beautiful breakfast contributions below, and make sure you take notes on where exactly you can freebase these wild creations.
The Ultimate Pancake
The Restaurant: Rosebud (Atlanta, GA)
What makes it the Ultimate? That'd be sausage, bacon, and scrambled eggs stuffed inside a syrup-drenched pancake. Needless to say, this prizefighter definitely earned its belt.

Cap'n Crunch French Toast
The Restaurant: Blue Moon Cafe (Baltimore, MD)
Notably featured on human cactus Guy Fieri's show, this Cap'n Crunch French Toast is a fan favorite at the enormously popular Charm City brunch spot Blue Moon Cafe. The mashed-up cereal means you're getting bonus fiber in your breakfast, and, trust us, it's way better than a Fruity Pebbles Breakfast Burrito.

Reuben Omelette
The Restaurant: Hamburg Inn No. 2 (Iowa City, IA)
Though it's hosted a slew of presidents, the star of Hamburg Inn is neither Obama nor Reagan: it's this reuben omelette, a signature dish that gives the term "breakfast sandwich" an entirely new meaning.

Kimchi Benedict
The Restaurant: Michael's Genuine (Miami, FL)
The Salmon Benedict, like A-Rod, is way past its prime (though at least it's never been banned from baseball). This Eggs Benedict twist out of Florida, however, ditches your typical Canadian bacon for kimchi and pork belly and adds a kimchi hollandaise sauce to boot. It also comes on a crumpet, making your breakfast adventurous and fancy.
Bacon Belgian Waffle
The Restaurant: Mad Rooster Cafe (Milwaukee, WI)
You'd think this is just your standard waffle with eggs on top, but you'd be dead wrong because that waffle batter has bacon in it. Order the eggs in any style you like -- anything but Big Willie Style, as that was an album and is not a way to make eggs.
Balls Benedict
The Restaurant: The Meatball Shop (New York, NY)
It's meats on meats for this dish, featuring both meatballs (obviously) and not-Canadian bacon. Their breakfast sandwich, another good pick, is the main image in this rundown.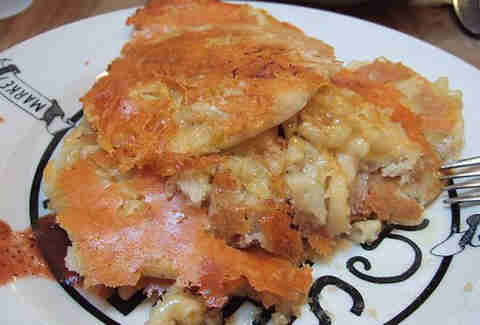 Mac 'n Cheese Pancakes
The Restaurant: Shopsin's (New York, NY)
We're still waiting on Pizza Hut Germany to send us their mac 'n cheese pizza, but, thankfully, mac 'n cheese pancakes are one of the many wacky items on Shopsin's never-ending menu. You can even get them as the "buns" on the Mo'Betta egg sandwich, because Kenny Shopsin is a wonderful, saintly man.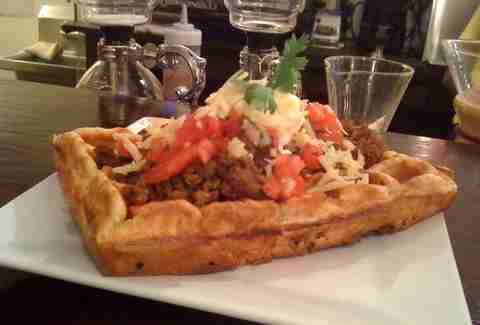 Taco Waffle
The Restaurant: Chhaya Cafe (Philadelphia, PA)
Taco fixings on a cornbread waffle = best brunch innovation since unlimited Bloody Marys.
Tiramisu French Toast
The Restaurant: Green Eggs Cafe (Philadelphia, PA)
Ever felt shame at eating cake for breakfast? Now you can do it shame-free in public when you eat this beauty. They start with brioche bread, espresso Mascarpone, and housemade ladyfinger cookies, before topping it with "mocha maple syrup, Chantilly cream, cocoa, and chocolate-covered espresso beans".

Texas State Fair
The Restaurant: Straw (San Francisco, CA)
Even Dunkin' has climbed aboard the donut sandwich train, but that breakfast sammie has nothing on Straw's aptly named Texas State Fair, boasting a fried egg, cheddar and jack cheeses, and maple-glazed bacon between two homemade donuts.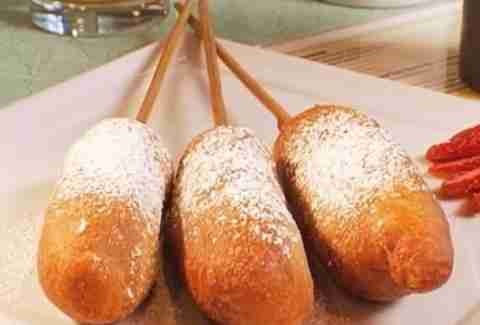 Waffle Dogs
The Restaurant: Over Easy (Scottsdale, AZ)
Take one sausage, dip it in waffle batter, deep fry that sucker, douse it in powdered sugar, and you have the waffle dog. Perfect for people who just can't wait until noon for their daily corndog.
Kristin Hunt is a food/drink staff writer for Thrillist, and suddenly feels ashamed for the number of two eggs-and-bacon specials she's ordered for brunch. Follow her at @kristin_hunt.