Jason Hoffman/Thrillist
Jason Hoffman/Thrillist
Wawa vs. Sheetz: Behind the Most Heated Food Rivalry in the Country
Amanda Oakley never thought she'd find the love of her life at her local Wawa, but here she was -- three years after meeting Bobby on a late-night hoagie run, 30 minutes after slipping away from her own wedding reception. Her bouquet grazed the parking lot concrete as Bobby, the newest husband in Huntingdon, Pennsylvania, cradled the corset of her wedding dress, dipping her by the waist. As he planted a kiss, their wedding photographer captured the moment in the fluorescent glow of the couple's favorite convenience store.
Dale from Johnstown (as he asked to be called) always thought he'd find the love of his life at Sheetz -- or at least enough love for tonight. He comes here every weekend, in camouflage and Carhartts, smoking cigarettes and sometimes a joint in the parking lot, watching out for cops. If he can't pick up any women there or at one of the outdoor tables, he can at least pick up some mac & cheese bites.
"There's not much else going on," he said of Johnstown, a dying town an hour and a half east of Pittsburgh, best known for its catastrophic 1889 flood. "Sheetz is really all we have here right now," he added, gesturing to the dark expanse of town with one hand and taking a long drag of his No. 27 with the other. People around here will say that every Sheetz parking lot is like a high school reunion: If you wait around long enough, the entire town will show up.
"High school reunion? Dude, this might as well be City Hall," he corrects me with a half-stoned drawl.
On any given night, thousands of people will pass through these 24/7 meccas: post-bar crowds, post-wedding couples, truckers, rappers, students, cops, touring bands, retirees who drink coffee at midnight, and every other type of person you could imagine being alive and hungry in this pocket of the United States.
While traditional convenience stores are content with rubbery hot dogs sporting expiration dates from the George W. Bush administration, Sheetz and Wawa strive to be restaurants first -- they just so happen to serve gas and cigarettes, too. While Wawa is keyed in on regional Philly and Southern New Jersey classics like hot and cold hoagies and soft pretzels, Sheetz is full-blown deep-fried hedonism. The latter menu is topped with an appetizer sampler (mozzarella sticks, jalapeño poppers, and French fries), burgers, BBQ sandwiches, and pretty much anything else you can dredge in breadcrumbs.
"Wawa and Sheetz represent the best of the best in the convenience store world. They're a notch above the rest of the pack. Several notches, really," said Donald Longo, who would know: He's been the editorial director of the incredibly niche but very informative Convenience Store News for the past 11 years. "Everyone else is playing catch-up."
But calling these spots convenience stores is like calling Michael Jordan a sneaker salesman. For locals, they are sacrosanct. Wellsprings of regional pride. And somewhere around Huntingdon, Pennsylvania, the flying geese of Wawa turn into the proto-futurist Sheetz logo. This is the Sheetz-Wawa line: where the rivalry ends, and where it all began.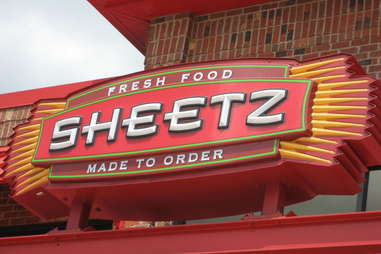 Both Wawa and Sheetz have roots as old-school dairy farms dating back to the late 19th century. Wawa started as a small dairy-processing operation (in Wawa, Pennsylvania, of course, outside of Philly) and the first Sheetz sprung from a family-owned dairy store in Altoona, Pennsylvania, about 20 miles northeast of Johnstown and three and a half hours from the city of Wawa. But as the home delivery of milk was left in the Leave It to Beaver era -- thanks to pasteurization laws enacted in the late '40s to prevent foodborne illnesses and lengthen the shelf life of milk -- both stores pivoted to brick-and-mortar food outlets, focusing on quality products that catered to local palates.
These days, both stores have 646 locations. For Wawa, nearly half of those have gas pumps and 100% have sandwiches, both introduced in the early '00s. Sheetz, now replete with 17,000 employees, plus two large-scale bakeries, always kindled a friendship with its neighbor to the east, who was basically doing the same thing.
"Our families started out as really good friends," said Ryan Sheetz, director of brand strategy for the company, as well as a third-generation family member. "My uncle Steve [ex-president of Sheetz] served on the board of directors at Wawa, and Rich Wood [of Wawa] served on our board of directors. Early on, I think they really helped each other out a lot. The similarities aren't accidental. We shared a lot of our good ideas with each other. We are definitely from the same mold."
People consider the brands to be part of their identity.
Fitting, then, that Central Pennsylvania -- the bucolic land of Amish crafts and wide-open spaces -- serves as the Sheetz-Wawa battleground. But the eastern half of the United States, inching further south and into the Midwest, is littered with stores that have claimed their respective turfs. During an expansion phase in the early '70s, Wawa pulled a George Washington and crossed the Delaware River, taking New Jersey. Sheetz went west and conquered Ohio. Delaware and Florida are Wawa-exclusives; Sheetz runs solo in North Carolina and West Virginia. Virginia and Maryland have both.
People with access to Sheetz or Wawa don't just casually enjoy these brands. They're the subjects of countless gushing listicles, several of whichappear on this very site. There are highly active YouTube channels based around the menus. They don't have cult followings -- they have people who consider the brands to be part of their identity. Each store has carved out a bedrock of regional fandom in the Northeastern United States. So in the land where territories bleed into one another, the debate runs hot: Wawa or Sheetz?
You have to be careful with that question. Especially in Pittsburgh.
Bringing a sign that reads "Wawa Is Better Than Sheetz" to a hockey game should be an innocuous gesture, a cute stab at jumbotron fame. But when diehard Flyers fan Alec Lessner broke out his hand-Sharpied battle cry at an NHL game against rival Penguins in Pittsburgh -- deep into Sheetz territory -- he had waltzed over the Wawa-Sheetz line bearing a sigil of war. Grown women told him they wanted to punch him in the half-joking manner that barely hides the truth. A police car pulled up alongside him, flashed its lights, and told him he was dead wrong over the squad car's megaphone.
"Really, the only time I felt like I was in real danger was when I had this massive, blacked-out dude who ran up to me and screamed in my face, calling me a f*ggot," Lessner said. "I never thought it would get the kind of attention it did. But yeah… it did."
Obviously, this rivalry strikes a chord with fans in and around the Keystone State. If you ask someone in Pennsylvania to compare Wawa and Sheetz, expect enough vitriol to stuff 1,000 pierogies or cheesesteaks, depending on your regional preference.
"Sheetz is really just disgusting food. It's like fried garbage. You know Wawa has some good, fresh hoagies and genuinely good food," said Aaron Out, a Philadelphia-based rapper who recently found local fame with his hazy ode to Wawa and its hoagies.
"I did go to Wawa once. I had a funeral to go to in Philly," Dale from Johnstown said. "I didn't like it. Basically, Sheetz has everything Wawa has, plus more. [Wawa] is like Sheetz-lite. It's pretty much shit. I know people make the comparison a lot, but I can hardly see any similarities. It's like the Hatfields and McCoys. It's the most heated rivalry in Pennsylvania. There's no love here."
Though Dale has honed in on the divisiveness that Sheetz and Wawa people take to, he's wrong in at least one way.
"We do know about the rivalry, of course. But it's more of a fun thing than anything else. And we have our differences. We have our own customers and we cater our food, and our whole brand, to what they expect and want," Sheetz said. "For our customers, Sheetz is part of home. And the same goes for [Wawa]. We have a ton of respect for them. And to be quite honest, I'll sneak a Wawa hoagie when I'm on vacation at the Jersey Shore. I'm not ashamed. They're good… but ours are better."
That's the thing about rivalries: They're often founded out of similarities. For Wawa and Sheetz, their fans' red-hot feud was born out of common roots, shared territory, and -- most importantly -- two bewilderingly passionate bases. Passionate enough to eat deconstructed hoagies off of a stripper's ass, for example.
"Why did I want my first recorded song to be about Wawa?" Out asked, genuinely pondering the question for a second. "People fucking love Wawa, so I knew they would like this song." Out traces his adoration of Wawa back to late-night hoagie runs that will forever remain part of his youth, and his identity. "Really, not everyone in this country knows about Wawa. It's not something you can just Google and then think you understand. It's a lifestyle. It's home. I hope my song conveys some of that message. This is what Wawa is all about."
Rozwell Kid -- a band from West Virginia where "the hills are peppered with Sheetz locations," according to frontman Jordan Hudkins -- wrote their own (unsolicited) jingle for Sheetz, "I Pledge Allegiance to Sheetz." A cheery, cheeky single, it was adopted by many as a battle cry for late-night Sheetz runs and served as a callback to the band's own late-night stops.
This type of fanaticism simply doesn't happen for convenience stores. It's not something that just springs up when sandwich places are open late. This is the kind of devotion that only occurs when a chain not only embraces, but embodies its region's tastes, and develops an unwavering rapport with its customers. It's a product of food facilitating weepy, oft-intoxicated nostalgia, and, ultimately, inspiring love. At their best, they are living examples of why we are a nation obsessed with what we eat… especially when it reminds us of home.
So it's no secret why the stakes in this fight are high between fans of each brand. It's who they are.
Amanda and Bobby Oakley (the couple who left their wedding reception to pose in front of a Wawa) actually did meet each other in a store, late one night. Now, their 1-year-old son (who, frankly, wouldn't exist if it wasn't for Wawa) rides with them on their runs -- usually not that late though, with bedtimes and all.
"We're starting him off early," Amanda said. "He can really only eat the mac & cheese right now. But trust me, the second he's old enough, we're going to get him a Wawa hoagie. We need to raise him properly, right?"
Right or wrong, I know about 1.3 million Sheetz fans who would probably disagree.
Sign up here for our daily Thrillist email, and get your fix of the best in food/drink/fun.
Wil Fulton is a staff writer for Thrillist. He likes Sheetz and Wawa equally, and swears that isn't a cop-out. Shut up. Follow him @wilfulton.