We Just Brought Back Dunkaroos, and You Can, Too
Laura Murray/Thrillist
Laura Murray/Thrillist
Dunkaroos, the quintessential '90s lunchbox treat/bartering tool composed of kangaroo-shaped cookies and sprinkled-filled icing, have become something of a distant memory, confined to listicles like "15 '90s Snacks We Would Murder Our Grandmothers to Eat Right Now."
These days, the beloved snack is only available in Canada, where the green hat-sporting kangaroo mascot is undoubtedly running through The 6 with Drake. But because we at Thrillist care about you -- like, really care -- we're going to show you how you can easily get Dunkaroos right here, in the good old US of A. Because we just did it.
1. Go to the supermarket
Or use the Amazon Prime Now app, like we did, and get your items delivered right to your office/home/street corner/Starbucks public bathroom. Get Funfetti icing and Teddy Grahams. Get a lot.

2. Admire your purchases
Try to stay calm when you realize how many years you've wasted not doing this.
3. Put the frosting and cookies into bowls
Just kidding, there is absolutely no time for that, serious eating needs to be done.
4. Dip bears into frosting
Pretending they are kangaroos in green hats is a good idea, too.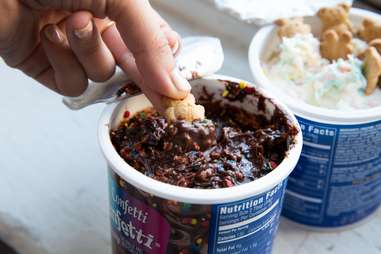 5. Do it 1,000 times
Get chocolate frosting in the mix. Realize that this solves the greatest dilemma of your early childhood (the problematic cookie-to-icing ratio). Never eat anything else ever again for the rest of your life.
Lucy Meilus is a staff writer for Thrillist and feels like the kangaroo was named Brian. Follow her on Twitter at @Lucymeilus and send news tips to news@thrillist.com.