We Tasted Starbucks' New Pumpkin Spice Latte Recipe
Courtesy of Starbucks
Courtesy of Starbucks
It's official: Starbucks will release the long-awaited Pumpkin Spice Latte nationwide on September 8th -- this time with a brand new recipe featuring real pumpkin. But does the new and improved PSL taste any different?
News of the recipe changes may have left some diehard fans with their yoga pants in a bunch, fearing their beloved latte won't taste the same. And while it'll be a couple more weeks until you can taste if for yourself, Thrillist was among a handful of media outlets invited for a first taste of the new PSL recipe in NYC on Monday, and we can safely say you won't be disappointed.
Present at the tasting was the "father" of the PSL at Starbucks, Peter Dukes, who said the new formula marks the first time the company has changed the PSL recipe in 11 years. It first debuted in 2003.
"It tastes like the Pumpkin Spice Latte we all know and love," Dukes said. "It's just cleaner."
By "cleaner," he means the sauce used to make the latte no longer includes artificial caramel coloring or artificial flavors, but replaces them with pumpkin puree and natural coloring. Dukes said it took three months of intensive testing this year to get the new recipe right.
At one point during testing, the company experimented with a sweet pumpkin drizzle on top of the drink, but opted to stick with the dusting of pumpkin spices because of its powerful aromatic quality, he said.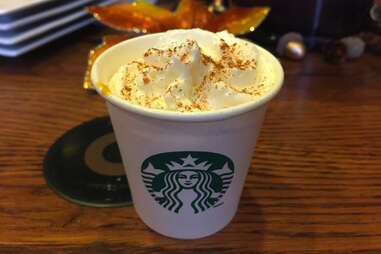 We were served a small sample cup of a PSL at the tasting event, along with a few accompanying pumpkin pastries. It smelled like a PSL, looked like a PSL, and tasted like a PSL. In fact, we didn't detect anything discernibly different about the flavor. It was overwhelmingly "basic" -- just like its artificially flavored and colored predecessor.
The Verdict
The new PSL tastes exactly like the old PSL -- and this is coming from a former Starbucks barista who knows his way around a PSL. When you dive mouth-first into the fall-flavored orange tidal wave next month, you won't miss any of that spicy, sweet, pumpkin-y goodness. We even tried the new PSL sauce in a Frappuccino as a test -- and that tastes the same, too.
Now, you just have to wait.
Tony Merevick is Cities News Editor at Thrillist and -- full disclosure -- worked as a Starbucks barista from 2007 to 2010. Send news tips to news@thrillist.com and follow him on Twitter @tonymerevick.