Look at This Insane 5-Pound Lobster Roll We Made
Anthony Humphreys/Thrillist
Love lobster rolls but hate the fact that they're gone in four bites? (Totally kidding, it's one bite). Behold, the answer to all your prayers: A FIVE-POUND LOBSTER ROLL.
This buttery behemoth -- which was made with the help of Red Hook Lobster Pound -- was one of the prizes from our BDOYL event this year, won by a very lucky (and hopefully hungry) person. It's also basically the size of a newborn baby. The roll took about 80 lobsters to make, so it's large enough to make us forget that summer is ending and get us fat for the impending cold! Win-win!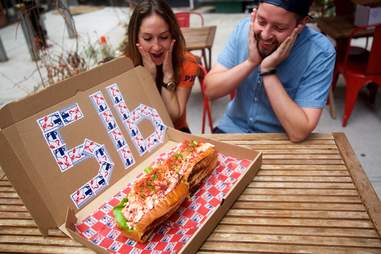 Anthony Humphreys/Thrillist
The roll was made just like a normal lobster from Red Hook Lobster Pound, except, you know, it's enormous.
It's all claw and knuckle meat, plus lots and lots of scallions, paprika, and lemon juice. Holding this thing together was the hardest part. Instead of the traditional New England-style top-split hot dog buns, it was made with two brioche loaves, buttered and toasted on a flat top grill.
All in all, it's like 20 normal lobster rolls in one bun. Which is really just like five or six more than you normally consume in one sitting, right?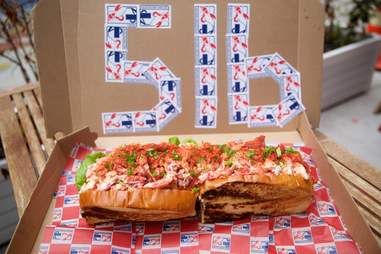 Anthony Humphreys/Thrillist
Also, it took three people to get this thing in and out of the box. Red Hook Lobster Pound is in the process of confirming whether or not this is a record with Guinness World Records.
If there's one thing we can confirm after this, it is that God is real.
Sign up here for our daily Thrillist email, and get your fix of the best in food/drink/fun.
Lucy Meilus is a staff writer for Thrillist and believes all food should be 5lbs. Follow her on Twitter at @Lucymeilus and send news tips to news@thrillist.com.