We Spent An Afternoon At McDonald's, Here's Who We Met
A CEO, a mother of two, and a biker walk into a McDonald's. This isn't a joke setup, it's a daily reality. The restaurant attracts such a diverse cast of customers every day that a couple hours tracking the people who pass through the golden arches can turn up a global microcosm. It's this collection of consumers that serves as the inspiration behind McDonald's new Signature Crafted recipes.
To see this diversity up close -- global daily traffic is estimated at around 62 million(!) -- we recently visited a Long Beach, CA McDonald's. Between bites, the many hungry customers and French fry loyalists who popped in for lunch gave us a little taste of their life story, a collection of tales so disparate, they ran perfectly parallel alongside the new sandwiches on the menu. The recently released line aim to bring the same type of flavor reflected by the cross-section of fans passing through the restaurant every day. So, here they are: the People of McDonald's.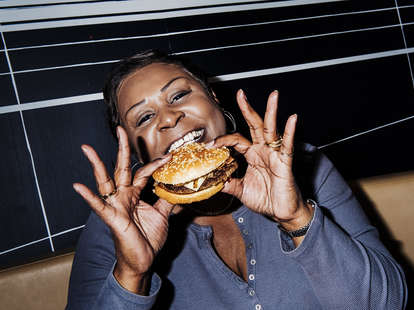 THE BIKER FATHER
"Every ride is different," says Mario Chacon, an air conditioning repairman with a passion for bicycling, both on the street and in the nearby mountains and canyons. Chacon explains that he and his son bike together on weekends. "He's got the energy and the long legs to speed through city streets. I'm more into the hardcore thing. I like to ride crazy fast, feel the suspension beneath me throughout mountains and trails, the adrenaline rush of cliff jumping." Much the same way McDonald's wants to bring new flavors to the menu through their customizable Signature Crafted recipes, Chacon likes to make sure his family outings are something new and different every time out. "We like to switch things up," he explains, before taking another bite of his Maple Bacon Dijon burger. Fans like Chacon serve as the inspiration for McDonald's when the restaurant takes the road less traveled with new recipes.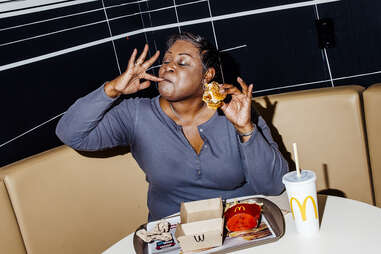 THE DIEHARD CALIFORNIAN
Technically, Wanda Clayton grew up in Louisiana. But the first thing she proclaims when we sit down to pick her brain while she tries out the Sweet Barbecue Bacon Buttermilk Crispy Chicken sandwich is, "The West Coast is the Best Coast." Why? "Easy," she says. "I love the weather and there's so much more opportunity here. I came when I was seventeen, so it was a big deal to me, that life in California felt so unsegregated." A self-proclaimed foodie, she more than approves of the new recipes on the menu: "I think I'm in love."
For the record, Wanda boasts lots of love. Basketball, movies (including her recent favorite, Hidden Figures), but above all, her husband. She met Kalvin Washington in a bowling alley when they were in their twenties. "He was a tough nut to crack," she says, shooting him a sidelong glance. "He came up in foster care. I was amazed at how he'd taken care of himself, coming from such a difficult background. He was always so humble and I wanted to show him there was a better world out there." So, the story goes, Wanda showed him the world and the world is better for the couple's unique flavor of love.
THE NEW ANGELENOS
This is what happens when you are a super stylish mother-daughter duo and you move to Los Angeles from Washington D.C. Within one month of your transplant to the Golden State, you will step through the entrance of a Golden Arches. A photographer and writer will approach you, want to take your picture, get a few quotes. Even though you were just dashing in for a quick Frappe Mocha, you will cave. Or at least, this is how it works if you are the winning combo of Tiffany Brooks and her daughter J, a third grader with a profound respect for Alicia Keys and fashion with a capital F. It's J who convinces her mother to sit down for a few minutes with us and it's Tiffany who decides to try the Sweet Barbecue Bacon Chicken sandwich. "It's got a nice zing," she says about the sandwich, winking. Meaning, a little like her sartorial daughter.
THE BODYBUILDER
"I'm the kind of guy who eats to live," says Ken Sandoval, gravitating to a Pico Guacamole Grilled Chicken sandwich. "I don't live to eat." After a self-proclaimed "thirty year break for debauchery," these days Sandoval says he's focused on his health through a belief in antioxidant supplements and bodybuilding. As such, he appreciates the freshly prepared pico de gallo on his sandwich, a tailor-made Signature Crafted recipe option that feels tailor-made for this health nut. And his outlook seems to be working. At 71 years old, Sandoval looks like a cool 50, max. "That's nice to hear," he says, "because my goal is to live to be 120."
THE FULL-ON LOVEBIRDS
Laura Olivas is an old school McDonald's fan. Fernando Romero is not so into burgers. But lately he's gotten hooked on the chicken sandwiches thanks to her influence, and much to her relief. The two got engaged on Christmas Eve, when he dressed up as Santa to entertain her nieces and nephews. The last gift Santa passed out? A ring, hanging, hidden, on a tree branch. Now they share their lives, just not necessarily the same taste. But McDonald's has them covered, bringing unique flavors to fit anyone's taste buds. She likes the Sweet Barbecue Bacon Crispy Chicken sandwich, especially the crispy onions. He likes the Pico Guacamole Grilled Chicken: "The lime is so good. It brings out the zest." The rest is history.
THE SUNDAE GOLFER
Daniel Greco, a lifelong rehabilitation counselor and avid golfer, is a man who knows what he likes. He likes to golf (handicap: 18), but prefers the shorter courses. and when he golfs, he likes to golf at Bixby Hills, a Long Beach course, that is, he states, "the perfect size, par 3s and 4s." He likes a chocolate sundae when he wants something sweet and he likes a good McD's burger when he's really hungry, above and beyond everything. On the golf course, many things can go wrong, but Greco says you can't beat your swing as long as you focus on the important things: "Tempo and balance." Just like the flavors his restaurant of choice is bringing these days.
THE SUN-LOVING FAMILY MAN
Born in the Philippines, Antonio Fernando originally moved to Ohio when he emigrated to the United States, but, with a shiver, on his lunch break from a gas station down the street, "that was wayyyyy too cold." The fourth youngest among five siblings, Fernando admits over a Sweet Barbecue Bacon with 100% ¼ lb patty*, that since he was almost the baby of the family, he's grown up with a child-at-heart attitude. At 65, he says, bursting with pride, all three of his own children, his babies, have grown up and gone to school so it's official -- he's "fulfilled the American dream."
So there you have it. These are the people we met in one afternoon at McDonald's -- diverse, different, proud. Each of them bringing their own unique flavor to the world the same way McDonald's new Signature Crafted recipes expand the different flavors you can experience on their menu.
*weight before cooking