We Talked to Emeril's Top Chefs at Sands Bethlehem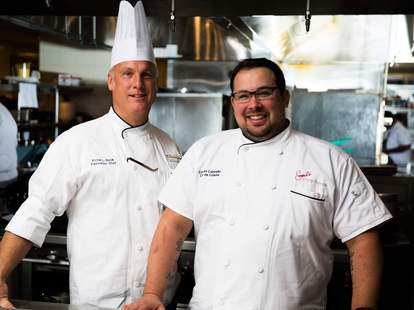 Anthony Humphreys/Thrillist
Not every chef out there can say that they work for one of the most famous guys in the business, Emeril Lagasse. But Sands Bethlehem Executive Chef, Victor Bock, and Emeril's Chop House Chef de Cuisine, Carmen Cappello, have him on speed dial. Together, they preside over a menu that encompasses everything from steaks of all cuts and preparations (well... it is a steakhouse after all) to seafood, like the intriguingly named Charleston She-Crab Soup and Jail Island Salmon, to Southern-Style Chicken & Waffles, and seasonal additions like Butternut Squash Risotto. We sat down with them to find out how they come up with it all and...kick it up a notch.
Anthony Humphreys/Thrillist
How Emeril are Sands Bethlehem's restaurants?
Emeril came up with the concepts for three restaurants at Sands Bethlehem over two phases, beginning six years ago -- the white tablecloth steakhouse, Emeril's Chop House, Burgers and More by Emeril, and Emeril's Italian Table. While the concepts and initial menus were Emeril's, and he still drops in from time to time, the restaurants have evolved, and continue to do so.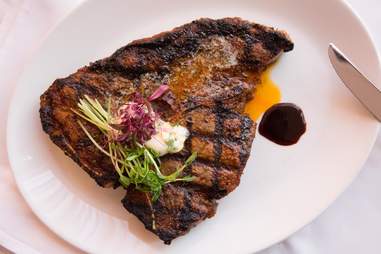 Anthony Humphreys/Thrillist
Not into steak? No biggie.
No steakhouse gets by on just beef (though if you order it, know that Sands Bethlehem happens to source from one of New York's most reputable meat suppliers, Pat LaFrieda). Chop House offers a variety of dishes for the meat averse, and Victor isn't even a steak man (really). "I like seafood a lot and I love game," he says. "We do a duck dish that is a little spin-off on scrapple, which is kind of a Pennsylvania Dutch-type dish, where we take some local cornmeal and add duck confit to it. We chill it, slice it down, and serve it with a blackberry sauce and seared duck breast. That's more my speed."

But if you do go steak...
Go simple. "A good steak is seasoned well, cooked well," says Carmen. "You obviously buy the best, but why try to mess with it?"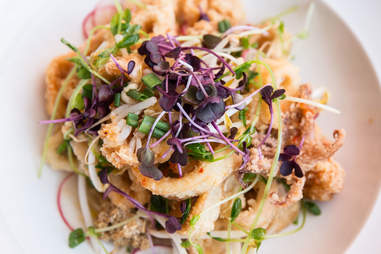 Anthony Humphreys/Thrillist
Casinos vs. the independent restaurant game
The biggest challenge and adjustment for any chef at a casino is volume. With hundreds of covers per night, and a steady stream of big spenders, delivery day at Sands Bethlehem is no joke. And despite what the song says, not everyone's a winner – though a good meal can only improve things. "If they're a fairly high-end player, they want to come in, and the sky's the limit as far as what they're looking to have in food, in wine, in service -- all those things. That's a great challenge for us," says Carmen.
Anthony Humphreys/Thrillist
Reppin' Pennsylvania
Local and sustainable products are the preferred option, but finding suppliers who can meet the restaurant's core demands -- beyond limited, specialty menu items -- can be tough. "We're constantly in the process of building cooperation with local farmers and purveyors alike," says Victor. "But if you have a herd of 30 cattle, it's not going to make it very long. So that's a little bit tough. But we really try as far as we can to represent the local area on the menu, and the state has exceptional produce."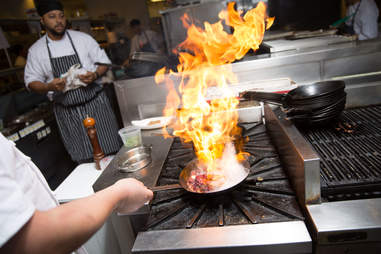 Anthony Humphreys/Thrillist
Do they… kick it up a notch?
Well yes, but… not in those exact words. Under Victor, the Sands Bethlehem team continues to put its own stamp on its menus, restaurants and wine lists (a not-inconsiderable 2,500 bottles long at Emeril's Chop House). "We change the menus as we familiarize ourselves with the market and learn the trends," says Victor. "While we collaborate with Emeril and his team on menu creation, it really comes down to what's selling. When we're at the point to change over menus, they've almost written themselves."
Gambling Problem? Call 1-800-GAMBLER.