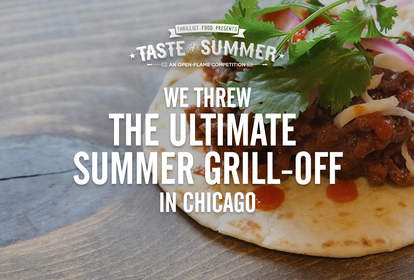 We Threw the Ultimate Summer Grill-Off

This past weekend, we threw the most epic summer grill-off in recent Chicago memory. Maybe you were there. Called Taste of Summer, it featured an open-flame competition from seven of the Windy City's top grilled eats slingers unfurling everything from Korean BBQ steak to a whole freaking roast pig. Not to mention live music from Lowdown Brass Band, a professional arm wrestler, and perhaps the craziest loaded fries creation in the history of mankind. And we're here to give you the Cliff Notes on just how spectacular this throwdown was.
First off, we invited 7 of the finest grill masters in the city to cook up 8 of their finest dishes for us, so you better believe we also brought a pro photog with us to capture it. Feast your eyes: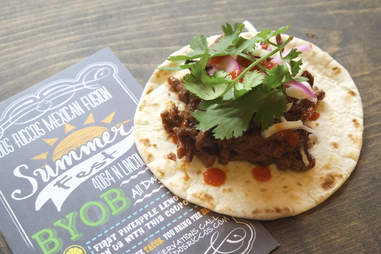 Thrillist/Colleen Durkin
Korean BBQ Steak
Dos Ricco's Mexican Fusion Kitchen
Smoky grilled steak in Korean BBQ sauce with lettuce, cilantro, pickled onion, and Sriracha sauce on a flour tortilla.
Thrillist/Colleen Durkin
Pulled Pork Slider
Porkchop
Slow-smoked pork with house-made, Chicago-style BBQ sauce. Yes, please.
Thrillist/Colleen Durkin
Chicago Burger
Cork & Kerry
Half-pound ground chuck burger topped with thinly sliced Italian beef, sweet Italian sausage, and melted mozzarella on a pretzel bun.
Thrillist/Colleen Durkin
The Smoked Applewood Wild Boar Ribs
Frontier
Smoked whole over apple and cherry woods. Like God (or Ditka) intended.
Thrillist/Colleen Durkin
The Short Rib Grilled Cheese
The Scout Waterhouse + Kitchen
Brioche, mozzarella, whole milk provolone, braised short rib, sautéed pepper and onion, tomato basil dip.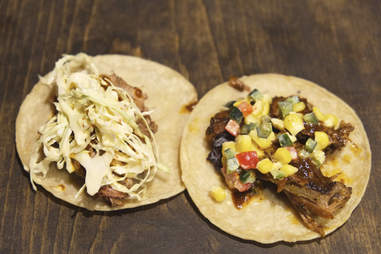 Thrillist/Colleen Durkin
The Tacos
Taco Joint
Smoked beef brisket taco: Chipotle-rubbed brisket, pasilla chile chili BBQ sauce, cream corn pico + Mole-Q pulled pork taco: confit pork shoulder, puebla-style BBQ sauce, toasted sesame seeds = most popular items at the event.
Thrillist/Colleen Durkin
The Whole Roasted Pig
Frontier
Smoked whole over apple and cherry woods. Hell yes.
Thrillist/Colleen Durkin
The Dessert
Pecan pie with oasted pecans in a rich filling with housemade flaky crust and topped with vanilla whipped cream. Mmm, whipped cream.
Thrillist/Colleen Durkin
The Drinks
Smith & Forge, Blue Moon, Miller Lite
Grilled meat pretty much begs for cold beers (seriously, listen closer). At this fest we had a full chilled lineup of sudsy staples.
Thrillist/Colleen Durkin
The Fear No Fries Station
Oh, and did we mention the most bonkers loaded fries station in recorded human history? Because at the Tums "Fear No Fries" station, there was totally that too.
Toppings included bacon, caramelized onions, jalapenos, shredded cheddar, chili, and nacho cheese, plus condiments such as ketchup, truffle aioli, ranch, sour cream, and Sriracha ketchup. Can't decide? How about ALL OF THEM??? We did it, and lived to tell (while encountering plenty of jealous looks along the way). Seriously look at that thing up there.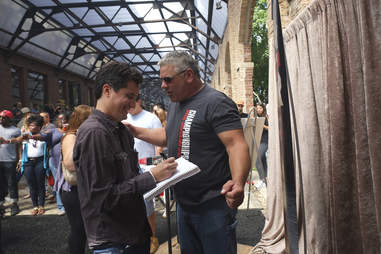 Thrillist/Colleen Durkin
The Secret to Arm Wrestling Expertise
And because no party is complete without a professional arm wrestler (or at least the kind of parties we throw), we cornered 6-foot-2 inch, 285-pound pro arm wrestler Kent Damore (ranked #1 in the Midwest) to get the lowdown on the sport. After taking him on Over the Top style, of course. Here's what we learned:
1. It's not always the biggest dudes who are the best arm wrestlers. It's all about wrist strength, agility, and technique. Damore, for example, doesn't bench press (although you wouldn't know it by looking at him.)
2. It's not all about dominating your opponent into submission (although that is part of the fun, Damore admits). The best part of the gig, for him, is the camaraderie with the guys. "You hate a guy for 30 seconds" during the match (and yes, there is often "a lot of trash talk on the table"), he says, but then you'll get drinks with your opponent after and talk about what you did right or wrong.
Thrillist/Colleen Durkin
3. It's not as simple as just pushing down your opponent's arm. Although arm wrestling may look like just the same thing over and over again, there are in fact dozens of subtle techniques and moves best utilized depending on your opponent and specialty. (Damore's favorite, for example, is something called "The Crunch", which we didn't really feel like seeing a demo of, at least not on us.)
4. There is no one master tip to winning at arm wrestling. Instead, it's about endurance, "being very creative" and employing subtle, chess-like moves and counter moves. Damore does have one simple tip for newbies, however. "Remember to breathe," he says. "A lot of people forget to breathe when they're arm wrestling."
And to top it off, this party posted some seriously impress stats. Check it: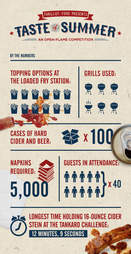 Thrillist
And what's a party without the people? Mark our words: grill party people are the best kind of party people. It's the perfect mix between raucous tailgaters and friendly backyard grillers. Here's a selection of our favorite pics:
Thrillist/Colleen Durkin
Thrillist/Colleen Durkin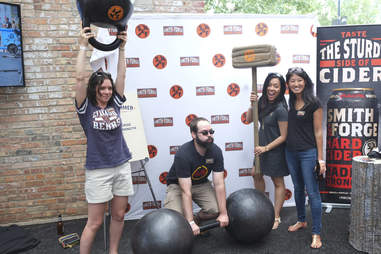 Thrillist/Colleen Durkin
Thrillist/Colleen Durkin
Thrillist/Colleen Durkin