We Tried Momofuku's New Line of Instant Noodles
Learn how the three noodle varieties were developed and what to cook with them.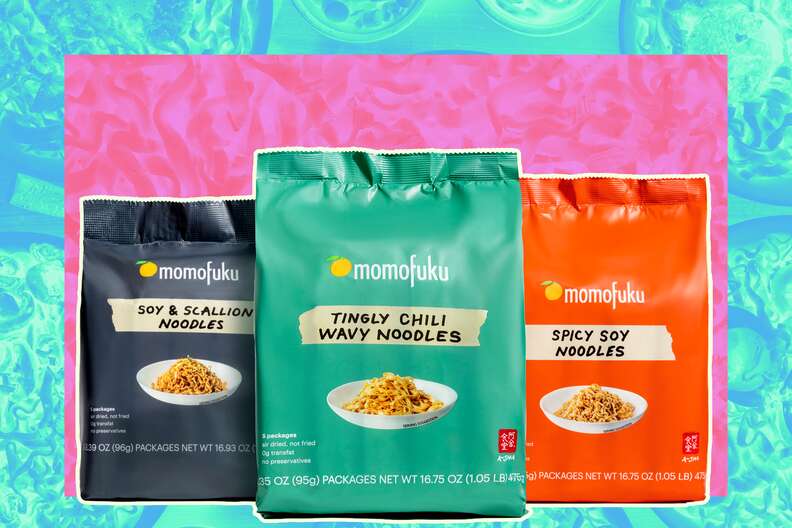 Design by Chineme Elobuike for Thrillist
Design by Chineme Elobuike for Thrillist
Who doesn't love instant noodles? From days enjoying them on a dorm room floor to a microwaved meal after the bars let out, these mass-marketed packets have kept us fed and salt-filled throughout the years.
And the research and development team at Momofuku certainly got their fix when looking into how to perfect the restaurant group's first-ever line of instant noodles.
"We've probably eaten every single dried and fried noodle on the planet at this point—and had some noodle fatigue for a minute or two," laughs J.J. Basil, Momofuku's senior director of R&D. "Since this is our first shot out of the gate with a dried noodle, how can this not be intimidating. But we are happy with where we landed."
The result of a year-long development process are three flavors, inspired by signature menu items at Momofuku's very first restaurant in New York City's East Village: Soy & Scallion, Spicy Soy, and Tingly Chili Wavy. Developers made sure that the texture and simple flavor held up in a frying pan, a dry mix, and even soups. While customers might expect the customary ramen noodles from the restaurant, these varieties are a bit different.
"You definitely need to have that chew, so it was important for us to do an air-dried noodle, as opposed to most of the other noodles you get, which are fried," Basil explains. "That way it really preserves, like a dry pasta."
There are talks of adding a more traditional ramen noodle, by using a bit more fat, to the portfolio down the line. But for now the Momofuku team is so happy with the dried noodle varieties, they're even being served in the restaurants.
The noodles themselves are very basic—made with wheat, salt, and water—with no added preservatives or artificial flavorings. Each noodle package comes with a sauce and Basil recommends keeping toppings pretty minimal.
"You can chop up BBQ and throw it on top, but I tend to favor simple things like scallions, poached eggs, sesame seeds, and a sauce," he says. "It was super important to us that everyone buying these can use whatever they have in their fridge."
It's true: the noodles do function as a blank slate. It's clear the actual noodles and its texture was the primary focus during development—they're perfectly elastic and chewy, with a bouncy consistency that overshadows the curlier, fried varieties of instant ramen on the market. That being said, all three of the sauces aren't very distinguishable and mostly taste like soy sauce with small bursts of prickly heat or herbaceous scallion.
To truly capitalize on the experience of eating these at-home noodle packets, a poached egg, fresh veggies, and meat, perhaps with an added spoonful of chili oil, will definitely round out the meal—though crafting all the extras makes it a bit more complex than instant ramen.
Luckily, this isn't Momofuku's first foray into the world of pantry items, and the group has already made some of those toppings, including chili crunch, salts, and sauces. Plus, Basil says the idea is to inspire the average customer to experiment and get more confident in the kitchen.
"Chefs and restaurant groups have gotten better at translating their food from their kitchen to a shelf," he says. "These things empower the home cook so much more. It's only a good cycle because the more people learn about food, the more they'll enjoy going to a restaurant."