9 Things You Didn't Know About 'Chopped'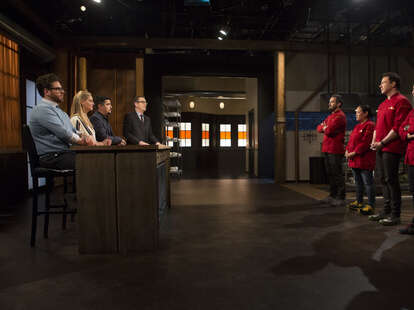 Courtesy of The Food Network
Courtesy of The Food Network
Some folks are content to master certain basic kitchen skills. But there are others out there who choose to show off those skills on national television for the chance to win $10,000... while the rest simply watch. We've all seen Chopped -- the mystery baskets, the drama, the sob stories -- but like all reality television, there's a lot going on behind the scenes. And as a two-time Chopped standby, I know more than most. Here are nine weird and fascinating facts about one of the Food Network's most successful reality cooking shows.
1. The show's original pilot involved a butler and a Chihuahua
According to host Ted Allen, the initial pilot was quite different from what we watch today. Set in a mansion, the show's host was actually a butler who carried a Chihuahua. Each time a chef was chopped, his or her dish would be fed to the dog. Fortunately (or unfortunately... ?) Food Network thought the pilot was a little too weird for mainstream audiences, and brought on Mr. Allen as the host instead.
2. Each episode takes at least 12 hours to film
Contestants wake up at 6am to begin the filming process, and those who make it to the last round often stay until 8pm and later. Between the cooking, resetting in between each round and commentary -- judges deliberations after each round can take about 90 minutes -- the time adds up quickly. All of that then gets cut down to a meager 42 minutes.
3. There have been 27 seasons and more than 450 episodes
But it's only been filming since 2009! Unlike most shows that film one or two seasons in a year, Chopped shoots nonstop -- four seasons are often filmed in one go! When Chopped shooting is over, the crew moves right onto Chopped Junior. And when they're not filming that or another offshoot, they are busy auditioning and planning the next seasons. It's a never-ending process.
4. Choosing the mystery basket is a complex art
Deciding which ingredients make the cut is a long and intense process. If Culinary Producer Sara Hormi and Food Network Executive Chef Rob Bleifer need more than 15 seconds to come up with a dish with the given ingredients, they scrap the combo. To ensure ingredients aren't repeated too often, the duo cross-references a huge list of previous baskets. After 450 plus episodes, with 16 ingredients per show, that's over 7,200 ingredient combinations to check!
5. Each episode has a back-up contestant
While you may only see four contestants on set, they officially can't start shooting unless they have a fifth standby contestant ready to go. The standby jumps in in case someone doesn't show up, gets sick, panics, or chops off a finger in the first round, and the audience is none the wiser.
6. There were nine original judges, today there have been over 43!
The original nine judges were Scott Conant, Alex Guarnaschelli, Aarón Sánchez, Amanda Freitag, Marcus Samuelsson, Chris Santos, Marc Murphy, Geoffrey Zakarian, and Maneet Chauhan. All nine continue to rotate through as judges. There is no reported drama between the judges, but with all those chef egos on the same room, some stuff must go down. This is obviously speculation though.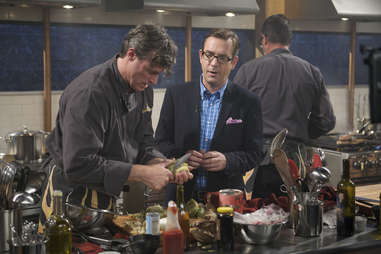 7. Accidents have been known to happen on Chopped After Hours...
Ever wish you could turn the tables on the judges and put them up to the challenge of the mystery basket? With Chopped After Hours they do just that. Chef Geoffrey Zakarian told us that his funniest Chopped memory is when Chef Scott Conant was making homemade sausage and accidentally ground up the back of the wooden spoon with his meat. Even the pros mess up too.
8. The mystery basket really is a mystery
You might think the mystery basket is just a ratings ploy, but secrecy and shock value are truly crucial to the show. Contestants are only given a tour of the kitchen moments before competing, and the mystery basket is never revealed until game time. Contestants do get a little help from the staff, however, but with basically skill-less tasks such as pre-heating ovens and bringing water to a boil.
9. Contestants get to bring their own knives
Chef's knives are the most personal tools in the kitchen. Chopped acknowledges that and allows the contestants to bring up seven of their own knives.
Sign up here for our daily Thrillist email, and get your fix of the best in food/drink/fun.
Julianne Feder is a contributing writer for Thrillist. She was a standby Chopped twice and is still waiting for her turn to get on! Follow her @TheGastroNerd or watch her on YouTube to get more nerdy food insights and other cooking tips.