Sometimes, a fast-food chain will introduce a new item and, for reasons beyond human comprehension, it just won't work out. Other times, we have to wonder what monster invented this thing in the first place. Lobster rolls at McDonald's? Pork seaweed donuts at Dunkin'?? None of these bizarre creations should exist and yet, they do (or did). So in the spirit of testing your gag reflex, here are 11 of the weirdest fast-food items the world has ever seen:
Spaghetti buckets
Little Caesars
The pride of Detroit wasn't the only fast-food chain to try spaghetti in the '90s (hello, McDonald's), but it did have the most hilarious presentation. The Little Caesars noodles, sauce, and bread all went into a legit bucket, which provided instructions on the back on how to properly portion and plate. That might seem unnecessary, but if you're buying spaghetti in a bucket, you need all the help you can get.
McPizza
McDonald's
McPizza was billed the "pizza you won't believa." Which would be a good slogan, if the pizza was actually amazing. But the unbelievable part was that McDonald's was serving pizza, and the public wasn't super willing to take its chances on this one. It's not all bad news for the McPizza, though -- the people of Pomeroy, OH and Spencer, WV still worship it.
Kuro Ninja
Burger King Japan
The "Black Ninja" burger appeared on BK Japan menus in 2013, and two years later, it still doesn't make any sense. This was actually the second burger BK Japan dyed black with bamboo charcoal (the maiden Kuro Burger was first), but the chain set this one apart by adding a "tongue" of bacon. There was also lettuce, onions, mayo, Chaliapin sauce, and "wide-size" hash browns on this thing, but it mysteriously lacked any throwing stars.
Superbar
Wendy's
Salad, fettuccine, and tortillas do not belong in the same salad bar, much less one captained by Wendy's. Despite being known primarily for burgers and chicken, in the '80s, the chain decided to install a version of the hot salad bars New Yorkers loathe. It did not end well. Especially not for Al.
Dry pork and seaweed donut
Dunkin' Donuts China
International donuts tend to get weird, but this selection from Dunkin' Donuts China takes the (probably stale) cake. A dry pork and seaweed donut sounds unholy enough on its own. When the thing also looks like it's been rotting in Blackbeard's sunken ship for a few hundred years, it's an even harder sell.
 
McLobster
McDonald's
The McLobster has been popping up in New England and Canada on and off for several years now, and it just made a comeback in both markets this June. But does anyone feel truly okay about eating a ton of lobster, mayo, and lettuce... from McDonald's? We guess some people must, but we'll stick with some of the OG trucks and huts along the East Coast.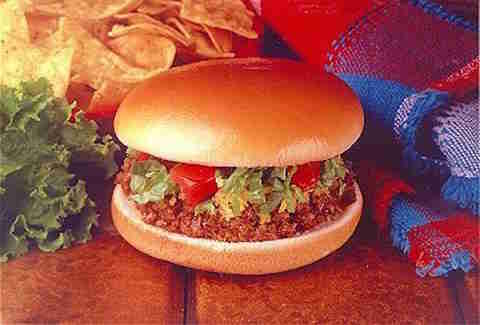 Bell Beefer
Taco Bell
A relic of the '70s, the Bell Beefer was a take on the Sloppy Joe that incorporated the chain's taco meat. While the idea of any fast-food place, much less Taco Bell, serving a Sloppy Joe seems odd, this thing still has a tiny but rabid fanbase to this day. A fanbase that had its dreams crushed by Taco Bell's CEO, but a devoted one nonetheless.
Dinner baskets
Burger King
People don't get fast food for the ambiance, but in the '90s, Burger King tried to get customers to sit down and stay a while with its "dinner baskets." The meals were only available between 4-8pm, but they were served tableside in luxe plastic baskets. The entree options were chicken, Whopper, shrimp, or even steak. As for sides, you could swap fries for salad, coleslaw, or a baked potato. It was all a nice idea, but serving someone a "steak" dinner next to a slide four kids peed on doesn't exactly work.
Double Down Dog
KFC Philippines
The Double Down had already morphed into a burger (in South Korea) before KFC Philippines took things even further and turned the cult sandwich into a hot dog. But the world wasn't ready for this follow-up. During the Double Down Dog's brief two-day run this past January, it drew hordes of thrill-seekers eager to push their cholesterol levels to the limit. Including one of our own, who had a few issues with the execution.
Seafood salad
Taco Bell
The pitch in this vintage T-Bell ad is that the new seafood salad looks better than a fish sandwich. As anyone with functioning corneas can see, that's not the case, but we'd take that tortilla bowl any day.
Churrasco Cheese Roll Pizza
Domino's South Korea
When Brazil hosted the 2014 World Cup, some people saluted the nation by buying a crapton of caxirolas. Domino's South Korea went another route by baking an exceptionally odd pie. The Churrasco Cheese Roll Pizza riffed on pão de queijo with a ring of bacon-topped cheese buns which surrounded mounds of chimichurri-covered steak, mozzarella, sun-dried tomatoes, mango-habanero sauce, onions, green peppers, and mushrooms. While those ingredients are all tasty separately, they didn't make for the most natural pizza union. Next time, just play some Brazilian bossa nova tunes, guys.
Sign up here for our daily Thrillist email, and get your fix of the best in food/drink/fun.
Kristin Hunt is a staff writer for Thrillist, and prefers all her Italian cuisine in buckets. Follow her at @kristin_hunt.