The 10 weirdest food festivals in the country
In America, if you're not eating something in mass quantity, you're not really eating. This nation is all about gluttony -- and that's partly why food festivals are so popular. But everyone has different tastes, which is why some of those fests include cockroaches. And cheese! And animal testicles, for some reason. It really runs the gamut.
These are the 10 weirdest food festivals in the country: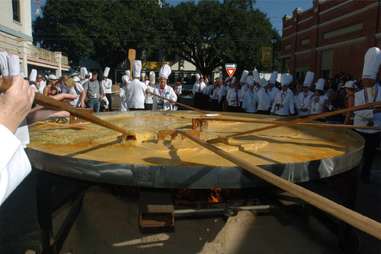 Abbeville, LA
When: November 2014
Once upon a time, a French dish went South. Originating from three members of the Chamber of Commerce who attended the Easter Omelette Festival in Bessieres, France (and were later knighted the first of Abbeville's Chevaliers), this celebration is home to the overwhelming 5,000-egg omelette.
Raleigh, NC
When: September 2014
This entomophagy event at the North Carolina Museum of Natural Sciences hosts over 35,000 visitors each year where they can partake in Café Insecta, a pop-up restaurant where local chefs prepare insect delicacies like Quivering Wax Worm Quiche... and amazingly sell out. This year's theme is stinkbugs. Yum!
Yuma, AZ
When: February 2015
Sure, lettuce isn't as stomach-churning as bugs or fried armadillo, but a whole festival dedicated to the plant is a bit outrageous. Accounting for 90% of the country's winter vegetable crop, this small town celebrates with cabbage bowling and a lettuce sculpture competition. Hungry, but also want to be hungry right after you eat? This event is also home to the Southwest's longest salad bar.
Gilroy, CA
When: Every July
Garlic can be both delicious and a buzzkill on a date. This Northern California town ignores the downsides of the ingredient and enjoys dishes like garlic lollipops and ice cream over a three-day-long festival where two tons of garlic are consumed.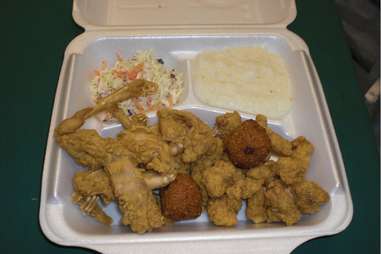 Fellsmere, FL
When: Every January
Forget Disney World, the main attraction in Central Florida is the Fellsmere Frog Leg Festival. Each January, thousands of people turn up to consume 5,000lbs of frog legs in four days, securing this small town two Guinness World Records. Not a frog fan? They have 3,000lbs of gator tail on hand too.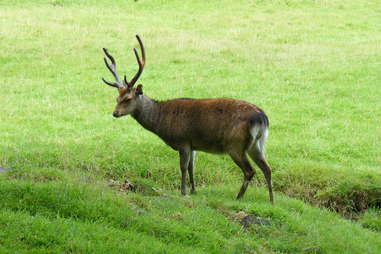 Marlinton, WV
When: September 2014
Squirrel gravy over biscuits or teriyaki-marinated bear sound appetizing? Those are just some of the dishes served up each year at the Roadkill Cook-off. While people are spared actual tire marks, you do get a taste of game typically found roadside. They also hold an annual pageant, where a lucky winner is crowned Miss Roadkill.
Waikiki, HI
When: May 2015
Hawaii is known for sand, surf, and SPAM. And though it has a tiny population, its people consume more SPAM than any other state. To celebrate the Hawaiian bond to the meat, they host a festival each year where local chefs prepare dishes like SPAM musubi and SPAM wontons.
Barnesville, MN
When: Every August
This two-day-long festival includes everything from car racing and cook-offs to sculpting and, of course, potato sack races. But the main event each year is Mashed Potato Wrestling, where willing participants spar in a vat full of spuds.
Ellsworth, WI
When: Every June
Strangely not held in Canada in conjunction with a Gravy and French Fries Fest, this Midwest town has proclaimed themselves the "Cheese Curd Capital". Munch away on cheese curd brats, pizzas, and deep-fried curds, or test your stomach by entering into the timed eating contest.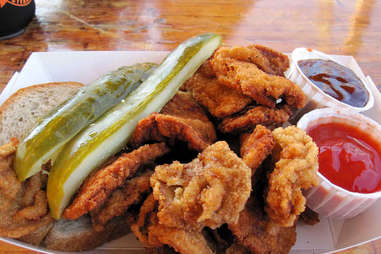 Clinton, MT
When: Every July
X-rated and food festival are two terms not typically thought of in the same sentence. But, this adult-only feast pays homage to many creatures' manhoods. Highlights include the ball-eating and big ball contests. Don't forget to try "testy" delicacies like Rocky Mountain Oysters, which are deep-fried bull testicles.
Jordi Lippe writes about travel for Thrillist and is not afraid to try some questionable foods. Follow her at @jordilippe to read more about travel, health, and her chihuahua Taco.